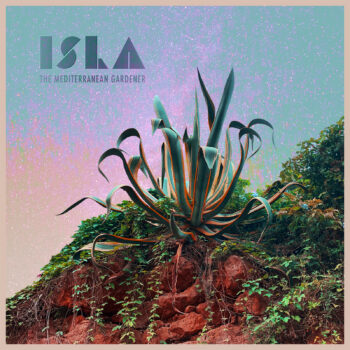 Isla
.........................................................

Imagine yourself on a small island somewhere off the coast of Spain. Not a glitzy hot spot of Ibiza or Mallorca where tourists dance all night in noisy discos. But a serene little haven where you leisurely lounge in a thatched-roof cabana and gaze out at a clear blue sky. Just within earshot, music can be heard – gently buoyant beats, fluid keyboard lines, and a sparkling blend of sonic samples, accompanied by a singer subtly crooning about sunny days, a drunken night out, and taking a chance on love. Welcome to the musical wonderland known as Isla.
 Isla's first outing, The Mediterranean Gardener is filled with nine gorgeous tracks of chilled-out electronica that provides a refreshing musical tonic for these stressful times. An alluring mix of lyric and instrumental tunes, these tracks meld together so smoothly that they feel more like a whole piece of music rather than a collection of songs.
 The Mediterranean Gardener opens boldly with "Buenas Noches Baby," an eerie Eno-like ambient instrumental, alerting listeners that Isla (the Spanish word for island) is home to beguiling soundscapes. "It's Not That Far," arrives next, establishing the laidback groove that flows through the rest of the album. With its Brazilian chords and melodies, the vibrant, unpredictable instrumental "Color De Vida" suggests something Jobim would have created with Roland keyboard samples
 "12 Bars," a hilarious recollection of a night of drinking and misadventures, anchors the center of the album along with the relaxed, lush electro-pop tune "A Sunny Day." The nearly wordless "For The Love Of A Girl" and the fully instrumental "Night Moves" exude cinematic qualities; the former conjures up images of a day spent on an elusive quest while the latter holds more darker, noir-ish elements. The mood brightens with "Til The Sun Comes Out Again," which filters bits of Echo and the Bunnyman and The Cure through a keyboard-based pop tune. "Attention" closes out The Mediterranean Gardener by mixing warm dance beats and New Romantics grace notes.
 "Attention" also makes a lyrical reference to "sweet isolation," which is quite appropriate since The Mediterranean Gardener was created during the pandemic. Isla is basically a new, solo project of the acclaimed singer/songwriter Josh Rouse that he worked on during 2020's Covid crisis in his small studio near his home in Valencia, Spain. "I didn't have any big plans. I was just having fun," Rouse reveals. ""I was really just looking for vibes that were soothing. I didn't want anything that was aggressive."  
 To create this set of mostly improvised, instrumentally-oriented music, Rouse relied on breezy keyboards and Roland Cloud samples. Although Rouse typically draws upon a variety of genres in composing his songs, these tracks felt so removed from the guitar-based, storytelling-rooted style he is well known for that Rouse realized this music needed to be put out under its own name – thus, Isla was born.
 Originally, Rouse planned to make all the songs instrumentals, but his songwriter instincts kicked in. Still, Isla's lyrics differ from his typical work. "There are no big concept behind the lyrics," he admits. "I wasn't going for meaning or telling a big story." Rouse wrote the lyrics quickly, without trying to edit himself. His lyrics and singing function more like an instrumental melody line, freeing up the keyboards from that traditional responsibility. 
 Rouse, however, didn't create Isla's music in total isolation. His frequent collaborator Daniel Tashian (they co-produced Rouse's 2018 album, Love In The Modern Age) played keyboards and Linn Drums on "12 Bars," while another long-time collaborator, Brad Jones (producer of seven of Rouse's records), served as The Mediterranean Gardener's mix consultant. Rouse's wife, singer/artist Paz Suay, provides vocals on "12 Bars and "It's Not Too Far" as well as creating the cover art. Rouse also credits Sea and The Cake frontman Sam Prekop's recent solo album, The Comma, for inspiring him to keep working on this music and not have wind up forgotten on a hard drive.
 Rouse's prioritizing the sound over the words might seem surprising considering all the accolades he has received as a songwriter. NPR, for example, asserted Rouse was "one of contemporary music's most engaging singer-songwriters," while All Music Guide proclaimed that "there are few modern singer/songwriters who can approach him." However, he found this project fun and beneficial. "Isla gives me a break and keeps me fresh for when I do go back to writing songs that tell stories." And he plans to more make Isla music in the future.
 Chilled and effervescent, Isla's music provides a perfect soundtrack for when you need to take a break too. Get yourself a glass of Sangria or a Clara de Limón, turn on The Mediterranean Gardener, and enjoy a summery mental vacation.
Media:
Links:
FACEBOOK
Yep Roc Discography: