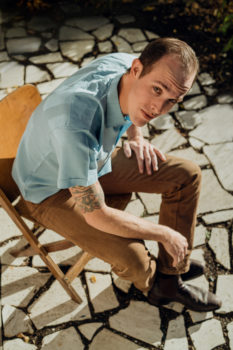 Jack Klatt
.........................................................

Musical missionary, tireless troubadour and producer Jack Klatt isn't one to be easily categorized or relegated to a  narrow niche. He comes across as a young man with a wizened and worldly perspective, an artist who possesses a timeless sensibility of both place and purpose. Yet, his artistic integrity extends to more than simply his songs. It embodies both execution and intent.. the way he's mastered his deft finger-picking technique and used that sturdy approach to bring his material an authenticity reminiscent of the most revered musicians and storytellers.
His upcoming album It Ain't The Same (due September 27 on Yep Roc Records) reflects that reverential attitude, but adds a depth and devotion that ensures its contemporary credence. With Klatt himself singing, playing guitar and sitting in the producer's chair, it boasts the talents of a skilled set of session players — John James Tourville (The Deslondes) on electric guitar and pedal steel, Casey McDonough (NRBQ) on bass skills, Alex Hall (JD McPherson, The Cactus Blossoms, Robbie Fulks) on drums, percussion, keys and engineering and Page Burkum (harmony on "I'll Never Let You Down" and "Highway Lines"). Recorded at Reliable Recorders in Chicago, it's the most definitive example yet of this young man's prowess and potential. From the supple balladry of "I'll Never Let You Down," "Ramblin' Kind," "Highway Lines," and "Looking for Love" to the coolly confident "World Shaker," the swampy groove of "Caught in the Middle" and the robust rock n' roll of "Prove My Love,"  It Ain't The Same is, as its title suggests, something truly special. 
Ironically, the title track is the only song that Klatt didn't write.  It's credited to guitar and steel player John James Tourville. The title itself aptly defines the overall vibe of the record, and the fact that it's the only outside contribution provides a subtle way of alluding to the collaborative nature of the album.
Likewise, Klatt took a different approach to the production. "In the past, my records had been recorded live in two or three days, straight to tape, with little to no overdubbing," Klatt explains. "I wanted to do something different this time…take some more care and explore all the possibilities the studio has to offer. I suppose that is part of where the title It Ain't the Same came from. This record feels like a step forward for me, a departure from my earlier, country/blues based recordings. I learned and grew musically so much through the process. I can't wait to get back in the studio and do it again."
A product of the nation's heartland, Klatt was born and bred in the twin cities. He dropped out of college before spending the next six years pursuing his wanderlust and hitch hiking across the country with nothing but a backpack and a Martin guitar. He eventually made his way overseas, where he slept under the stars, traded songs for spending money and enjoyed a life typical of one who's a drifter and bohemian. All the while, he made it his mission to proffer the songs of the American masters, from Woody Guthrie and Eddie Cochrane to Hank Williams and Marty Robbins. In the process, he found himself captivated by the full gamut of archetypical American music — a singular style that encompasses folk, blues, rock, rockabilly, R&B, and arcane country — and began to refashion it to suit his own style.
As Americana Roots UK stated so succinctly, "Jack doesn't rely on other writers for his diversity. He can write in pretty much any musical style of his choosing."  
"When I was very young and first becoming obsessed with music I got into punk rock and early rock n roll music, started forming bands with friends in junior high," Klatt recalls.  "All I really wanted to do was play like Scotty Moore, or Eddie Cochrane.  I was always looking for who such and such a band was influenced by.  The 14 year old me loved Rancid, which led me to the Clash, which, in turn, led me to Bob Marley and Woody Guthrie.  Social Distortion helped me discover Country Music.  As I followed the threads of American music backwards, I wound up at the beginning of recorded music and the sounds of country blues, jug band music, ragtime, early jazz, and folk Music.  I stuck around there for a long time, and learned how to play guitar. but eventually I began to get thirsty for something new and started to crawl out of my purist country blues corner…  In a way this record is a return to those early rock n' roll influences of mine.  A kind of full circle back to the time when everything was new and fresh.  It's more honest then anything I've ever recorded."
As he continued to temper his technique, he began writing his own material. Once he returned home to Minneapolis, he put together a band and began playing venues and festivals throughout the Midwest. 
"I met Jack and Page of the Cactus Blossoms right around the time I was getting into folk music about 10 or 12 years ago around a bonfire pit next to Cedar Lake in Minneapolis," Klatt recalls. We have made music together over the years, and still do in fact. While hanging out, I'll often roll out my song ideas to bounce off of them and vice versa.  If it wasn't for the Cactus Blossoms taking me out on the road as a solo opener, I wouldn't have gotten to meet Alex Hall. Needless to say, those two brothers were a big part of the new record."
In 2013, he recorded his first album, Love Me Lonely, a set of songs that found him mining his influences while honing a signature style. The followup, 2016's Shadows in the Sunset, recorded with Tom Herbers (Low, Trampled by Turtles, the Jayhawks) in a 100 year-old farmhouse in Viroqua Wisconsin, garnered rave reviews. No Depression hailed it as a beautifully done album of classic American music." City Pages said "Shadows showcases Klatt's growth as a songwriter. The expansive and gilded country record is tender, thumping, and relaxed." Klatt himself described the work by saying, "It holds in its grooves ten thousand miles of asphalt, about eight pairs of good shoes, and the generosity of a thousand strangers."
It 's little wonder that the album found its way onto several 'best of" lists, including Saving Country Music's list of 2016's most essential albums.
For Klatt, it's all been leading to this. Indeed, It Ain't The Same is an album that portends an even bigger breakout. As always, Klatt keeps moving forward.
On Tour:
Media:
Links:
WEBSITE 
FACEBOOK 
TWITTER 
INSTAGRAM
Yep Roc Discography: