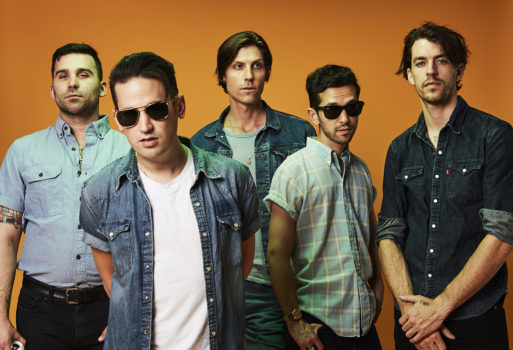 Jeremy & The Harlequins
.........................................................

In today's musical landscape inundated by cheap hooks and overproduced studio tricks, Jeremy & The Harlequins are here to keep the fire and spirit of rock'n'roll alive. That's something the New York five-piece have been doing since forming just a few short years ago, both with their debut album American Dreamer (2015) and its follow-up Into The Night (2016). They're continuing this approach with their third album in three years, entitled Remember This, which they started writing at home in New York, immediately after the recording of Into The Night.
"By the time that record was released," explains front man Jeremy Fury, "I had about two thirds of Remember This written. I wrote the songs in my apartment in Hell's Kitchen and then we worked on the majority of the arrangements as a band together at the infamous Music Building near Times Square."
Remember This has all the hallmarks of a Jeremy & The Harlequins record, but at the same time it sees the five-piece expanding on their own musical boundaries. While Jeremy & The Harlequins' music has been permeated by nostalgia for the classic licks, riffs and aesthetic of rock'n'roll's golden age, this new record sees the band widening their sonic horizons with the help of producer Rick Parker.
"We wanted to make a classic American rock record," explains front man Jeremy Fury.  "When we made American Dreamer, I was really bored with rock music in general and I felt the only place to go was to strip it down and pull from the past. I was listening to a lot of '50s and '60s rock'n'roll at that time, but for this record, I didn't want to limit myself to drawing from a certain amount of influences. And I feel these are the strongest songs we've ever written. It's a definite progression, but also a reaction to what we've done in the past."
This next phase of the band's career was marked by first single "Little One" hitting the airwaves in August of 2017, and the band plans to release a series of songs until the album is released on August 17th . The new material comes with a shift in direction due to the fact that Jeremy & The Harlequins – completed by guitarists Craig Bon and Patrick Meyer, bassist Bobby Ever and Jeremy's brother Stevie Fury on drums – are a band who have never stopped moving or creating. Recorded in LA with producer Rick Parker (Black Rebel Motorcycle Club, Lord Huron, Scott Weiland & The Wildabouts) in the historic Beachwood Canyon and Boyle Heights, Remember This offers a widescreen vision of America that focuses on the urgency of the present moment but which also retains the band's magical, romantic vision of and reverence for the past.
"I'd say I have a pretty decent record collection," says Jeremy. "I love music and I wanted to take the best aspects of the things that I like and roll them into our sound. I feel like America is in a period of reinvention right now – everything from fashion to what we drink to the restaurants we eat at are all being reinvented – and I wanted to take things from the past that I loved and create something refreshing and new."
The band were able to easily and naturally shift their sonic direction on their own, working with Parker enabled them to fully realize that vision.
"It wasn't until the bulk of the material was arranged that we realized this record would sound a little bit better a little more polished than our previous albums," says Jeremy. "We had phone calls with various producers and studios but in the end, we knew Rick was the right man for the job.  He has a knack for getting the best performances and gets a lot of good instrument sounds. Also, he's incredible at mixing."
At the same time, these are songs that very much exist in the context of America in 2017, and under the cloud of a tumultuous political landscape. That's something Jeremy found was impossible to not confront, but that's not to say these are vehemently political songs, however. Rather, they offer a glimpse of the world as it could and should be.
"Lyrically, these songs are concerned a lot more with what's going on around us," says Jeremy. "I think it's important to remember that everyone's still human. You walk down the street in any city and people co-exist, so I think our message when it comes to the more political songs isn't picking a side and rallying against the other, but more saying we're all here together, and that it's important to reach across the table and realize we're all human."
In a few short years, Jeremy & The Harlequins have made a sizeable impression in the streets and venues of New York, becoming a vibrant part of the city's alternative scene. Given their heritage, that's not surprising.
"Craig and I had been working at putting together a new band after we parted from our previous endeavors," explains Jeremy on the band's origins in Ohio. "We were at our wits' end trying to find the right sound. My brother had been living in Paris and was back in town visiting family.  While he was back, we started working on a bunch of songs I had written over the course of eight years. He was like, 'We're back for three weeks, why don't we make an album?' It's easy to put ideas like that off, but we just did it and it went from there. Craig met Patrick a day before he came out to Detroit, which was where we made American Dreamer."
Jeremy admits that, initially, the band "didn't really have any aspirations beyond making the record" but then momentum started to gather. "Trip Into The Light", the first song on American Dreamer, was featured in the Tom Cruise movie Edge Of Tomorrow. It was also voted 2015's 'coolest track in the world' by the listeners of Little Steven's Underground Garage radio show, and topped the Best of 2014 Readers and Fans' Poll of New York's emerging music magazine The Deli. The band even enlisted The Big Short actor John Magaro to direct the video for "Into The Night."
That momentum continues to push the band forward.  Each track is one part of a brand new whole, a sound that Jeremy terms "new American rock'n'roll." It's a simple yet effective description, one that captures both the mood and the sound of the band's music. Because these are songs which span the past, present and future, songs which are deeply rooted in the history of rock'n'roll but which brim with urgency of now. These are tunes you'll be humming for years, and which, in your heart of hearts, you'll swear you've been singing for decades already.  
"I've always wanted to have a song or a few songs that become part of people's lives," says Jeremy. "I think that'd be my highest aspiration."
On Tour:
Media:
Links:
WEBSITE
FACEBOOK
TWITTER
Yep Roc Discography: