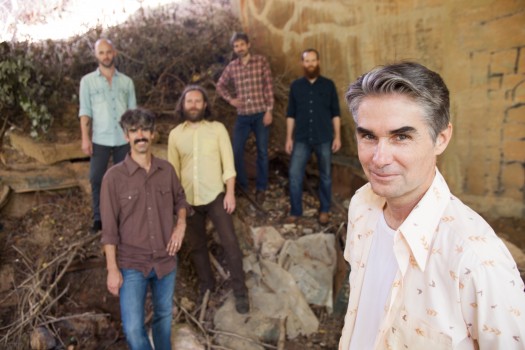 Jim White vs The Packway Handle Band
.........................................................

Jim White's not your average singer/songwriter.  His hallucinatory blend of country, folk and rock puts his music in its own category of cool. Drawing from years of itinerant rambling, working odd jobs ranging from New York Cab driver to Milan fashion model with countless stop-offs in between, his restless soul finally took root in Athens, Georgia where he has been living and creating his art for the last ten years.
The Packway Handle Band is a high energy roots-grass outfit based out of Athens.  Consisting of five members, the band has been recording and touring for over a decade, garnering awards, accolades and a fiercely loyal following along the way.
A Texan DJ at Burning Man first introduced Packway to Jim White's movie "In Search of the Wrong-Eyed Jesus." On some dark night, watching the movie as they tore across the western desert in their van, the band was introduced to a whole other world of bands like Trailer Bride and the Handsome Family, 16 Horsepower.  Several years later, serendipity struck as Jim White moved to Athens and eventually asked Packway– of all bands– to record on an album that he was producing for the Skipperdees. What are the chances?
Then late in 2013, the Packway Handle Band approached Jim about producing a stylistically unique breakaway record, looking for an evolutionary leap beyond their current musical productions from their previous efforts. After hearing the demos Jim not only agreed, but proposed a collaboration between the two. "I'd seen some of their live shows and they were so upbeat. They were just flat out having fun up there," says Jim White.  "When they asked me to produce their record I said, 'Screw that, I'm joining the band!'"
Over the years Jim had been stockpiling a cache of bluegrass tinged songs that did not easily fit within his usual aesthetic framework.  He presented a sampling of these songs to the Packway Handle Band and everyone agreed this was a match made in music heaven.
With Bright Eyes regular Andy Lemaster engineering at Athens' famed Chase Park Studios, they proceeded to put their own unique spin on the material at hand. "Up until this album, we've produced and recorded everything on our own and it was very straightforward, but we didn't have any leadership for the direction we were going," says Michael Paynter of the Packway Handle Band. "It was perfect timing with Jim coming in. He definitely has the right perspective as an objective outside listener and could tell us where to go."
A collaboration born out of mutual respect, the resulting record is shot through with the sonic imprints of both Jim White and the Packway Handle Band—identities maintained and yet heightened.
The perfect pairing for this new entity is Yep Roc Records. Yep Roc is the rare sanctuary that knows the feeling of coveting music and one that provides a place to stretch well past any genre's typecast.
On Tour:
Media:
Links:
WEBSITE
FACEBOOK
TWITTER
Yep Roc Discography: