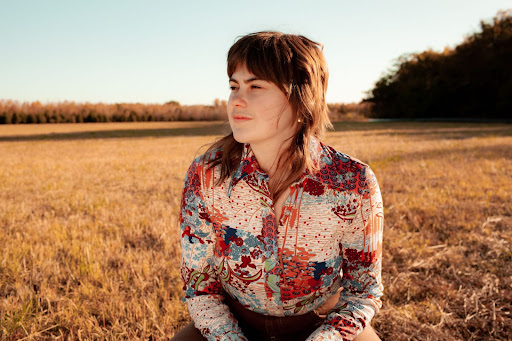 Jobi Riccio
.........................................................

"I've always felt pulled in a lot of directions," says Jobi Riccio. "It feels like I exist in all these different worlds, and I can feel each of them tugging at different parts of me."
It makes perfect sense, then, that Riccio's stunning debut would be called Whiplash. Written over the course of several formative and tumultuous years in Riccio's late teens and early twenties, the collection is a revelatory coming-of-age story from a writer torn between east and west, intimacy and independence, and her past and future. Riccio grapples directly with her queerness for the first time on the record, baring her truest self with raw candor, and she explores her desire for connection and belonging with similar honesty, searching for a place to call home against the backdrop of an ever-evolving identity. Sonically, Riccio's music effortlessly melds classic folk and country sounds with indie, atmospheric production to forge a lush, expansive sound that feels traditional and experimental all at once. Add it all up and you've got an album that embraces its multitudes, a profoundly vulnerable work delivered by an artist navigating the complicated transition into adulthood with remarkable grace and maturity.
"When I was writing these songs, I kept coming back to this image of someone slamming on the breaks in a car crash and this idea of emotional whiplash," Riccio explains. "That rush of stress and adrenaline felt similar to what I was experiencing as I emotionally processed my adolescence—almost as if I was being jerked around by one big life change after another."
Born and raised in Morrison, Colorado—a tourist town in the foothills outside of Denver that's home to Red Rocks Amphitheater—Riccio fell in love with country and roots music at an early age. She headed east for college but moved back home in March of 2020, wrestling with all the complications of finding herself and her place in the world while letting go of her childhood and the sense of grounding that came with it. Riccio was already starting to turn heads with her music by this point, performing everywhere from Sundance to the Rocky Mountain Folks Festival, but when she took top honors in the 2019 NewSong Music Competition, it seemed clear that the universe was calling her east again.
"My prize for winning was to go and make a record with Gar Ragland at his studio in Asheville, North Carolina," explains Riccio. "Like me, Gar is a lover of all kinds of music, and so the first time we got together, we talked about everything from Joni Mitchell and Bruce Springsteen to Bonny Light Horseman and Phoebe Bridgers."
Working out of Ragland's Citizen Studios, Riccio laid down basic tracks for the album in just a few days, capturing bare bones vocals and acoustic guitar takes that she began sending out to a slew of remote collaborators in New York, Nashville, Texas, California, and Colorado. Strings, woodwinds, keyboards, and percussion all pushed the songs beyond their folk roots into more cinematic territory, and as the pandemic eased, Riccio's friends and fellow co-producers Jesse Timm and Isaiah Beard joined her and Ragland in Asheville to tackle the finishing touches in person.
"It was an unusual approach to making a record, but I think it came together in a really special way because of that," reflects Riccio, who now calls Nashville home. "These songs are a patchwork that all come from different moments in my life and different versions of myself, and the recordings function in a similar way, bringing together all these different players from all these different places and weaving them around my stories and my voice."
That emotional and sonic patchwork is plain to hear on Whiplash, which opens with the bittersweet "Summer." Written on the back porch of Riccio's mother's house in Colorado, the song is both gorgeous and aching, steeped in the loneliness and longing of youth. Like much of the record, it's a snapshot of a particular moment in time, a self-portrait of Riccio at a pivotal stage of her development as she comes to terms with the myriad changes swirling around her. The elegant "Homesick" calls to mind Gillian Welch or Alison Krauss as Riccio makes peace with the changing nature of home in the face of growing older; the hypnotic "Driving" lands somewhere between Nebraska and Two Hands with its gut-wrenching meditation on numbness and escape; and the swaggering "Sweet" offers hints of Sheryl Crow and The Chicks as it tosses social expectations to the wind in an affirming embrace of the self. "All the guys I meet / Just lead to dead ends," she sings, "And all the girls I've wanted / Never had a clue / And probably don't bat for my team / Even if they knew."
"I don't feel like I fully stepped into my own as an artist until I started addressing my queerness," Riccio explains. "Once I was able to shed some of those insecurities and own the things I'd felt so self-conscious about, I was able to start feeling like a whole person for the first time."
It's that sense of perspective that allows Riccio to see the bigger picture on songs like the tender "Lonely Tonight" or dreamy "Kinder To Myself," which insists on healing and forgiveness in the face of trauma and mistakes. Growth, of course, isn't always a linear process, and there are inevitable setbacks and lessons to be learned and re-learned along the way. Rather than lament this, though, Riccio celebrates it as a fundamental piece of her humanity, finding the beauty in unrequited love on "For Me It's You" or zeroing in on the power of uncertainty in the title track. "I am dizzy  / With my memories," she sings over top of her distinctively lyrical guitar work, which walks the line between the Joni Mitchell and George Shuffler. "The feeling of time spinning past  / I've got whiplash."
"It's painful to change and move and grieve the loss of your childhood and the place you called home," says Riccio. "But it's also an intrinsic part of being alive and growing up and becoming the person you're meant to be."
With Whiplash, Jobi Riccio is well on her way.
On Tour:
Media:
Links:
FACEBOOK
INSTAGRAM
INSTAGRAM
Yep Roc Discography: