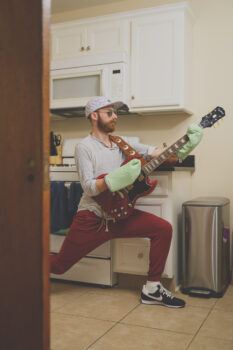 Jonah Tolchin
.........................................................

JONAH TOLCHIN – LAVA LAMP
"I wanted to let go and cut loose with this album," says Jonah Tolchin. "I wanted to explore new terrain without any kind of rules or restrictions."
It's that joyous sense of freedom and endless possibility that defines Lava Lamp, Tolchin's bold and adventurous new collection and fourth studio album. Built around a series of loose, live-in-the-studio performances, the record is more sonically diverse than anything in Tolchin's catalog, expanding on the folk-blues style he's become known for to incorporate elements of indie rock and grunge fueled by gritty electric guitars and a muscular rhythm section. 
The songs here are still raw and emotional, reckoning with alienation and escapism in a modern world defined by 24/7 stimulation, but there's a buoyancy to them that belies their intensity, a mischievous playfulness that Tolchin credits in part to his new role as a stepfather. In that sense, Lava Lamp can be heard as the sound of Tolchin reconnecting with his own childhood, casting off the burdens of expectation and returning to a musical sandbox in which the only limits are the bounds of his imagination.
"I was a pretty rebellious kid," says Tolchin, "and I mostly listened to alternative rock and hip hop and punk growing up. Somewhere along the way, though, I feel like I lost that part of myself. These songs are my way of reclaiming it." 
Where Tolchin's previous work had often been weighty and deeply introspective, the songs he found himself penning for Lava Lamp were more coy and irreverent, drawn from freewheeling, uninhibited, stream-of-consciousness writing sessions. It wasn't some roots legend or rising Americana star that inspired Tolchin's evolution on Lava Lamp; it was The Pixies.
"I remember taking my soon-to-be-wife to see The Pixies play at The Fillmore in Philly as a Valentine's Day gift and just having my mind blown," says Tolchin. "It was like, 'Wow, this is some real, raw emotion being delivered through some loud, electrified music.' After spending so much of my time in the folk and blues worlds, it just hit me in a completely different way."
After the show, Tolchin began revisiting some of the albums he first fell in love with as a kid, records by bands like The Strokes and Gorillaz. Though he'd put that kind of music aside for much of the past decade in favor of Muddy Waters and Lightnin' Hopkins, it all came rushing back, and the creative floodgates opened wide.
"I decided I was going to just let myself write without caring about what I'm 'supposed' to sound like or what anyone else would think," says Tolchin. "I wanted to see what would happen if I started with a completely blank page."
When Tolchin invited multi-instrumentalist/engineer Nic Coolidge to visit him in New Jersey and hear what he'd been working on, it became immediately apparent to both that the music needed to be captured in a similarly direct fashion. With Coolidge signed on to co-produce and play bass and Tolchin's longtime friend and collaborator Kevin Clifford returning on drums, work on the album began in mid-2019 at Tolchin's home studio and wrapped up later that same year at Coolidge's place in Rhode Island.
"The three of us are the only musicians on the entire album," explains Tolchin, who played more electric guitar than ever before on the record. "We recorded most of it, even my vocals, live on the floor as a band, just feeding off each other's energy."
That live energy is the lifeblood of Lava Lamp, which opens with the hypnotic "Black Hole." Dark and eerie, the bluesy track eases its way into the transition between Tolchin's previous output and the songs to come, walking the line between traditional and modern before fully giving way to Tolchin's more experimental instincts. The addictive "Car You Drive" (written by Tolchin's friend Josh Flowers) hints at Tame Impala with a slick bassline and intoxicating groove; the punchy "Aliens" channels Julian Casablancas with its angular guitars and lo-fi vocals; the churning "Never Giving Up" calls to mind the gritty, retro-futuristic hooks of Dan Auerbach or Jack White; and the brooding title track lands somewhere between Nirvana and The Sonics as Tolchin declares, "When I watch my lava lamp / I don't want to feel a fucking thing."
"I've had this lava lamp since I was a kid," says Tolchin, "and one day I was just looking at it, oscillating between feeling really calm and at peace and really anxious and depressed. Those lyrics came out almost as a joke at first, but I realized there was actually something deeper there about learning to be present in the moment."
Tolchin wraps his revelations in metaphors throughout the record, conjuring up characters and storylines that contain multitudes beneath the surface. The trippy "Oklahoma," for instance, spins a sci-fi southern rock tale of alien abduction that sounds an awful lot like falling in love, and the soulful "Bridge" plays out as a parable about the importance of connection and communication.
"There's this teacher I met through my interest in Buddhism," says Tolchin, "and one time he told me that every conflict between two people can either become a wedge or a bridge. That line had such a profound impact on my own relationships that I felt like I needed to turn it into a song so I could share it with everyone."
Indeed, the album is something of a bridge itself: between roots and rock, between youth and adulthood, between expectation and liberation. With Lava Lamp, Jonah Tolchin is finally embracing the fullness of himself, and he's having a hell of a lot of fun doing it, too.
Born and raised in central New Jersey, Tolchin began his career as a DIY artist, hitting the road as a teenager and self-releasing his own music until signing with Yep Roc for his critically acclaimed 2014 label debut, Clover Lane. Recorded in Nashville with a slew of special guests including Los Lobos' Steve Berlin and Deer Tick's John McCauley, the album prompted Uncut to rave that Tolchin "demonstrates the finesse and maturity of someone like Jason Isbell" and NPR to proclaim him "a promising new artist who artfully occupies the gulf between old-school tradition and contemporary appropriation." 
Tolchin followed it up in 2016 with the similarly well-received Thousand Mile Night, which racked up more than 10 million streams on Spotify with its title track alone, and 2019's Fires for the Cold, a bittersweet meditation on loss and redemption that featured appearances by Jackson Browne, Rickie Lee Jones, and Sara Watkins. Along the way, Tolchin toured the US and Europe extensively, sharing bills with the likes of Mandolin Orange, Chuck Prophet, Gregg Allman, Chris Smither, Dave and Phil Alvin, and Tony Joe White.
Bio by Anthony D'Amato
On Tour:
Media:
Links:
WEBSITE 
FACEBOOK 
TWITTER 
YOUTUBE
Yep Roc Discography: