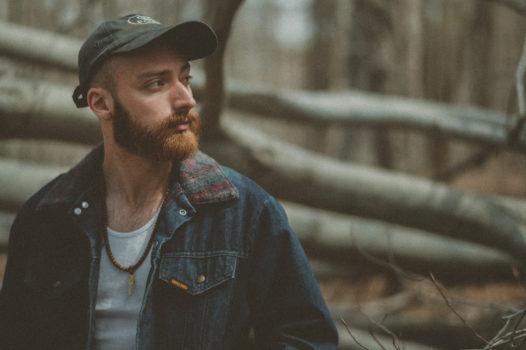 Jonah Tolchin
.........................................................

Jonah Tolchin has wrestled with a wellspring of emotions in his 26 years, and in the process, has consistently found the means of integrating his sentiments into his songs. It's been a relatively brief progression as far as his career is concerned, but the maturity and musical progression he's tallied in that short time has been shared in sync with his coming of age.
On Fires for the Cold, Tolchin lays bare the conflicts and quagmires that have engulfed him over the course of the last few years. Indeed, by his own admission, it's been a difficult time. The ending of a marriage and an upheaval in his mindset left him shattered, confused and struggling to find the solace that had eluded him for too long a time.
"Every record I make is like a record in time," Tolchin explains. "It recounts the things that I've observed and experienced between the last album and the current one. It's painful for me to talk about the last few years. It's even painful to write about it. But singing and strumming about it? That's different. That's the main way I feel that I'm able to interact with the impossible emotions. It's the greatest gift that music has given me throughout my life."
Given those circumstances and by Tolchin's own admission, making the album wasn't easy. Writing the songs became a kind of catharsis, one that found him sharing his most intimate feelings and, in turn, searching for a resolution and the answers he'd been searching for.
"I'm not about writing songs that aim to get a certain reaction or to specifically please anyone," Tolchin insists. "I found that for myself, and for this record, it has been important to delve into the depths of my emotions and confront them head on. The album became a healing process. I'm sure that other people go through similar things, whether it has to do with today's culture or their own relationships. After all, we live in a crazy world. We're forced to create our own meaning of existence. I found it was okay not to know everything, and it was okay to let things go."
Fortunately, he found all the support he needed once he was ensconced in the studio. Recorded at Carriage House Studios and co-produced with Grammy winning musician, engineer and producer Sheldon Gomberg, the album includes a number of notable guests — Jackson Browne and Rickie Lee Jones — both of whom lend their voices to a stunning and sublime cover of Little Feat's "Roll Um Easy." Sara Watkins sang on two other songs, "Supermarket Rage" and "Honeysuckle." Several A-list players — drummer Jay Bellerose, Little Feat guitarist Fred Tackett, Pedal steel player Greg Leisz and guitarist Ben Peller — lend their efforts as well.
The results yielded some of the most beautiful melodies and emotive offerings Tolchin has ever delivered throughout his steadily evolving career. From the soothing strains of "Supermarket Rage" and "The Real You" to the rousing revelry of "Honeysuckle," the steady determination of "Day By Day" and the percolating torrent of "Timeless River," Fires for the Cold shares an emotional trajectory that resonates every step of the way.
"I was looking outside myself for all these answers until I realized that the things that mattered most were right in front of me the whole time," Tolchin reflects. "I didn't have to ponder the big questions. I could simply focus on the miracles I discovered right in front of me, and allow myself to be present."
He found certain songs to be especially poignant.
"White Toyota Ranger" was inspired by an incident on the road. Tolchin had stopped at a service station and parked in the back so he could clear his head. A few minutes later, someone pulled into the spot next to him in a white pickup truck. "I saw a stranger sitting in his car crying his eyes out," he recalls. "The sight of him sitting there and engulfed in all that pain really impacted me. I wrote the song as a stream of consciousness to describe what he was going through — 'White Toyota Ranger, looking at the tears fall of a stranger, parked in the back of a gas station, wondering what became of the nation.'"
"Roll Um Easy" was, he said, a song he always wanted to record. "I sent Sheldon a bunch of songs I wanted to record and that was one that I included. Recording this tune is kind of a nod to my childhood. I learned the song from my good friend Lucas Hamren's father Jeff. (Lucas played on my earlier albums Clover Lane and Thousand Mile Night.) The three of us used to sit and play songs together late at night. Jeff also introduced me to Jackson Browne's music. We were probably around 14 or so.  On an album that is so vulnerable, I felt like it would be a good time to record my take on it. When I found out that Fred Tackett, an original member of Little Feat, was going to be on the album, I knew we had to do it."
He also singles out "Maybe, I'm a Rolling Stone" as another of his favorite tracks. "It was cut totally live, no overdubs," he explains. "The chemistry between Jay, Sebastian and I was really happening, It's kind of about coming to terms with my own beliefs — or maybe shedding them as well. It has to do with feeling comfortable while residing in a zen-like neutral state and asking essential life questions such as, who am I, why am I here, and other things of that nature. To that, I reply, 'Maybe, I'm a Rolling Stone.'"
Tolchin's initial inspiration came from his father who worked in a record store in Mississippi. It was from his father that Tolchin developed his appreciation for music, and the blues in particular. At age 15, he met blues legend Ronnie Earl and subsequently gained the opportunity to perform with him in public. Smitten with the idea of making music, he hit the road immediately after graduating from high school. Things accelerated from there. He released an initial EP and album independently, and in the summer of 2012, found himself making his debut at the iconic Newport Folk Festival.
The following winter Tolchin began recording Clover Lane, which would later become his debut album for Yep Roc Records. He found himself in the company of a distinguished group of players, including producer Marvin Etzioni, Anderson East, Steve Berlin of Los Lobos, Willie Nelson band member Mickey Raphael, Chris Scruggs and Deer Tick's John McCauley, among others. Upon its release in 2014, NPR hailed Tolchin as "a promising new artist who artfully occupies the gulf between old-school tradition and contemporary appropriation." Uncut declared that he "demonstrates the finesse and maturity of someone like Jason Isbell," while Mojo cited him for "adding raw, punk brio to a folk-blues template."
Thousand Mile Night, his second album for Yep Roc, followed in 2016 and reaped all kinds of kudos as well. Recorded at FAME Studios in Muscle Shoals, Alabama — the same studio that witnessed legendary recordings by Otis Redding, Wilson Pickett and Aretha Franklin — it reunited him with Marvin Etzioni and found him digging deep into the fertile soil of American roots music and all its revered traditions. Popmatters critic Ed Whitlock noted in his review, "Tolchin is a restless composer and musician who kicks against the limitations of musical labels, File him under Americana, but the moniker is all the more nuanced for the breadth and variety he brings to it."
Tolchin also ventured into other arenas as well, forming a power duo called Dharmasoul with drummer.singer.songwriter Kevin Clifford in 2017. The pair's debut album, Lightning Kid, was released in 2018 and the two continue to tour when time permits.
Eager to keep his creative energies tuned to the max, Tolchin has also recorded a stand-alone single tellingly titled "Every Dream Can Become a Nightmare." Guests on the record include Fred Tackett, drummer James Gadson, keyboard player Larry Goldings and bassist Alan Hampton.
Still, Tolchin dismisses the idea that his music can be wedged into any particular style. "My roots come from my love for the blues and folk music, although I consider myself to be 'genre defiant,'" he says. "The whole nature of what I do is to transform what are mainly difficult emotions into creative energy, uplifting the spirit and turning sorrow to joy. To me, that is what the blues is all about, So while the sound of the new record doesn't fit into the traditional blues template, in spirit, it's the most blues-oriented record I've made."
Indeed, in a larger sense, Fires for the Cold is more than a reflection of Tolchin's remarkable musical evolution. It represents, in a very real way, a reconciliation of where he finds himself  today, as a man who's at peace within himself and now has a decided sense of where he resides in the world.
"This might be the first record that I've made where I don't have second thoughts," he muses. "I went to the edge of my own existence in the last few years and after going through that fire and coming back on the other end, I've become more grounded in myself. I feel like I crossed through a threshold and reached a point where I'm feeling comfortable as an artist and as a human being. It's been like a rite of passage. I feel more confident overall. When you're writing vulnerable thoughts and people are questioning what you're doing, it can be unnerving. Now I know that I'm on the right course, no matter what happens."
Ultimately, Fires for the Cold reflects Tolchin's musical journey. The album's title was taken from a line written by the late poet Mary Oliver — "Poetry is a life-cherishing force. For poems are not words, after all, but fires for the cold, ropes let down to the lost, something as necessary as bread in the pockets of the hungry."
"For me, writing can be like self therapy, combined with a desire to offer the listener a reflective experience that extends beyond my own personal narrative." Tolchin says, "I hope these songs will reflect what the title suggests and indeed provide 'fires for the cold.'"
On Tour:
Media:
Links:
WEBSITE 
FACEBOOK 
TWITTER 
YOUTUBE
Yep Roc Discography: