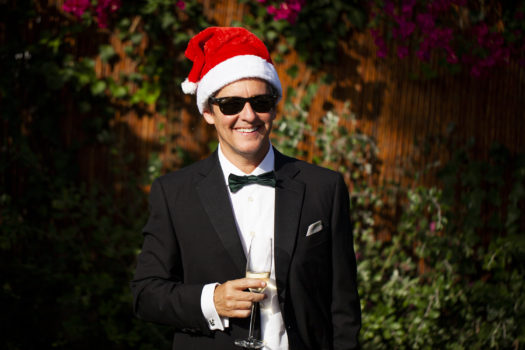 Josh Rouse
.........................................................

Josh Rouse never planned on making a holiday record.
"I was never a holiday record kind of guy," he laughs. "Growing up, I remember hearing Vince Guaraldi and Bing Crosby and all the staples everybody listens to each winter, but I never collected Christmas music or anything like that."
It makes sense, then, that 'The Holiday Sounds of Josh Rouse' isn't your typical yuletide collection. Written off-and-on over the course of the last ten years, the record is joyful and festive of course, but, much like the holiday season itself, it's also laced with an undercurrent of longing and melancholy. For every playful portrait of giddy lovers on New Year's Eve, there's a stranded traveler spending Christmas alone; for every slick St. Nick in a suit and sunglasses there's a lonely ex-pat waiting by the mailbox for cards that never seem to come. The arrangements are eclectic and intoxicating, drawing equal influence from Rouse's Midwestern childhood and his decade-and-a-half spent living in Spain, and the performances here are sparkling and fizzy to match, blending jazz sophistication with rootsy sincerity and sly crooner charm. The result is a holiday record built for the long haul, a wholesome, whip smart collection that's guaranteed to stay with you well after the snow has melted and all the decorations have come down.
"I decided that if I was going to make a holiday record, I didn't want to load it up with sleigh bells and choirs and sing the same old standards that everybody else has already sung," says Rouse. "I wanted to write something that folks hadn't heard before, something they could listen to year-round."
Hailed by NPR as "one of contemporary music's most engaging singer-songwriters," Rouse first emerged in 1998 with 'Dressed Up Like Nebraska,' a stunning debut that Billboard proclaimed to be a "dark horse gem." Over the next twenty years, Rouse would go on to release eleven more critically acclaimed albums, honing in on a warm, ruminative sound that fused elements of vintage folk, rock, and pop with modern insight and observation. Q called his breakout release, '1972,' "the most intimate record of the year," while Rolling Stone dubbed his follow-up, 'Nashville,' "a landmark album," and EW described 2013's 'The Happiness Waltz' as "a big contender for Rouse's best work." In 2014, Rouse won a Goya Award (the Spanish equivalent of an Oscar) for his song "Do You Really Want To Be In Love," and in 2015, he returned with 'The Embers of Time,' an album which landed him yet more critical praise alongside tour dates with legendary songwriter Nick Lowe.
"It was Nick that opened my eyes to how great holiday records could actually be," says Rouse. "He showed me that you don't have to be sappy or sentimental with it, that you can be yourself and put your own stamp on the tradition."
Rouse had already begun experimenting with his own holiday songs by that point, writing a Christmas-themed tune or two every December just for the fun of it, but he'd never really considered recording or releasing them. Sometimes he'd perform the tracks live around the holidays; sometimes he'd sing them to get a laugh from his kids; sometimes he'd save them as voice memos on his phone and forget that they even existed. By the fall of 2018, though, Rouse realized he'd written more than enough material for a record, and, inspired by Lowe, he headed into Nashville's Alex The Great studio for a four-day whirlwind of a session produced by longtime friend and collaborator Brad Jones.
"We recorded everything, even my vocals, live in just a couple takes," says Rouse, who cut the album with the same group of musicians that backed him on '1972.' "I'd give the guys some hints and direction here and there, but we work so well together that very little needed to be said. I was smiling after every performance."
That blissful comfort is abundantly clear from the outset, with funky album opener 'Mediterranean X-Mas' swaying gently like a palm tree in the breeze. Backed on the track by a slippery guitar line and an infectious groove, Rouse catalogs scenes from a beachfront holiday, his narrator wearing flip flops as he struggles to remember his high school Spanish and makes "faux snow angels in the sand."
"I pictured that song as a postcard from someone who's living or traveling abroad," says Rouse. "The narrator's experiencing a very different kind of Christmas than he grew up with, and he wants to share that with the people he cares about back home."
Finding yourself far from home for the holidays is a frequent theme on the record. On the dreamy "Christmas Songs," Rouse sings as a stranded international traveler taking comfort in the sound of familiar carols, while the lounge-noir "Letters In The Mailbox" finds him meditating on the acute loneliness that comes with spending Christmas on your own, and the jazzy "New York Holiday" calls to mind 'A Charlie Brown Christmas' as it waltzes through a winter wonderland in the Big Apple.
"I've spent most of my Christmases for the last ten or fifteen years abroad," says Rouse, who recently relocated from Valencia, Spain, to Nashville, Tennessee. "There's a warm, sunny sound on this album that comes from that, but there's also a longing for the cold weather and the winters I grew up with that I think comes through, too."
The rollicking "Sleigh Brother Bill," for instance, waxes nostalgic for childhood days of downhill sledding, and the breezy "Easy Man" lights up at the prospect of a white Christmas. "Hanging out with the in-laws / they're really not so bad…The forecast calls for snow / I'm happy as a clam," Rouse sings on the lighthearted track, which he co-wrote with another longtime collaborator, Daniel Tashian, who recently took home a pair of GRAMMY Awards for his work helming Kacey Musgraves' 'Golden Hour.'
"I approached writing these songs like I was soundtracking a film," Rouse explains. "I was trying to bring all these little holiday scenes around the world to life with humor and heart."
In that sense, the album fits seamlessly into Rouse's catalog, just the latest chapter in an extraordinary career built on transportive, empathetic storytelling and rich, cinematic production. "This season brings the best of me," he sings on "Easy Man." 'The Holiday Sounds of Josh Rouse' is proof of that.
On Tour:
Media:
Links:
WEBSITE
FACEBOOK
TWITTER
INSTAGRAM
Yep Roc Discography: