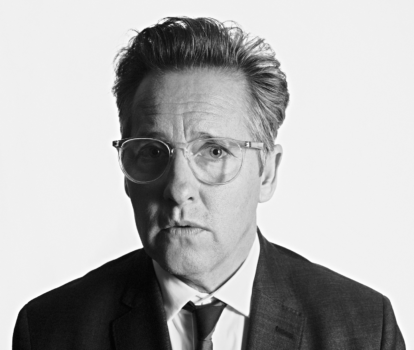 Josh Rouse
.........................................................

With Brill Building wit and a Midwestern sense of melancholy, Josh Rouse has built a career that spans almost 25 years, reaching back to his acclaimed 1998 debut Dressed Up Like Nebraska & continuing to his breakthrough albums 1972 & Nashville. His well-crafted and hook-laden tracks are coupled with closely-detailed, well-observed vignettes in his lyrics. Now passing 50, Josh faces the next phase of his life. "I remember seeing Tom Waits on the cover of a magazine with the headline TOM WAITS AT 50." Josh recalls " I was in my twenties and that seemed so far off… but he made a great record (Mule Variations) and I hope I have, too."
Josh Rouse wrote the songs for Going Places, while hunkered down in Spain with his family in 2020 and 2021. Inspiration came from his desire to perform live, during a time when that was virtually impossible to do.

Rouse explains, "A couple of friends of mine – my Spanish band – bought a small venue, sort of like a 1950's American bar. I said, 'Let's get together and play some songs in the bar – something that feels good in a smaller room. Just toe-tappers.'"

This idea turned his writing on its head, forcing him to think of songs for a live setting first. "I had four or five songs to start – 'Waiting on the Blue,' 'Stick Around,' 'The Lonely Postman' and 'Apple of My Eye,'" says Rouse. Rather than the polished sheen of his prior work, the live element, and the laid back attitude of his Spanish band, added a loose and relaxed quality to the music.

"A year later, after things opened up a bit , I said 'Why don't we just go in and I'll produce it, and let's just record these songs and see what happens?' And that's what the Going Places record is – stuff that just felt good to play to a live audience."

Josh recorded and produced the songs in his home studio.  He also engaged his longtime production partner Brad Jones to mix Going Places. The result is a collection of songs that feel a bit looser and lean into the guitar a bit more.  

His last regular studio album, 2018's Love in the Modern Age, saw Rouse take a left turn and make a record with a distinctive 1980s, electronic touch – an homage to groups like Prefab Sprout, The Blue Nile, Aztec Camera. Unlike that album, Going Places is steeped in waves of Rouse's classic guitar melodies, augmented by touches of organ and horns, layers of backing vocals, and a distinctive southern twang.  What remains consistent is Rouse's ability to write hooks and find grooves that create a sound that is at once familiar, but wholly new.  
Stand out songs include "Hollow Moon," which is not out of place alongside favorites from 1972 with its sing-along chorus, while "Indian Summer" features a sense of forlorn longing that are Rouse's stock in trade, amplified by a mournful harmonica.
"'Waiting on the Blue'" is one of the semi-autobiographical songs on the record. "It has to do with the tornado here in Nashville, and also a trip just before, when I went down to see a friend in New Orleans, where my dad lives. It reminded us of R.E.M. or something, especially with the production."
As Rouse drifts into middle age his world view has expanded – family, travel… life, which adds even more depth to the songs. Paste Magazine has lauded Rouse, saying, "His knack for setting a simple feeling to a breezy melody shines through again and again," and this is once again true with Going Places. So we see the laconic "She's in L.A.," the crisp and snappy "The Lonely Postman," drenched in almost-Buddy Holly-esque melodies, and album closer "Stick Around" punctuated by its punching horn touches, a nod to his return to Tennessee and the city's country-soul history.
Rouse says, "'Stick Around' reminded us of somewhere between American and English Seventies music – J.J. Cale with Richard Thompson on guitar. At the end I had Jim Hoke come in and he made up with this kind of Memphis horn line that was way out of left-field but it worked."

And the album's title, Going Places, seems the perfect message for 2022, as the world opens up and everyone is able to return to some level of normalcy. Two plus years of lockdown has provided a yearning for being able to just… go. It may seem strange to think that after a career lasting 25 years Rouse has new places to venture, new discoveries, and a new path to forge, but with his new album he does just that. 
On Tour:
Media:
Links:
WEBSITE
FACEBOOK
TWITTER
INSTAGRAM
Yep Roc Discography: