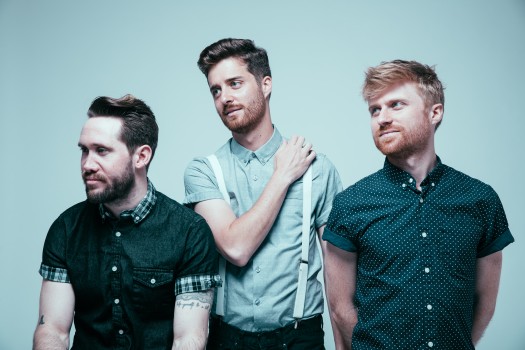 Jukebox the Ghost
.........................................................

Brooklyn based Jukebox the Ghost is thrilled to announce the October 21st release of their self-titled fourth LP via their longtime label Yep Roc Records.  The new album was recorded in LA with producers Dan Romer (Ingrid Michaelson, A Great Big World,Jenny Owen Youngs) and Andrew Dawson (fun., Kanye West) and is the follow-up to 2012's critically acclaimed LP Safe Travels.   Rolling Stone's Alex Pine caught some shots of the guys during the recording process this past May with Jukebox's very own Jesse Kristin (drums) adding some commentary which you can check out here:  http://www.rollingstone.com/music/pictures/ghost-in-the-machine-jukebox-the-ghosts-studio-photo-diary-20140530.
Jukebox the Ghost features the incredibly catchy lead single "The Great Unknown," which was co-written by Jukebox's Ben Thornewill (vocals & piano) and Greg Holden (co-writer "Home" for Phillip Phillips).  The single was released in June around the same time Yep Roc took the song to AAA Radio where it was #3 most added first week out.  The band and the label were extremely excited this week with the news that "The Great Unknown" broke into AAA's Top 40 – a first for Jukebox the Ghost – with key support from Lighting 100 in Nashville (WRLT), 101.9 KINK-FM in Portland and WXPN in Philly to name a few.  The new single is also finding a few fans at Commercial Alternative with stations such as WRFF in Philly showing early support and inviting the band to join Bleachers earlier this month for their "Summer Block Party."
In addition, the song caught the ear of a number of press tastemakers, such as USA Today's Brian Mansfield, who included "The Great Unknown" in a recent Playlist writing, "Robust piano chords and a chorus of voices lend a gospel-like buoyancy to this song about greeting life's challenges."  It also was selected by So You Think You Can Dance on FOX for use in a very poignant and uplifting montage of dancers making their way into the Top 20.  The single sales jumped 250% on iTunes the following week and trended on Shazam throughout the show.
Following the early June release of the single, Jukebox the Ghost, whose line-up is rounded out by Tommy Siegel (vocals & guitar), hit the road with A Great Big World for a month of North American dates.  In early July, they headed over to the UK for several dates before returning stateside where they've been playing a number of summer one-off shows such as the WRFF Summer Block Party earlier this month.  And just last week the band headed to the West Coast again, this time to shoot the first official video for "The Great Unknown" using a small crew and some very cool drone cameras.  Look for the new video in the player below.