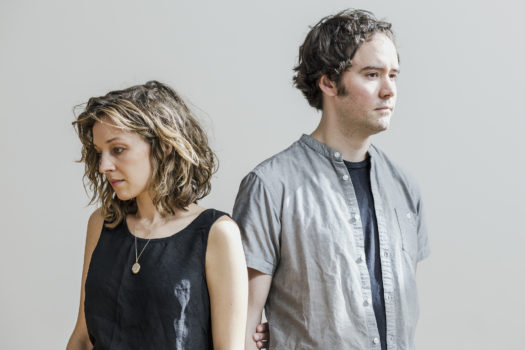 Mandolin Orange
.........................................................

Mandolin Orange's music radiates a mysterious warmth—their songs feel like whispered secrets, one hand cupped to your ear.  The North Carolina duo have built a steady and growing fanbase with this kind of intimacy, and on Tides of A Teardrop, it is more potent than ever.
By all accounts, it is the duo's fullest, richest, and most personal effort. You can hear the air between them—the taut space of shared understanding, as palpable as a magnetic field, that makes their music sound like two halves of an endlessly completing thought. Singer-songwriter Andrew Marlin and multi-instrumentalist Emily Frantz have honed this lamp glow intimacy in their music for years.
Frantz says the songwriting itself "more or less belongs to Andrew," but adds: "Because we've operated as a team for so many years now, there are ways that I chime in, or can be more of a sounding board for him. I usually try and wait to be asked," she adds, laughing.
"Emily is really good about knowing my limits, and figuring out when a song is done," says Marlin. "Or when there are a few lines that have been thrown together somewhat lazily or overlooked. An important part of the song, to me, is being able to read the lyrics and have them stand on their own."
Marlin wrote them, as he usually does, in a sort of stream of consciousness, allowing words and phrases to pour out of him as he hunted for the chords and melodies. Then, as he went back to sharpen what he found, he found something troubling and profound.  Intimations of loss have always haunted the edges of their music, their lyrics hinting at impermanence and passing of time. But Tides of A Teardrop confronts a defining loss head-on:  Marlin's mother, who died of complications from surgery when he was 18.
"It's always been present in my songwriting," Marlin reflects.  "I think her passing was almost the genesis of my writing. That was when I really began to find refuge in writing songs. I feel like I tried to find a voice around that time, just because I needed the outlet."
Frantz agrees. "We've talked about how grief and loss in general have always been present in our songs because of that. But this album, and this group of tunes, seems to take on Andrew's specific loss of his mom a lot more directly." These songs, as well as their sentiments, remain simple and quiet, like all of their music. But beneath the hushed surface, they are staggeringly straightforward: "Mother is gone, her journey's unending/She's leaving this shore for the sea of all-knowing," Marlin sings on "Suspended In Heaven." "I've been holding on to the grief for a long time. In some ways I associated the grief and the loss with remembering her. I feel like I've mourned long enough. I'm ready to bring forth some happier memories now, to just remember her as a living being."
The band has never shied away from heavy topics, Marlin notes, but the focus on this album felt new, even to him.  He was grateful for his stream-of-consciousness lyric writing style, in part for how it diffused the pain of the loss and didn't "hit people over the head" with it, he muses. But then, hitting people over the head has never been Marlin or Frantz's style. Their music creeps in slowly, full of patience.
Every new album, if it's a worthwhile one, will throw up roadblocks along the way, confuse and confound its makers as they attempt to figure out what, exactly, they are attempting this time.  Their last record, 2016's Blindfaller, was their breakout, earning them raves from Vox and NPR Music, but their success has built and snowballed steadily over years—their catalog has surpassed 100 million streams and they've sold out worldwide tours. They have played Red Rocks with the Avett Brothers; they've graced the stage of the Ryman, Bonnaroo, and the Newport Folk Festival.
This time around, they faced a fresh challenge, posed in part by their own success: "This was the longest that we'd gone—that we'd been able to go—between records," says Frantz."  "This time, for various reasons, we were riding it out a lot longer. But then we had so much more time to over analyze. We've never been ones to sit down to figure out 'Ok, what do we want this album to be? before we even start writing."
They knew, however, when the album felt finished—or rather, when it felt unfinished. "We had already recorded pretty much the whole album, but the group of tracks we had were missing something," Frantz recalls. "It didn't feel rounded out, or complete. We didn't know what was missing, but we knew it was something. And then, I think it was Mother's day of this year, Andrew wrote 'Suspended in Heaven.' We knew that was the missing piece. Everything else around it made more sense after that."  The song, maybe the most purely bluegrass-style song of the album, features the most keening vocals, the most fervent vocal harmonizing, and the simplest arrangement—a throwback, maybe, to the times before their last album, Blindfaller, when Mandolin Orange performed more often as a duo. It is a campfire song, a heartbroken one, and maybe the closest they've ever come to penning a true Appalachian hymn.
In the beginning of Mandolin Orange, the entirety of the process relied only on Emily and Andrew. On their previous record Blindfaller, they worked for the first time with the group of musicians who have become their touring band. The telepathy and warmth of their interplay, Frantz says, startled them. They remain a duo at their core, but the added chemistry has supercharged their bond. "We are all so comfortable playing with each other now," she says. "We went and did what most people do, which we've never done before—we didn't rush into the studio. We holed up somewhere and worked the tunes out."
It was in this dynamic that the most important trait of the album surged to the fore—that holy silence between notes, the air that charges the album with such profound intimacy. "With a duo, inherently, there's a lot of space in the music," Marlin notes. "With the band, you can create the same amount of space, but you're more aware of the time in between the notes." Listening to the way the full band seems to audibly sigh on the pregnant pauses of "Late September," or the way the lilt of "Mother Deer" mimics the rocking of a baby's bassinet, you sense this breath-caught mood, the sensation that the musicians were stumbling, real-time, upon some magic. "This record is a little more cosmic, almost in a spiritual way—the space between the notes was there to suggest all those empty spaces the record touches on," acknowledges Marlin.  There are many powerful ways of acknowledging loss; sometimes the most powerful one is saying nothing at all.
On Tour:
Media:
Links:
WEBSITE
FACEBOOK 
TWIITTER
INSTAGRAM
Yep Roc Discography: