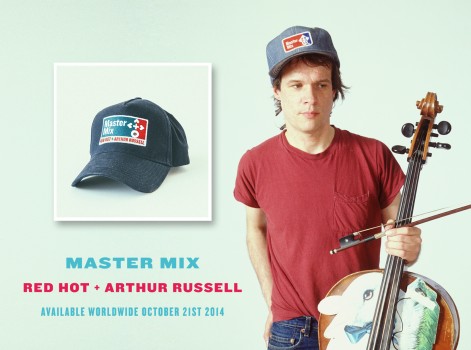 Master Mix: Red Hot + Arthur Russell
.........................................................

The innovative work of cellist-composer-electronic-pioneer Arthur Russell will be honored in a new tribute album released 10/21 via Red Hot Organization and Yep Roc. Master Mix: Red Hot + Arthur Russell features 26 tracks by more than 20 artists, including Hot Chip, Sufjan Stevens, Phosphorescent, Blood Orange, The Autumn Defense and Lonnie Holley, paying homage to Russell's boundless creativity and wide-ranging work, which swerved from electronic dance to folk to classical and resulted in what NPR hails as "catchy and hypnotic records that were far ahead of their time." Watch Hot Chip emulate that try-anything-once attitude in this behind the scenes video clip via Pitchfork:
Over two years in the making, Master Mix earned early support from artists like Jose Gonzalez and Robyn, eager to put their twists on songs like "This Is How We Walk On The Moon" and "Tell You (Today)"; from Matt Wolf, who directed the in-depth documentary 'Wild Combination: A Portrait of Arthur Russell'; and from Russell's longtime partner Tom Lee and the Arthur Russell Estate. Devendra Banhart, citing Russell as his inspiration for moving to New York, said, "It felt somewhat taboo to be messing with such sacrosanct materials… We recorded ["Losing My Taste For The Night Life"] as our way of saying to everyone, 'Listen to Arthur!'"
Master Mix embodies the genre-defying, experimental spirit that defined Russell's work. Living in the East Village from the '70s until his untimely death in 1992 at age 40 from AIDS-related causes, Russell moved effortlessly between the city's various music scenes, recording disco beats alongside Nicky Siano one night, and the next, crafting slow, haunting tracks in his apartment with his cello and idiosyncratic warbling voice. The New Yorker called his work "stranded between lands real and imagined: the street and the cornfield; the soft bohemian New York and the hard Studio 54 New York; the cheery bold strokes of pop and the liberating possibilities of abstract art." Through his collaborations, he earned the admiration of artists like Allen Ginsberg, David Byrne and Philip Glass, who said of Russell's music: "It does not submit to formula, but subverts the formula."
Red Hot Organization is dedicated to promoting awareness of AIDS and HIV through the lens of popular culture. Since its inception in 1989, Red Hot has released over 15 compilation albums, including 2009's Dark Was The Night, featuring The National, Bon Iver, Grizzly Bear, Dirty Projectors, Arcade Fire and more.
Master Mix: Red Hot + Arthur Russell Tracklist:
1.     Jose Gonzalez – "This Is How We Walk On The Moon"
2.     Lonnie Holley – "Soon-To-Be Innocent Fun (Interlude)"
3.     Robyn – "Tell You"
4.     Hot Chip – "Go Bang"
5.     Sufjan Stevens – "A Little Lost"
6.     Lonnie Holley – "In The Light Of The Miracle (Interlude)"
7.     Richard Reed Parry, Little Scream, Sam Amidon, Colin Stetson & Sarah Neufeld – "Keeping Up"
8.     Liam Finn, Ernie Brooks & Peter Zummo – "This Love Is Crying"
9.     Rubblebucket & Nitemoves – "Eli"
10. The Revival Hour – "Hiding Your Present from You"
11. Sam Amidon – "Lucky Cloud"
12. Devendra Banhart – "Losing My Taste For The Night Life"
13. Phosphorescent – "You Can Make Me Feel Bad"
14. Blood Orange – "Is It All Over My Face & Tower Of Meaning"
15. Scissor Sisters – "That's Us/Wild Combination"
16. VEGA INTL. – "Arm Around You"
17. Oh Mercy – "Planted A Thought"
18. Lonnie Holley – "Hop On Down (Interlude)"
19. Cults – "Being It"
20. Richard Reed Parry – "Just A Blip"
21. Glen Hansard – "I Couldn't Say It To Your Face"
22. Thao & The Get Down Stay Down – "Nobody Wants A Lonely Heart"
23. The Autumn Defense – "Oh Fernanda Why"
24. Alexis Taylor – "Our Last Night Together"
25. Lonnie Holley – "The Deer In The Forest (Interlude)"
26. Redding Hunter – "Close My Eyes"
Media:
Links:
FACEBOOK
Yep Roc Discography: