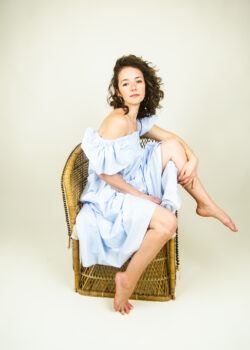 Michaela Anne
.........................................................

"If only you knew what was in front of you / Would you do the things you wanted to?" Michaela Anne was on a beach in Morocco when those lines came to her, the exact moment of inspiration captured indelibly in a photograph that now graces the cover of her gorgeous and aching new album, Oh To Be That Free. At the time, Michaela had no way of knowing what lay ahead—sobriety, pregnancy, a global pandemic, the hemorrhagic stroke that would nearly kill her mother—but listening back in the warm glow of hindsight, it's clear that the future was already weighing heavily on her mind.
"It's kind of surreal the way this record turned out to be exactly what I needed to hear when I was at my lowest," she reflects. "These songs became healers, almost as if I'd written them as letters to my future self."
Indeed, there's something deeply prescient about Oh To Be That Free, Michaela's second album for Yep Roc Records. Written before her life began to unravel—before all of our lives entered the strange state of suspended animation that still lingers for so many—the collection is lush and cinematic, full of honest, insightful meditations on embracing the present and nourishing one's roots that couldn't have arrived at a more vital and necessary moment. The songs are profoundly vulnerable, hinting at everything from Brandi Carlile to Kacey Musgraves as they reckon with the flaws and faults that keep us up at night, but Michaela's delivery is tender and empathetic, insisting that we're worthy of love not in spite of our shortcomings, but because of them. As humans, we're inherently imperfect, prone at times to jealousy and envy and greed and selfishness, but we're also impossibly beautiful, resilient creatures capable of growth and change and trust and forgiveness. And so the freedom Michaela sings of here isn't the wild freedom of youth or rebellion, but rather the spiritual freedom that comes from learning to accept what is rather than what ought to be, from learning to appreciate what you have rather than what you want, from learning to look in the mirror and love the person staring back.
"At a certain point," Michaela reflects, "I realized that I was never going to feel any kind of fulfillment if I was always chasing some kind of external validation. I was never going to feel satisfied if I wasn't willing to sit still for a moment and consider that I might have enough, that I might be enough."
For a searcher like Michaela, sitting still was no easy task. Born and raised in a military family that relocated often, she first began garnering national attention with the 2014 release of Ease My Mind, an old-school country collection hailed by The New York Times for its "plain-spoken songs of romantic regret and small-town longing." After a move from Brooklyn to Nashville, Michaela followed it up in 2016 with the similarly lauded Bright Lights and the Fame, which prompted Rolling Stone to compare her to Linda Ronstadt and Emmylou Harris. However, it was Desert Dove, Michaela's 2019 Yep Roc debut, that truly marked her critical and commercial breakthrough, landing her festival invitations everywhere from Bonnaroo to XPoNential alongside praise from Billboard, USA Today, The Associated Press, Paste, and more. The World Café raved that "Michaela Anne's voice shines like a beacon," while Rolling Stone named the album one of the year's best country and Americana releases, and NPR hailed lead single "By Our Design" as "one of those moody, breathtaking, stop-you-in-your-tracks songs with a lush, sweeping arrangement all anchored by Anne's stunning vocals."
For the first time in her life, the dreams Michaela had pursued since childhood seemed to be within her grasp, and yet the peace of mind and happiness she so desperately craved felt no closer.
"I went through a period of self sabotage," she confesses. "I was drinking too much and chasing everyone else's definitions of success because I felt too insecure to trust in my own. And after hitting some real rock bottom moments, I decided that I had to change my life, which meant getting sober and learning to restructure my nervous system so I wasn't always chasing the highs that come with someone else telling me I'm good enough."
Michaela decided to keep her circle small on the album, recording at home and working with players she considered to be confidants as much as collaborators. She enlisted her husband, producer/multi-instrumentalist Aaron Shafer-Haiss, to helm the project with her and lay down much of the album's instrumental work before inviting in longtime friends like bassist Burniss Earl Travis (a college classmate who now performs with the likes of Robert Glasper and Common), keyboardist Ray Jacildo (who recorded using the childhood piano Michaela grew up learning to play on), and fiddler Kristin Weber (who arranged and performed all of the album's exquisite string parts) to help flesh things out. When she wanted outside harmonies, Michaela called on some of her favorite singers and songwriters, including Madi Diaz and Lauren Balthrop, as well as two other married couples: the Norwegian duo Darling West, and her old producer, Jeff Malinowski, and his wife, Amal Bouhabib, who sang while Michaela walked down the aisle on her wedding day.
"It was important to me that I work not just with people I respected musically, but with people I also felt a deep personal connection to," she explains. "I wanted to wrap myself in that comfort and nurture those relationships because that's what this album is all about."
Michaela was in the midst of her first trimester while she recorded the album, completely unaware at the time that she would spend the entire second half of her pregnancy at a hospital bedside in Michigan, where she would devote herself to caring for her mother as she recovered from a debilitating stroke.
"We were in the process of mixing the album when I got the call, so I was living and breathing the songs at the time," Michaela says. "I'd bring my guitar to the hospital and play them over and over for my mom and for the baby growing inside of me, just letting the lyrics sink into my consciousness. The songs became my friends, my teachers, and they revealed even deeper lessons and meaning as I was grappling with life and loss in an entirely new and raw way." 
Take a listen to Oh To Be That Free and the power of this music to comfort and heal is abundantly clear. Soaring album opener "I'm Only Human" sets the stage, as Michaela sings, "I'm selfish and unstable / I'm emotional and wild and I'm hateful / I'm jaded when I'm losing / I never know what the Hell I'm doing / I'm only human." 
"It's hard to accept the parts of ourselves that we're not the most proud of," she explains, "but owning those things can actually release you from the darkness and the shame. It can help free you to become the kind of person you actually want to be."
The journey to becoming that person lies at the heart of the album, and Michaela chronicles it with poetic grace and wisdom. The poignant "Good People"—one of several co-writes with Diaz—explores regret and redemption and what it means to hurt the ones you care about, while the dreamy "Chasing Days" reflects on gratitude and sacrifice and the deepening of roots that comes with family, and the pensive "It's Just A Feeling" unfolds as a mantra for mindfulness in the face of overwhelming doubt and anxiety. 
"So often I'd be sitting there pregnant, staring at my mom in a coma not knowing if I'd ever get to speak to her again," Michaela recalls. "In those moments, I could sense my brain going to these dark painful places, and I had to constantly remind myself that feelings are only temporary, that we don't have to be victims of our own emotions. It was the only way I knew I could emotionally and mentally survive what I was experiencing."  
The purity of nature plays a large role on the record, too, both as a backdrop for Michaela's revelations and a metaphor for our very existence. The melancholy "Trees," for instance, contemplates the interconnected ways in which we all depend on each other, whether we like it or not; the ethereal "Mountains and Mesas" finds solace in accepting our insignificance in the face of forces far greater than any of us; and the breezy "Oh To Be That Free Again" revels in the simple childhood joys of running through fields and climbing up fence posts without the slightest hint of self-consciousness. But it's perhaps the bittersweet "Who You Are," which aims "to love for love's own sake," that best captures Michaela's growth on the album and the transformation she's undergone since writing it.
"So much of our relationships are about how we need our partner to be for us, how we need our parents to be for us, how we need our children to be for us," she reflects. "But the hard work and depth of love comes when you can take yourself out of the equation and love someone the way they need to be loved, when you can see them for who they are without the framing of how you want them to be."
These days, Michaela finds herself doing just that as she cares for two different generations of family, all bound together by love and blood and determination.
"It's been fascinating to be there as my mom recovers from her brain injury—learning how to speak, eat, and walk as she develops these new neural pathways—and see the similarities with my infant daughter as she learns all of those same things," Michaela explains. "As much as I wish with my whole being that my mom was fully capable and present through this time, I'm thankful and searching for the gifts of this human experience wherever I can find them. "  
True love isn't for faint of heart. But if you only knew what was in front of you, would you choose to live any other way?
On Tour:
Media:
Links:
WEBSITE 
FACEBOOK 
TWITTER 
INSTAGRAM
Yep Roc Discography: