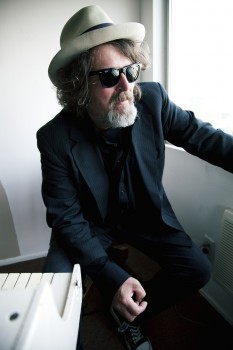 Peter Case
.........................................................

Wig! "It's not just a way of life, it's an explosive reaction against the tension of living in an insane century," says Peter Case.
Case is the rare songwriter who's considered life from all its angles and hasn't flipped yet, though he'll be the first to admit that as time goes by, the weirder it gets. Call him the optimistic pessimist or a pessimistic optimist, but if ever the three-time Grammy-nominated artist had occasion to worry it was in 2009: "A heart-surgery-freak-out cut short my touring plans for the year. I was fortunate my medical problems didn't cut short my life," he says.
Like thousands of his fellow musicians and artists in the United States, Case was uninsured. "I was told I needed a sophisticated diagnostic test and cost was definitely an issue," he says. Surviving what started as a routine procedure that turned into an emergency room cliffhanger, Case rolled with the situation and followed the orders laid down by those more in the know. "I had no idea how I'd pay for it but the doctors just took great care of me and asked no questions. I owe them my life." He was surprised and ultimately grateful that the surgeons had the fine taste to turn up John Coltrane's A Love Supreme as well as The Ramones in the o.r. (just before they knocked him out!).
Unable to work, Case was at home most of the year. "At first I was in a very diminished chord kind of mood," he says. "I was in recovery mode most of the rest of the year. Like a wounded animal that retires to the back of its cave until it's had time to heal, I laid low in my pad, tried to get into shape, listened to records and watched cowboy, dinosaur, and crime movies, occasionally banging on the piano when the feeling hit, and letting time work its wonders.
When the medicals bills came following the surgery and the five day hospital stay, a fan stepped in and immediately founded Hidden Love, an organized effort to raise funds for the ongoing cost of Peter's care. Soon benefit shows were staged in Austin, Houston and Nashville where James McMurtry, Ian McLagen and others turned up for the cause. Case's hometown club McCabe's Guitar Shop organized a three-night extravaganza featuring heavyweights like master of ceremonies T Bone Burnett and performers Loudon Wainwright III, Dave Alvin, Richard Thompson, Stan Ridgway, Van Dyke Parks and many more. "My fans and friends really bailed me out and came through…I have a lot to be thankful for," he says.
While the recovering Case was woodshedding and cave dwelling, life outside was rolling on. He was asked to prepare the reissues of albums by his early bands, the Plimsouls, the Nerves and the Breakaways (his post-Nerves collaboration with Paul Collins). "I had four albums released in the year I was off and they were all recorded from 1976 to 1981," he says. "I had to do the mastering and spent quite a bit of time listening to the old records. I really dug hearing them again–the grooves, the guitars, the songs."
But man cannot live by reissues alone and by summer, Case returned to work: "The PC Tour 2009 made three stops, one the weekend before surgery at a little joint up in the Sierra Madres, another in the late Summer at Jorma Kaukonen's Fur Peace Ranch in Ohio and a final stop at McCabe's in December," he says. It was the McCabe's show that lead to the making of Wig!
Case explains in his own words:
"Guitarist and singer/songwriter Ron Franklin flew in from Minneapolis and joined drummer DJ Bonebrake (X, Knitters) and me for my sold-out comeback show. The night went great, the audience was enthusiastic for the new songs, and the gig turned out to be very inspiring. Ron stayed over the weekend, and ideas began to flow. Several songs were written, more were worked up and played, I started pulling lyrics out of envelopes and drawers to match the music that was going down, and by Tuesday morning the three of us had reconvened at Grandma's Warehouse Studio, in Echo Park, near downtown Los Angeles to cut an album to analog tape. We recorded eleven songs in two days.
I completed the live tracks (vocals, guitar and/or piano and drums) by overdubbing amplified harmonica and laying on the electric bass using a Hofner I picked up at a friend's music store on Monday. It was my first time playing bass on a record since the Nerves. All the vocals, guitars and drums are live, and everything's on two-inch tape. There's one edit on the album, and it was made with a razor blade. One other song is included from sessions in 2005 at Infrasonic Sound in East Los Angeles with Duane Jarvis and several other musicians," he says of 'Somebody Told the Truth.' It was a brand new song that day, and what you hear here is the first and only take of the number. It seemed to fit the mood of the program at the McCabe's show, so I included it there, and the studio version here.
We got together for one more session, in April, at Village Recorder Studio B in Los Angeles, and cut three more songs, using the same style and technique of recording. 'Dig What You're Putting Down,' 'Look Out!,' 'Ain't Got No Dough.' Don't bother trying to remember these song titles–soon they will be permanently emblazoned on your consciousness."
For those who've followed the story so far, you know that Case left his upstate New York home in 1974 to travel west to California, As Far As You Can Get Without A Passport, which is also the name of the book about his reminiscences about that trip. Striking up his acoustic guitar as a street singer in San Francisco, Case made his way to Los Angeles and began to unravel the rock and roll mystery. As a member of the Nerves, he released one of the first seven-inch singles in the punk and new wave era and set out all across the U.S.A. as an opening act for the Ramones in 1977. Following that band's end, Peter and Paul formed the Breakaways, till finally Peter launched the Plimsouls and scored a hit in the '80s with "A Million Miles Away." Case's former bands continue to enjoy rediscovery by rock's new generations, but it his solo career that his proven to be most enduring, earning him accolades and die hard fans. As a rocker turned acoustic player, Case opened a door through which others have walked ever since 1986 when his self-titled T-Bone Burnett-produced solo album earned him year end honors and his first Grammy nod. Set to a tribal-folk percussive blend of blues, country and rock'n'roll, its essences pour through everything he's recorded since, from "Poor Old Tom" and "Two Angels" to "Beyond the Blues" and "Blue Distance." His songs are continually revived by other artists (a three-disc set was recorded in tribute to him) and used effectively in contemporary film and television (most recently, on the hit HBO series True Blood). Over two decades he's recorded ten solo albums–from the highly acclaimed and influential the man with the Blue post-modern fragmented neo-traditionalist Guitar, to 2007's Grammy-nominated Yep Roc release, Let Us Now Praise Sleepy John. His 2001 Grammy nominated effort as a producer of Avalon Blues, a tribute to the music of his country blues hero, Mississippi John Hurt featured contributions by Steve Earle, Lucinda Williams and Beck.
With Wig! Case recommits himself–to life, and his personal brand of rock n' soul that's made him a favorite among music aficionados, critics and his fellow songwriters for at least 25 years. Did Case ever consider giving up for a more sedate post-op life? "I'm what you'd call 'very extremely overcommitted' at this point," he says with laugh.
On Tour: