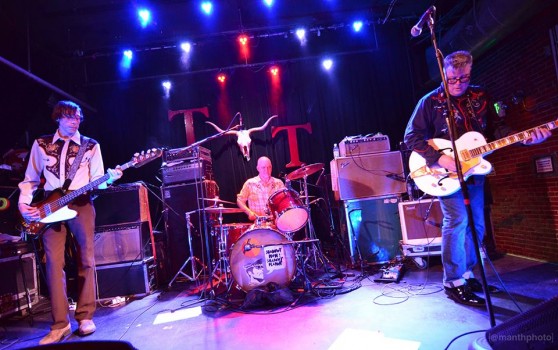 Shadowy Men On A Shadowy Planet
.........................................................

Twenty-plus years after their last reverb trail dissipated, the remains of Shadowy Men on a Shadowy Planet have reconstituted. The Men were first reanimated in 2012 and have been semi-active since, revealing a stature and distinct influence that has only grown since their original incarnation.
Shadowy Men on a Shadowy Planet existed originally between 1984 and 1995, and released three albums and twelve singles, appeared on numerous compilations (including the formative "It Came From Canada" series), toured extensively throughout North America and England, were one of the first Canadian bands to record a Peel Session for BBC D.J. John Peel, beat David Foster out of one of the two Juno's they were nominated for, backed B-52's vocalist Fred Schneider on his "Just Fred" album, and scored a couple of feature films and the television series Kids in the Hall. Recent years have seen them named as finalists in Toronto's daily newspaper, as the Best Toronto Band Ever, and be indicted into the mysterious Independent Music Hall of Fame, for being "true Independent pioneers".
After years of being out-of-print – and for the very first time as digital downloads – Yep Roc Records will be launching an extensive reissue campaign of the Shadowy Men recordings, including the incredibly snazzy 4-LP box-set Oh, I Guess We Were a Fucking Surf Band After All…
The original three Shadowy Men on a Shadowy Planet albums – Savvy Show Stoppers, Dim The Lights, Chill The Ham, and Sport Fishin – follow in late summer, in deluxe gatefold sleeves, with expanded artwork, liner notes by Bon Von Wheelie, Bry Webb and Scott McCaughey, and contextual essays by band associates and a chihuahua. Translated from Latin and remastered from first generation tapes by Grammy Award winning engineer Peter J. Moore.
Founding members Brian Connelly (guitar) and Don Pyle (drums) are joined by extended family member Dallas Good, of The Sadies, playing bass guitar for the foreseeable future, with select tour dates throughout 2016. S Men bass player Reid Diamond died in 2001 after a battle with cancer, so it is an honour to have long-time friend Dallas playing his parts.
"Shadowy Men are truly the instrumental kings of the Great White North" Ira Robbins, Trouser Press Guide to 90s Rock
"Canada's best instrumental rock band of all time" Grant Lawrence, CBC host and vocalist with The Smugglers
"It's music that is as disarmingly fun to listen to as it is deliberate and artful, and for a kid learning to play an instrument and write songs, it laid out how a keen ear can put pop music culture and history in its place, without being a jerk about it." Bry Webb, solo artist and guitarist/vocalist with The Constantines.
On Tour:
Media:
Links:
FACEBOOK
Yep Roc Discography: