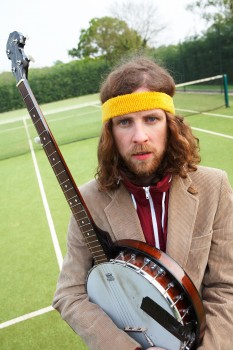 Simple Kid
.........................................................

Simple Kid (nom de plume of Irish native Ciaran McFeely) was still in primary school (Queen's English for elementary school) when he came home with a copy of Bon Jovi's cheese-metal masterpiece Slippery When Wet. His older, more music-savvy brother did the duty of all older, music-savvy brothers and chucked it directly out of the window. "He took me up into the attic where he kept his records and introduced me to Zeppelin and practically the entire Bowie catalog. I came to school in flares (Queen's English for bellbottoms); I was like an 11-year-old hippie. You could say I was a bit odd. But I reveled in it."
It's safe to say that reveling in oddity is what has made Simple Kid the unique musical gem critics and fans came to know through his first album, the one-man mash-up masterpiece 1. Recording his mostly acoustic songs straight to an 8-track cassette recorder, Ciaran would then drop the songs onto his computer and, "…jumble them up, mess with them until they were something new." Trying to always keep it simple, McFeely didn't work with a producer on1, nor did he take the music into the studio, preferring instead to keep control of all the aspects of production. This resulted in a totally autonomous creative process and an album that gushes with trademark Simple Kid ingenuity, as well as a hardcore DIY production aesthetic.
Following the critical success of 1 and near constant touring all over the globe, McFeely found himself weary of the constant demands of the music industry. "I was just drained, emotionally and physically. I realized that there were a lot of other things I liked to do, not Simple Kid things but Ciaran things. I wanted to get back to that." Now feeling as though his life was based on issues and events associated with his Simple Kid persona and no longer rooted in the very things which spawned his creative alter-ego in the first place, McFeely decided to grab the reigns of his own life and make a change. He went back to London, took a nine-to-five job, and concentrated on just being himself for a while.
Renewed with inspiration, Simple Kid was soon back in Ciaran's thoughts. "I realized how much I missed making music and I had ideas for songs already so I set up all my equipment. That was the biggest step, just getting it all out of the closet and wiring it back up. Once I did it, it felt great." As his MySpace page says, it was time to, "Wake up Simp…you been sleepin' too long."
On his latest release, the logically titled 2, Simple Kid has veered away from the post-modern, cut and paste stylings of 1for a more organic, traditional approach to songwriting and production. "I just felt like to do it the same way I did it last time I would only be doing it that way because that's what people expect from me, not because that's really what I wanted for the music. It would have been a bit fake to me." This time Simp (as his friends and fans have come to know him) sought to write the songs acoustically as he had before, but he refrained from over manipulating them digitally. "I wanted them to just be what they are without me screwing around with them very much. I still might add some drums on the computer but basically I just left the music alone this time." Despite still featuring the fuzzed-out acoustic guitar and banjo over big beats formula that jolted critics and fans on 1 , 2moves Simple Kid's sound toward folk with its more linear sonics and less scattered production.
"Serotonin" is a sweeping creeper with melancholy guitar strumming over a syrupy-slow funk beat. The slightly dark undertone of the song stems from the lyrics which explore the idea that happiness isn't a state of mind achievable as the result of particular actions, but just the simple flow of chemicals through the brain. The live performance of "Serotonin" features Simp's signature video backdrop, the lyrics scrolling non-stop throughout the song, resulting in the audience focusing on them, instead of the performer. "I've seen people at my shows who were talking the whole time but when the lyrics start running on the screen they stop and pay attention. But they aren't looking at me. It's interesting that they are at a live show but what really gets their attention are just words on a screen."
A Simple Kid live show is in fact a full-sensory experience. By scouring the internet for funny, weird or ominous video clips and other media, McFeely compiles his own video programming to play during his set. "I like to have something else going on visually since there isn't a full band to watch." But just as with his music, he keeps it in the moment. "When I get tired of what I'm using I just get my computer and make something new. This way I can change it while I'm on the road, whenever I feel like it. Music should be changeable."
Simple? Perhaps. True? Absolutely.