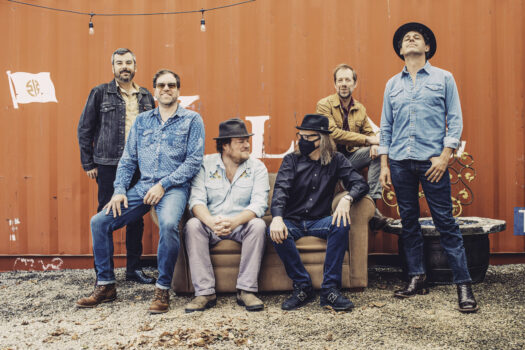 Steep Canyon Rangers
.........................................................

Written by: Wiley Cash
Whatever you call it – history, collective consciousness, experience – the Steep Canyon Rangers have a lot of it. As kids, they grew up listening to the rock, Americana, jazz, and blues that would one day inspire them to pick up instruments and make music of their own. A few years later they were young men on university campuses, playing bluegrass together at house parties and college bars. Now, after two decades as a band, they're grown men with families, touring the world as Grammy Award-winning musicians, famous for high-powered live shows. Their new record, Arm In Arm, is an homage of sorts, both to the early influences that first sparked their dreams of playing music as well as the bluegrass tradition that initially carried them. It's also an homage to the relationships that have borne the Steep Canyon Rangers to this moment, where their music is reflective of exactly who they are as artists, performers, collaborators, and friends.
"There's no doubt we're brothers," says singer and guitar player Woody Platt, one of the band's original members. "We've been together a long time."
Time is a funny thing; as much as it plows forward it also has a tendency to circle back, and, in many ways, this is what the Steep Canyon Rangers are doing on Arm In Arm. This is an award-winning band that made its name in the traditional world of bluegrass, but this long, strange trip began with their interests in rock, jazz, and folk music, and with Arm In Arm the Steep Canyon Rangers are, in many ways, right back where they started.
But fans of their earlier records need not worry; Arm In Arm still showcases the sly, wink and nod lyrical turns reminiscent of the best bluegrass songwriters, but on many of the album's songs, the lyrics – most of which were written by vocalist and banjo player Graham Sharp – are more earnest, characterized by a wistful clinging to a personal past that is not apparent on the Rangers' previous records. This album is deeper, more personal, more resonant of life and struggle, pain and beauty.
"I'm always amazed at how Graham's songwriting continues to evolve," Platt says," but writing fresh, creative material is what he's always done. With bluegrass music, you can always lean back on old themes, but Graham has a way of keeping things contemporary and relevant."
While the lyrics are sharp and deeply personal, the instrumentation is more expansive, more indicative of the band's vast and diverse talents, which is to say that the album has a generous vibe.
According to Sharp, who, along with Platt, cofounded the band in college, Arm In Arm "gives everyone their moments to shine, for their talents to come through."
"Everybody feels like they can be themselves and bring their talents to the band in a way that's not bound by genre," echoes mandolin player Mike Guggino, a childhood friend of Platt's and another original band member. "And this is the first record that really feels like how we sound onstage."
The Steep Canyon Rangers' concerts have always been marked by a genuine, crowd-pleasing energy that has made them staples of the live music scene, and the experience they have together onstage seems to be just as joyous as what's happening for the people in the crowd. Over the past couple of years, the Rangers tight sets have been marked by more solos and ethereal moments when the band falls into a driving groove that transforms a song into a hypnotic incantation. But make no mistake: Arm In Arm isn't an album of jam music by a jam band; it's album of generous music by a generous band, a band comfortable with each of its members stretching themselves and their talents.
"It's liberating to have reached a point where our music sounds like us and moves like us, and this album is a testament to that," says drummer Mike Ashworth, who's known Platt and Guggino since they were young kids. "This group is tighter than it's ever been. We've gotten to a point where we don't have to say as much because things just start happening. We're all a part of this larger organism that's evolving; it has its own consciousness, and it's built from everyone in the band."
"There's a lot of trust between us," says Guggino.
According to Sharp, "Trust is even more important in the studio than it is during a live show," especially when recording an album without a producer, something the band had never done before. Arm In Arm was recorded over several long days at Southern Ground Nashville, an iconic studio housed in a building that's over a century old. The band had historically recorded albums closer to home in Asheville, North Carolina, but, according to fiddle player Nicky Sanders, who's been with the band since 2004, being a little further afield and sleeping in the tour bus allowed the band to live wholly in the experience of making a record together.
"Every day, everybody really got to focus on the music. You go to sleep, and you're humming the song you recorded earlier that day," Sanders says. Recording away from home kept the band from having to refocus their creative energy after the long day's work in the studio was done. "It's nice to sleep in your own bed, but it takes your brain away from the record. I liked being able to stay in the creative zone for as long as possible."
According to Barrett Smith, the bass player and most recent addition to the band after knowing them for over twenty years, who also has a feature vocal on the album, recording Arm In Arm led the Steep Canyon Rangers into an uncharted creative zone. "We dropped all the ideas of what was expected of us, and we did exactly what we wanted to do," he says. "It felt comfortable and comforting, but also really exciting."
The album is "surprisingly diverse for us with the instrumentation, song styles, and the way the vocals are arranged," Platt says. "Our excitement and creativity are at their highest points."
"We're not trying to sound like a style or genre," adds Sharp. "We're not trying to fit into a certain mold. For a long time, we were a traditional bluegrass band, and that meant the themes would have to fit into that mold: work songs, heartbreak songs, train songs. But we've evolved to play any groove, any style, and it has opened us up to so many more possibilities."
It's funny to hear a Grammy Award-winning band that's been together for over twenty years and inducted into the North Carolina Music Hall of Fame talk about new possibilities, but age has a way of making things feel new, and the vibe on Arm In Arm feels new, but is it? The music is certainly a departure from the band's earliest days of wearing suits, picking and grinning around a single microphone, but perhaps it's also a return to the even earlier days when these men were young kids influenced by the sounds of electric guitars and skull-rattling drums. The music on Arm In Arm is brand new, but maybe it's old. It's expansive, evolutionary, and fresh, which is to say it's pure and original. Whatever you call it, this is the best music the Steep Canyon Rangers have ever made.
On Tour:
Media:
Links:
WEBSITE 
FACEBOOK 
TWITTER 
INSTAGRAM
Yep Roc Discography: