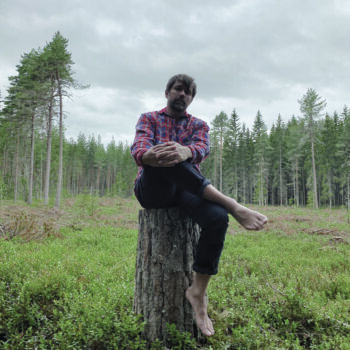 SunYears
.........................................................

Peter Morén's SunYears project represents a new chapter for the storied Swedish singer-songwriter, and the debut album Come Fetch My Soul is a beautiful way of announcing its arrival. The melodic wisdom of these ten songs will be immediately familiar to anyone who's already a fan of his work in Peter Bjorn and John, as well as his considerable solo career thus far. But Come Fetch My Soul also feels like unexplored territory for Morén, who digs deep into the music of his past and brings a bevy of exciting fresh collaborators to deliver a collection of tunes that feel instantly timeless, like the best music does.
Come Fetch My Soul has, in a way, been in the works for some time now, with some songs dating back to the release of PB&J's Breakin' Point back in 2016. But SunYears' figurative birth actually took place shortly after the release of the group's last full-length Endless Dream in 2020—right when the world shut down at the beginning of the COVID-19 pandemic. With a U.S. tour totally scrapped, Morén rediscovered his love of guitar playing in solitude—as well as the art of collaboration, as he collaborated with other musicians on their work alongside his own songwriting work. "Those experiences brewed something in me," Morén recalls. "Looking at how other people make music, and dipping in and out of other environments, was really inspiring." 
The origins of SunYears lie in Morén's desire to "do something different" apart from his previous work—not quite a solo affair, but not a full-band effort either, instead representing a series of collaborations with Morén's tight-knit group of friends and peers in his hometown of Stockholm. Its name is open-ended when it comes to meaning, referencing both the classic-sounding music of the Sun Records label in the 1950s as well as the passage of time itself—and the maturity that comes with aging was certainly on Morén's mind while putting his pen to these songs' lyrics. "As you get older, it gets easier to write songs because you become more vulnerable in a different way," he explains, describing the bold and open-hearted title track as "about being overwhelmed by the love you have for your partner, and this feeling of putting yourself in the hands of something or someone else." 
Indeed, Come Fetch My Soul is defined by togetherness and communion, as Morén enlisted fellow indie scions like Ron Sexsmith, Jess Williamson, Eric Johnson (Fruit Bats, Bonny Light Horseman), and Kathryn Williams to pitch in with vocals and feedback. This collaborative energy, which resulted in multiple duets throughout the album, drew inspiration from Morén's gigging experience with legendary Go-Betweens co-founder Robert Forster, as well as recent studio work with Scottish artist James Yorkston.  With a massive melodic swell and contributions from Williams and Ren Harvieu, closing track "Wake Up" was originally written during a songwriting retreat with Williams: "During that trip, we sang a lot together in different groups," Morén explains, "and it was that spirituality of singing with other people that I wanted to bring into this record." 
With a variety of sonic styles ranging from wistful folk and expansive, Beatles-esque pop to psychedelic guitar jangle and shimmering balladry, Come Fetch My Soul is the result of Morén's nostalgic listening habits over the last few years ("I went back to a lot of stuff I was listening to in my early twenties, which happens in troubled times"). Thematically, Morén is literally pulling from the stuff dreams are made of—like on the Johnson-featuring rockabilly-esque tune "Last Night I Dreamt I Met Phil & Don," which takes lyrical inspiration from a dream he had where he met pop legends the Everly Brothers. "I often dream about musicians I love, and in that particular dream I met them in the Army, which is weird because I never did military service myself," he recalls with a chuckle. "We ended up jamming together. The lyrics of the song is that dream, so I wanted the settings of the song to have a rockabilly '50s vibe."
Despite evoking the music of the past, Come Fetch My Soul ultimately embodies Morén's desire to look to the future, both of the project and of his career as a songwriter in general. "At my age, I'm becoming more relaxed when it comes to how I make music," he reflects. "I feel more comfortable now, and I could make music like this for the rest of my life." And with this latest batch of songs in his arsenal, why would you want to stop him?
Media:
Links: