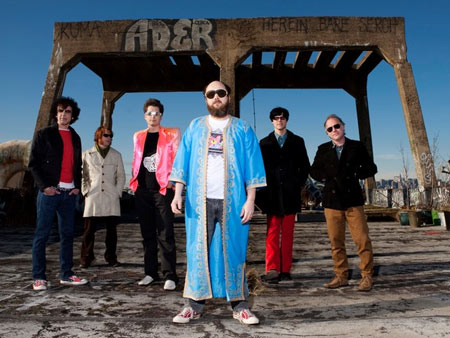 The Apples in Stereo
.........................................................

Studio-obsessed indie rockers The Apples in stereo have released their seventh studio album Travellers in Space and Time, their most hi-fi and hook-laden production to date. Described by frontman Robert Schneider as "retro-futuristic super-pop," the album is the official follow-up to 2007's New Magnetic Wonder, and the band's second release for Elijah Wood's Simian Records.
Travellers contains sixteen piano-driven tracks, bubbling over with vocoder harmonies and sci-fi sound effects, like 70's AM radio filtered through a UFO; including the robotic first single "Dance Floor", the four-on-the-floor dream-scape "Hey Elevator", the Hall and Oates-tinged "Told You Once", and the epic, yearning "Dream About The Future," among many instant hits. The musical theme heard in these songs is strung throughout Travellers: intense pop hooks and electronic sounds, mixed with a pumping, get-up-and-moonwalk beat.
"I wanted to make a futuristic pop record, to reach out to the kids of the future," Schneider relates. "It is what I imagine their more highly-evolved pop might sound like: shiny soul music with robots and humans singing together, yet informed by the music of our time. So we are sending a pop music message through time, hoping they will decode it and be into it."
It is the first studio album from The Apples in stereo to feature new drummer John Dufilho, lead singer of Dallas indie rockers The Deathray Davies; and sees Bill Doss (Olivia Tremor Control, Elephant 6) and John Ferguson (Ulysses, Big Fresh), longtime Schneider collaborators, as full-time keyboardists in the band, alongside veteran members John Hill (guitar) and Eric Allen (bass). Original drummer Hilarie Sidney left the band in 2006.
Anyone familiar with The Apples in stereo's career will know Schneider's ever-evolving production process is as intricate as the recordings he generates. Engaging the same primary engineering team used to record New Magnetic Wonder, most notably Bryce Goggin (Trout Studio's vintage recording wizard), as well as many studio-savvy friends and cohorts, the band spent well over a year in the studio recasting their signature pop sounds in chrome-plated futurism, all while adding a dance-driven vibe channeling ELO, Barry Gibb, Wild Honey-era Beach Boys and Off The Wall-era Michael Jackson.
With Travellers in Space and Time, Schneider continues experimenting with his recent invention, the Non-Pythagorean musical scale based on the logarithm, a mathematical function. Schneider is a passionate student of mathematics, and recently composed music based on prime numbers for a play written by world-class mathematician Andrew Granville, performed at the hallowed Institute for Advanced Study (home of Albert Einstein) in Princeton, New Jersey. Travellers includes "C.P.U.," the first pop song ever to incorporate this novel scale.
In addition, the album features songwriting contributions from all of the other Apples, including "Wings Away" (Bill Doss/John Ferguson), "Next Year At About The Same Time" (Eric Allen), "No Vacation" (John Ferguson/Robert Schneider), "Floating Away" (John Dufilho), and "Dignified Dignitary" (Robert Schneider/Bill Doss/John Hill).
The 2007 hit album, New Magnetic Wonder, spawned late night performances on Conan and Colbert, commercial placements for The Apples' music (Pepsi, New Balance, Samsung, and numerous others), invitations to perform at many prestigious festivals and venues (All Tomorrows Parties, Pitchfork, Primavera Sound, R.E.M. Charity Tribute Concert at Carnegie Hall), and a world tour that took the band as far away as Taiwan – not to mention a polished performance of their hit song "Energy" by the contestants on American Idol.
Since then, the band has been increasingly busy, gaining ownership of their spinART Records back catalog and readying the albums for re-release, compiling the best-of #1 Hits Explosion, and releasing Electronic Projects for Musicians, an album of rarities. Schneider also made his children's music debut with 2009's Robbert Bobbert and the Bubble Machine (Little Monster Records), which made it to many Year-End Best Of lists; made numerous mathematics convention appearances; released Buddha Electrostorm (Garden Gate Records), an album of lo-fi garage-psych recorded with his brother-in-law Craig Morris (who played and engineered on Travellers) under the name Thee American Revolution; and topped it all off with his featured keynote talk and Australian debut performance at the Big Sound Music Conference, where he was featured alongside many musical luminaries, including noted Brian Wilson collaborator (and one of Schneider's heroes), Van Dyke Parks… and all of this while hard at work on The Apples' most ambitious studio production yet.
On Tour:
Media:
Links:
WEBSITE
FACEBOOK
TWITTER
Yep Roc Discography: