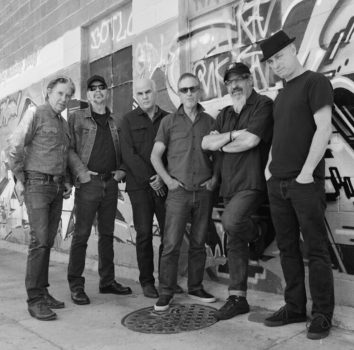 The Flesh Eaters
.........................................................

One of Los Angeles punk rock's most widely admired yet little-heard bands makes a striking return to records on Jan. 18, as Yep Roc Records issues an all-new collection by The Flesh Eaters, I Used to Be Pretty.
On the release, founding vocalist and songwriter Chris Desjardins — better known as Chris D. — is backed by the legendary "all-star" edition of the band, originally heard on the 1981 set A Minute to Pray, A Second to Die: Dave Alvin (guitar) and Bill Bateman (drums) of the Blasters; John Doe (bass) and D.J. Bonebrake (marimba and percussion) of X; and Steve Berlin (saxophones) of the Plugz (and later the Blasters and Los Lobos). The album was produced collectively by the band members.
On five of the album's 11 tracks, this superpowered unit is joined by Julie Christensen, Desjardins' vocal partner in both The Flesh Eaters' successor band Divine Horsemen and latter-day editions of the original group. The singers were married during the '80s.
Release of I Used to Be Pretty, which will be issued in single-CD and double-LP configurations, will be followed by a series of U.S. tour dates — the very first shows, save for a lone U.K. appearance, to take this hitherto elusive group outside the West Coast.
The Flesh Eaters were among the groundbreaking bands that emerged from the original Hollywood punk club the Masque in 1977. Chris D. — poet, novelist, actor, screenwriter, director, and film programmer — developed a stormy, lyrically intense style that drew on such varied sources as symbolist poetry, violent American pulp novels, and films running the gamut from classic European cinema to samurai, horror, spaghetti Western, and noir genre movies. He was also active on the local scene as a writer for the L.A. punkzine Slash and an A&R man and producer for the magazine's offshoot record label.
The band's first records employed various ad hoc assemblies of local punk musicians. For its second album, the howling, swampy, hoodoo-infused A Minute to Pray, A Second to Die — produced by Chris D. and released on Slash's subsidiary imprint Ruby Records — the singer recruited a band then unrivaled for musical firepower. The potent lineup played only a handful of unforgettable local shows before its members' commitments to their own bands sundered the group.
However, the Minute to Pray Flesh Eaters' reputation abided for decades, and in 2006 the lineup reunited for an appearance at the All Tomorrow's Parties festival in the U.K. and a few West Coast appearances. Two more brief regroupings followed in 2015 and 2018.
Desjardins says of the latter series of eight dates, "When we were doing the shows, I said, 'You guys, we are so tight right now, we have got to go in the studio and document this and do an album. We do it within a couple of months after the live shows, by the end of April. That should give everyone a window where we can all get together.'"
I Used to Be Pretty is bookended by a pair of dramatic new songs. Desjardins says of "Black Temptation," the ferocious leadoff track, "I wanted to do that song for the Miss Muerte album in 2004, but we didn't have time to work the music up. I actually published the lyrics in my book A Minute to Pray, A Second to Die in 2009, and I never thought I was going to get to record it."
"Ghost Cave Lament," the sprawling 13-minute song that closes the album, was developed by Desjardins and Alvin before the recording sessions. This incantatory epic's musical setting was inspired by "Moritas Moras," an extended piece by flamenco guitarist Manitas de Plata.
Desjardins says the finished track reminds him of work by another notable L.A. band: "After we listened to it a few times when it was done, it struck me really forcefully like 'The End' or 'When the Music's Over' by the Doors. It had that kind of feel that those longer Doors songs had. That had not been our intention at all, but those latent influences came out."
Six tracks on I Used to Be Pretty offer forceful reinterpretations of previously released Flesh Eaters songs. "Pony Dress" was first heard on the compilation Tooth and Nail (1979), released on Chris D.'s Upsetter Records; "My Life to Live" and "The Wedding Dice" appeared on Forever Came Today (1982); "Youngest Profession" originated on Dragstrip Riot (1991); "House Amid the Thickets" debuted on Ashes of Time (1999); and "Miss Muerte" was the title track of the most recent Flesh Eaters album. (History repeats itself in a couple of instances: Doe and Bonebrake played on the original "Pony Dress," while Berlin appeared on the earlier "The Wedding Dice.")
"The album certainly is a summation," Desjardins says. "It incorporates some older material that this lineup never played on."
That philosophy extended to the three covers on I Used to Be Pretty. "The Green Manalishi," the most recent addition to The Flesh Eaters' live set, was a demonic 1969 single by the blues-rock edition of Fleetwood Mac led by guitarist Peter Green. Desjardins says,  "That was the number that really convinced me – 'I've gotta get these guys in the studio and preserve this.' We were just kicking it on that song."
"Cinderella," a 1965 single by the rampaging Seattle garage-punk band the Sonics, has been a fixture of The Flesh Eaters' shows since the '80s, and the Gun Club's "She's Like Heroin to Me" (drawn from the L.A. band's debut album Fire of Love, co-produced by Desjardins) has been frequently performed by the singer since Jeffrey Lee Pierce's untimely death in 1996. Desjardins says of the latter number, "Some of Jeffrey's songs could have been Flesh Eaters songs so easily. Some of his phrasing and his lyric images I really feel a kinship with."
Desjardins says he sees I Used to Be Pretty as a new chapter in the evolution of one of L.A. punk's most powerful bands: "A few weeks after we completed the album, I was saying to the guys that what was so special is that we were no longer just the sum of our parts — we were more than the sum of our parts. We were like a single, symbiotic organism, and we each unconsciously, intuitively knew what the rest of the band was going to play split seconds before we played it.  Sometimes I'll listen to one of the songs now, and it really raises the hair on the back of my neck."
On Tour:
Media:
Links:
WEBSITE
FACEBOOK
TWITTER
INSTAGRAM