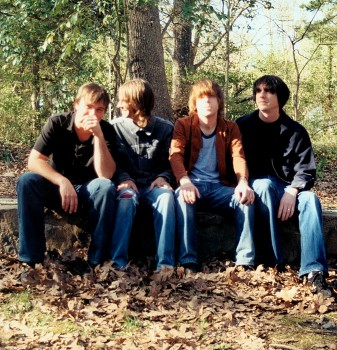 The Mayflies USA
.........................................................

Chapel Hill, North Carolina's Mayflies USA deliver hits for a better universe! –Creative Loafing
If you know anything about Chapel Hill, NC, you know how instrumental a front porch can be. Ideas are generated, plans are made, songs are written, life is romanticized and yes, beers drunk.
Coming together by way of California, Saudi Arabia, Holland, LA, New York and Baltimore, The Mayflies USA call Chapel Hill their home. And all of their time spent on the porch has helped them form their version of rock music- it bounces with infectious melodies, glides with summer-y harmonies, sings with romantic lyrics and pops with loud squalling guitars."The fact that our band is comprised of a preacher's kid (Long), a product of a Moral Majority fundamentalist education (Liesegang), and a kid who was raised as an atheist (Price) has to factor into The Mayflies USA somewhere, now that I think about it. Probably we all fled to rock music in reaction," admits singer and guitarist Matt McMichaels.Maybe their unusual upbringings explain their feverish love of rock music (and the otherworldly escape it provides), and shed some light on their meticulous nature of sound and song construction. Then again, maybe it's just a coincidence. But, for their third studio album, Walking in a Straight Line, they turned to Keith Cleversley (Flaming Lips, Mercury Rev, Spiritualized) at Chicago's Playground Studios to capture the live sound of the band and the organic feel of their late 60's, early 70's rock influences."We're all on a lifelong Beatles kick. That Beatles statement notwithstanding, I think we told Keith we wanted the record to sound like Exile on Main Street. Of course we weren't equipped with either the musical chops or the collective life experience to make a record quite like Exile, but for better or worse I think that was one of the first things we said when we got to Chicago," McMichaels said.
The Mayflies USA toured through fall of 2001 and on their return, they locked themselves in their basement and practiced all winter long in preparation for the Chicago sessions.Says McMichaels, "I remember it was around 5am this past New Year's Eve that we resolved to make this record regardless of what it took. What it took was practicing 6 hours everyday until it was time to leave for Chicago. Perversity and masochism certainly factored into our decision, but we really wanted to make an authentic document."Recording straight to 2" tape, using minimal overdubs, and no computer editing, the band spent 24 hours a day in the studio, laying down tracks for up to 13 hours a day and then sleeping with the drums, guitars, amps and mics still set up around them. There were moments when they nearly cracked and hightailed it back to Chapel Hill, wanting to leave Cleversley to fix everything on Pro-Tools; but instead they endured the studio life, producing what the band call "a less idealized version of themselves".
Walking in a Straight Line kicks off with the album's title track in full post-punk splendor with a jangly, southern-rock zeal while "The Greatest Thing" recalls the Southern-gothic guitar treatment that Peter Buck used to give to early R.E.M. tracks. And if you want a peek into the future sound of The Mayflies USA, listen closely to keyboard-based "Sweet 16".
Discography:
Summertown (Yep Roc Records, 1999)
The Pity List (Yep Roc Records, 2000)