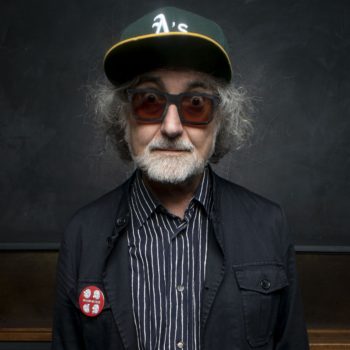 The Minus 5
.........................................................

Less than three days after a doctor predicted he would never play music again, Scott McCaughey began writing his next album — while still in the ICU, unable to speak coherently, his right side just waking from paralyzation.
In November 2017, the Northwest underground stalwart suffered a stroke that nearly killed him and wiped his musical catalog from his memory — decades of albums and songs written and recorded with the Minus 5, Young Fresh Fellows, R.E.M., Baseball Project, and many more, all disappeared. But instead of wallowing in misery, McCaughey channeled his omni-positive spirit and began to write down whatever incoherent thoughts crossed his mind. He turned those stream-of-consciousness notebook pages into his 13th full-length Minus 5 release, Stroke Manor.
"The lyrics are the reason for the album," McCaughey said. "They're frustrating and frustrated — they're me trying to communicate something, to find out if I could communicate, if I could still even hold a pen and get it to physically move. The words are crucial to it though they're not going to speak to everyone. But I had to try."
Stroke Manor is a capsule of weeks in a hospital bed and the time-release recovery that creeps through in several songs. The influence is found in everything from misheard sentences and made-up words ("Pink Bag For Rip Torn" and "Plascent Folk," respectively), to Turner Classic Movies ("Beacon From RKO," "Scar Crow," Goodbye Braverman"), hospital pain index cards ("Top Venom"), and the Beatles playlist Peter Buck made to help spark McCaughey's musical memory ("Beatles Forever"). The results are often head-scratching, tongue-tying spats of confusion, but when the decision was eventually made to put them to music, McCaughey changed only the occasional word for flow, singing the words directly from his hospital notebook.
"The lyrics tapped into a different place for the music to come from," he said. "I suppose I used the same old chords but everything sounded new and mysterious to me." He used new voices, the dreaded autotune, and other voice-altering effects because he felt like he was singing as new characters. But the feelings were all his somehow. "I felt like I was a weird other person when I wrote those words, so it felt really right to me to let it be this guy who was coming from outer space."
McCaughey recorded the album in his oft-frigid Portland basement, i.e. the "Dungeon." Joe Adragna sent in rapid-turn-around drums (and often more) from his home studio outside New Orleans. Peter Buck was there to conjure up guitar lines, like a 1968 George Harrison. Jeff Tweedy, Corin Tucker, Jenny Conlee, John Moen, Steve Wynn, Linda Pitmon, Dave Depper and Alia Farah all dropped by to contribute, like good friends will do.
"I think this record captures the feeling, the moment, somehow," McCaughey said. "I took something that I didn't really know I was doing at the time and took it the full distance, not knowing whether it would work or not — but I feel like it really did work. I'm not saying I wish it hadn't happened," he said while laughing, "but at least I got something out of it. It's a weird thing. But it's my experience."
On Tour:
Media:
Links:
WEBSITE
FACEBOOK
TWITTER
YOUTUBE
Yep Roc Discography: