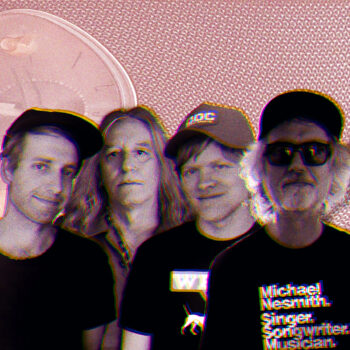 The No Ones
.........................................................

"No one is defined as nobody. An example of no one is how you would describe who is in an empty house. Not one person, nobody. The logical negation of someone."
OK, that makes sense. The No Ones are also defined as "not a single person" and that's fine too. In this case there are but four No Ones, and you can put them all in one room, though not very often at the same time. They are, alphabetically:
Peter Buck – R.E.M., Minus 5, Filthy Friends, Baseball Project, Luke Haines, etc.  Countless songs — you can only hope to contain them!  Double-LPs and pizza.  Hound Dog Taylor, Raspberries and Sault.  Warm weather and walking.  Made three amazing and fucked-up solo albums that are available only in an alternate analog world. 
Arne Kjelsrud Mathisen – I Was A King, Rural Tapes, etc.  Drums, keyboards, percussion, vocals, etc.  Arne played the controversial piano solo on "Turn Again" from first No Ones long-player.  He loves forest green, his Korg MS-10, Can, and Raymond Scott.  Rural Tapes (solo/collaborative instrumental project) release 2nd album Inner Space Music November 2022.  
Scott McCaughey – Young Fresh Fellows, The Minus 5, R.E.M., Baseball Project, Filthy Friends, etc.  Primary lyricist, plus bass, keyboards, guitars and vocals.  He enjoys coffee in his spare time, and dreams of Neil Young and Irma Thomas fronting Sun Ra's Arkestra, with Nice As Fuck opening.  Casablanca and The Florida Project are required viewing.  Scott The Hoople is his solo side-career.
Frode Strømstad – I Was A King, Rider, etc.  Master of melodies as well as guitars, capos, chords, and vocal cords.  He parties down with GBV and Elf Power.  I Was A King releases its 8th album Follow Me Home in September 2022.
So, making music comes naturally to this band, despite the obstacles.  Conceived above the Arctic Circle, split by thousands of miles, and compounded by ridiculous schedules and pandemics…  Thirty-plus songs later and we have My Evil Best Friend, the band's third release and follow-up to 2020's exceptional (by definition) The Great Lost No Ones Album.
My Best Evil Friend was realized in the way it was required, bouncing tracks back and forth from studios in Norway to the Dungeon Of Horror in Portland, Oregon, with a few other helpful home-recorders.  Arne and Frode were able to track live guitars and drums together in Oslo, which somehow gives the vibe of a combo rockin' a high school gym — owing much to the engineering work of Bård Ingebrigtsen, who also did the final mixes. 
Whereas Great Lost Album was imagined as being discovered in 2054 by a retro-hipster-scribe in Mojo ("The Last Magazine"), the latest is a blurry tribute to our own LP collections and memories, the artists that populate our turntables, and those that continue to inspire us.  Not exactly in linear or transparent ways, but you'll find shadows of Plastic Ono Band, Joe Tex, Sugar Pie de Santo, Nick Lowe, beat poet Michael McClure, Blind Tom, Pamela Polland, Dean Martin, and on and on.  There are even outright paeans to George Harrison, Jenny Lewis, and Phil Ochs, among others.  And once again the quartet has enlisted contributions from generous friends, through the voices of Debbi Peterson (Bangles), Norman Blake (Teenage Fan Club), Ben Gibbard (Death Cab For Cutie), as well as 'lead bass' from Camper Van Beethoven's Victor Krummenacher, and strings from Marin Ballemo Bakke.
With a 2020 tour of Norway repeatedly Covid-canceled, as well as lost appearances at Roskilde and other festivals, you might think it makes sense to hang it up.  Well, it does, but that's not the way it works.  When downtime is forced upon you, the committed musician just turns it into more songs, more records, more life.  The No Ones still hope to meet you all in person, but for now, let's hope that My Best Evil Friend can at least pull you into their orbit, like a beacon from RKO.
Robert Stove
The Electric Bird Digest, THE Quarterly Magazines for Amateur Electrobirds
Media:
Links:
FACEBOOK 
TWITTER 
Yep Roc Discography: