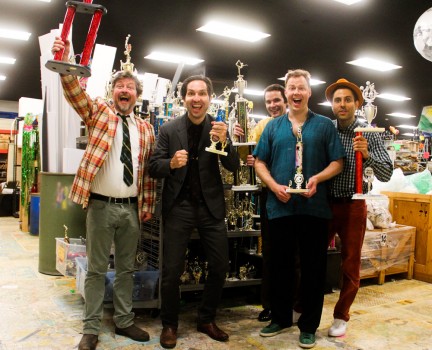 The Old Ceremony
.........................................................

"You'll survive all of this if it kills you," Django Haskins sings on "Ghosts of Ferriday" on The Old Ceremony's new Yep Roc release Sprinter.
Haskins knows a thing or two about endurance.  Since its formation in 2004, The Old Ceremony has built a unique body of recordings that evoke a distinctive musical and lyrical sensibility, while tapping into a rich, unmistakably Southern vein of melodic songcraft and vivid storytelling.  In the process, the iconoclastic Durham, North Carolina quintet has won a loyal fan base that's embraced the band's lush, emotionally resonant albums and charismatic, elegantly mounted live shows.
The Old Ceremony's musical journey progresses in some fascinating new directions on Sprinter, which stakes out some compelling new musical territory while incorporating the talents of some of the *Southern alt-pop pioneers whose work helped to inspire The Old Ceremony's own timelessly vibrant creative vision.
Resisting preconceived genre pigeonholes, The Old Ceremony draws freely from a boundless wellspring of stylistic influences to create music that's unique and personal.  Frontman/songwriter Haskins' richly detailed lyrics paint complex, intimate character sketches, while the band employs a wide palette of instrumental textures to construct cinematic chamber-pop soundscapes that are both emotionally evocative and effortlessly catchy.
Those qualities are prominent throughout Sprinter, on which such infectious, adventurous numbers as "Live It Down," "Ghosts of Ferriday," "Magic Hour" and "Hard Times" embody the potent combination of head and heart that's already endeared The Old Ceremony to fans and press alike.  And "Efige"—a rousing reading of a '60s Greek pop tune that the band adopted after hearing it on the soundtrack of HBO's The Wire—underlines the band's eclectic tastes, with Haskins' Greek-language vocal underlining the group's multicultural instincts.
"If there is an overarching theme in these songs, I think it's people who are either running towards their fate or running away from their fate," Haskins asserts.
Perhaps more than any of the band's prior releases, Sprinter taps into their home region's fertile musical heritage, as reflected in the participation of a trio of Southern musical legends: legendary studio guru and former Let's Active leader Mitch Easter, who produced the album; dB's co-founder, esteemed solo artist and longstanding Old Ceremony supporter Chris Stamey, who provides sublime orchestral arrangements on several tracks; and R.E.M.'s Mike Mills, who plays bass and adds his trademark vocal harmonies on "Magic Hour" and "Fall Guy."
"Mike was so great," says Haskins.  "He became such a part of it that it was like he temporarily joined our band.  He came out to the session and played bass on the basic track, and then he started layering background vocals.  The first one sounded great, the second one sounded better, and the third one was like, 'Holy shit, that's R.E.M.!'  His sound and his voice and his note choices are so distinctive, and it was just such a gift to have him be part of the album."
Sprinter's direction also reflects Haskins' recent experiences as a featured performer in an acclaimed series of live concert performances of Big Star's classic album Sister Lovers aka Third, with a rotating all-star cast that's included Easter, Mills, Stamey and Big Star's Jody Stephens, as well as Ray Davies, Robyn Hitchcock and members of the Posies, Teenage Fanclub, Wilco and Yo La Tengo.
"Seeing all these people come together to claim this musical lineage was really inspiring," Haskins affirms.  "A lot of those people are part of the same Southern pop community that The Old Ceremony comes from, and others are from a broader community of people who've been moved by this music that's come from the South."
Sprinter marks a departure for The Old Ceremony in some other key respects.  Recording at Easter's legendary Fidelitorium studio in Kernersville, NC, the band made a conscious effort to keep its creative process fresh by incorporating the talents of their kindred-spirit collaborators.
"When you make a lot of records with the same group of people, the challenge is to make each one a little different from the last one," Haskins notes.  "Having made a bunch of records that were completely under our own control, this time we really wanted to make more of an effort to include other people's input.  That definitely required us to let go to a certain degree.  But when we started getting the mixes back from Mitch, that was proof that we were doing the right thing."
Sprinter's combination of disciplined craftsmanship and free-spirited invention was built into The Old Ceremony's musical DNA from the start.  Haskins was already a young musical veteran who'd gained performing experience while living in New York and China, and released three solo efforts and one more as a member of the power-pop combo International Orange, when he began seeking out a broader sonic canvas.
"The idea of The Old Ceremony came from a group of songs that didn't fit the band I was playing in at the time," he explains.  "Those songs started to pile up, so I went out and found the people who fit that idea.  Initially, the band was tied together by a certain aesthetic that we shared—Morricone and Piazzola and Leonard Cohen and Tom Waits—and the idea was to create a kind of cinematic music.  We started with that group of songs, and then everyone brought in their own influences and we all started interacting and evolving."
Naming their new outfit in honor of Leonard Cohen's classic 1974 album New Skin for The Old Ceremony, Haskins and company quickly hit their stride, winning a devoted following in their hometown in their hometown of Chapel Hill, NC through an extended residency at a local wine bar, where the band honed its unique sound as well as its singularly theatrical approach to live performance.
"In order to get such an unwieldy ship as The Old Ceremony moving, we knew that the standard rock-club route wasn't a great model for what we were trying to do," Haskins recalls.  "So we tried to create an atmosphere that was appropriate for what the band was.  We tried to make the shows into events, and put a lot of thought into the visual and theatrical aspects to get people listening, and some of that sensibility has stayed with us."
The quintet (which often augmented its stage lineup with additional musicians) continued to expand its audience through diligent D.I.Y. roadwork, including a successful crowd-funded European tour adventure.  They also won considerable attention from critics, who praised the band's albums The Old Ceremony (2005), Our One Mistake (2006), Walk On Thin Air (2009), Tender Age (2010) and their 2012 Yep Roc debut Fairytales and Other Forms of Suicide.
Along the way, the band members have found time to engage in a wide variety of outside musical endeavors; for example, Haskins recently found time to launch Au Pair, a studio collaboration with the Jayhawks' Gary Louris that's yielded a soon-to-be-released album.
The Old Ceremony's dozen-year musical evolution continues to yield rewarding results, as Sprinter attests.
"I guess we've all kind of grown into the band together," Haskins observes.  "As time goes on, it becomes more of a challenge to keep your original attitude of 'Oh boy, what's gonna happen today?'  But time also gives you a sense of stability that allows you more confidence to try new things and test your limits.  When things get too easy, we try to splatter some paint and see what happens.  That's what we did on Sprinter, and I really like the place that we ended up."
On Tour:
Media:
Links:
WEBSITE
FACEBOOK
TWITTER
Yep Roc Discography: