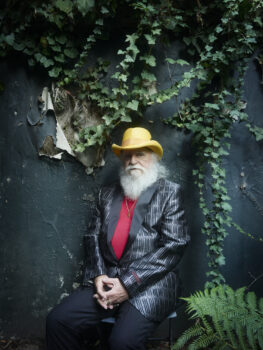 Tommy McLain
.........................................................

"When I wake up with a brand-new tune," Tommy McLain sings on his brilliant brand-new album, "that's how I know I'm still living."  This joyous declaration of music's affirming spiritual power bursts out from McLain's I Ran Down Every Dream (Yep Roc).  It focuses on McLain's soulful and beautifully-crafted original songs  —  and the sentiment "that's how I know I'm still living" is especially relevant considering McLain's storied career of six decades and still-counting.  At age 82 Tommy McLain continues to write and sing in true peak form, thrilling a multi-generational audience of devoted listeners.  Some such fans first heard McLain in the mid-'90s thanks to his work with the Louisiana supergroup Lil' Band 'o' Gold.  Others have loved McLain's music ever since his mega-hit "Sweet Dreams" climbed the national pop charts in 1966  —   and then stayed there "just about all year long," as McLain proudly recalls.
For quick reference, Tommy McLain is known as a "swamp pop" artist.  And, again for quick reference, swamp pop is a loosely defined Louisiana mixture that blends elements of classic R&B and early rock with tinges of Cajun music and zydeco, and a touch of country.  In terms of song structure, much swamp pop is a blue-eyed soul take on the 6/8 triplet rhythm that is nearly identical to the repertoire of such mainstream icons as Fats Domino, many of whose hits are favorite covers in the swamp pop repertoire.  What sets swamp pop apart is its deeply intense and soulful approach to vocals and a keening, sing-song sense of melody.  This plaintive passion is heard in timeless songs by artists including McLain, Warren Storm, Johnnie Allan, Rod Bernard, Lil' Bob, Phil Phillips  —  whose "Sea of Love" was swamp-pop's biggest national hit  —   and Belton Richard, who sang swamp-pop in Louisiana French.  Swamp pop's intense and convincing emotionalism strikes deeply personal chords with its listeners  —  and the specific point of this style, for Tommy McLain, "is to tell a little bit about my life and A WHOLE BUNCH about your life.  I like people to get something out of what I write.  I want my music to be the people's music."  This commitment to making deep personal connections pulses through every song here on I Ran Down Every Dream.
Tommy McLain grew up in rural central Louisiana where the first music he heard was "Pentecostal hymns, and then country —  Ernest Tubb, Hank Williams, Hank Snow, Webb Pierce.  They were great, I loved that music.  But I wanted to be TOMMY McLAIN.  I wanted to be different, I had something to say, too.  I got into R&B.  Little Richard was a huge influence, he really set me on fire.  I had Fats Domino imbedded into my soul.  When I first got into R&B, my daddy said 'you're goin' to Angola" [the Louisiana state penitentiary]  —  but then after "Sweet Dreams" hit big, he changed his mind."
McLain got lots of mileage out of "Sweet Dreams," performing around America on shows with such diverse hitmakers as the Byrds, Gary Lewis and the Playboys, Bobby Vinton, the Yardbirds, and Otis Redding.  "Those were great days," McLain recalls fondly  — and yet, ever the forward-thinking optimist, he adds "but these days now might be even better!"  When the momentum of "Sweet Dreams" eventually subsided, McLain spent decades playing around Louisiana and Texas, working six nights a week with a who's who of topflight regional musicians, including the Tex-Mex singer Freddy Fender, Bobby Charles of "See Ya Later Alligator" fame, and the fabled band the Boogie Kings; McLain played bass with this group and also took center stage as its front man.  Two of the late Bobby Charles' original songs appear on this album, in McLain's tribute to his dear friend and colleague.
In the late 1980s McLain met guitarist and producer C.C. Adcock.  Although some thirty years McLain's junior, Adcock loved and understood the music of McLain's era.  Adcock and McLain both perceived South Louisiana music, especially swamp pop, as a vibrant and evolving tradition, rather than stale nostalgia, frozen in time.  When Adcock founded Lil' Band 'o' Gold, he made McLain a featured artist who appeared on many LBOG shows over the next twenty years, sharing the alternating spotlight with various other singers.  But Adcock kept thinking that McLain  —  with his vast talent, and notebooks full of original songs  —  merited the full focus of a solo album.
"I've been listening to Tommy since I was a teen," Adcock recalls.  "In the 1980s I saw how charismatic Tommy was and I started to realize how much 'swamp pop' music from my home town of Lafayette resonated with folks all over the world. That realization set me on a similar course to what Tommy's career has always been about   —  looking forward and recording new original material.  That's what separates Tommy from most of the other swamp pop stars and a lot of the fans   —  they're not all that interested in creating or hearing something new and original.  Tommy is fearless. He can't stop the new songs, in all sorts of forms, from coming to him and getting excited about them and having that drive his life. He just keeps coming up with fresh tunes and melodies. It's beyond remarkable that an artist at his age is writing so prolifically, and turning out some of the best songs of his career!  Tommy's willingness to really work on his craft  —   writing, singing and recording – is amazing, and he doesn't mind all the exhausting travel and doing all it takes to make a good record, tour, and get his music to the fans ."
"As the producer on Tommy's solo album," Adcock continues, "I wanted to match his spirit and this drive and make certain that we captured and finessed these recordings in a way that hopefully will make them definitive one day. A genre must have new material to survive.  I purposely wanted to make this record a deeper, more lush and high-fidelity snapshot of my dear hero Tommy than maybe some of his previous ones have turned out, when the quality control was slightly lacking. I wanted the tracks to sound sparse, in a way, but still mysterious and captivating enough upon repeat listens, in that way that classic records can be."
Tommy McLain is greatly admired among knowledgeable, discerning musicians around the world, and many were happy to lend their talent to this project.  "There are so many extraordinary players on this record," Adcock says.  "Elvis Costello, Van Dyke Parks, Augie Meyers from the Sir Douglas Quintet and then the Texas Tornadoes, Warren Storm, Ivan Neville, Jon Cleary, Ed Harcourt, Denny Freeman, Lil' Band 'o' Gold, and all the local Lafayette A-list people."
Elvis Costello in particular is an especially avid admirer.  "Tommy McLain," Costello declares "has just made one of the greatest records you'd ever imagine, with this new album.  My friend C.C. Adcock did a great job as producer.  It's an absolute masterpiece.  With Tommy you are going to hear a man singing from his soul, a beautiful beautiful man.  He's one of the great great unsung heroes of American vocalizing, and he still sounds as good as he did when he did cut 'Sweet Dreams' in 1966.  I wrote a song with Tommy, and I wrote a song for Tommy.  And the album has an amazing cast of characters, for example Nick Lowe wrote a song, and Van Dyke Parks wrote arrangements."
"I was truly touched when I heard what Van Dyke Parks did with my song, "California," McLain recalls.  "I wish my mom and dad could've heard this new music that I'm making. They got to see me have success with "Sweet Dreams," but I didn't write "Sweet Dreams." This new album is me creating at my full potential  —  it's swamp pop, but it's a step outside swamp pop because we're not just doing all those old swamp pop favorites over and over.  I love those songs, but I wanted to go beyond them with my own fresh material, while I still can.  I had some great help, too, like when Elvis Costello wrote the singalong bridge on "I Ran Down Every Dream," with its wonderful chorus hook."
"Throughout the long process of making this record," Adcock says, with palpable deep respect, "Tommy has been the rock.  He's an incredibly special soul.  His creative spirit and dedication to the craft and his vocation and deep faith is truly awe-inspiring.  There's not many, if any, left like him and who can sing that good. It's an honor to ride beside him.  He's always positive, and there with a kind word and a smile to reassure me that God's already told him 'It's gonna turn out just right'. I do believe Tommy when he exclaims that we're 'fixin' to make swamp pop-ular'!'"
"I'm really excited about this album," McLain concludes. "And I'll tell you what, my life has been WONDERFUL! I wish everyone could have the life that I've had. I love writing songs, it's not about money with me, it's about touching people's lives.  And it still feels great to play, that exhilaration never goes away."  Tommy McLain is still running down every dream, and the great news is that he definitely is still catching them.
Media:
Links:
Yep Roc Discography: