Best Medicine is now available at the Yep Roc Store. Every CD and LP pre-order includes an instant download of the title track "Best Medicine" – listen now in the player below.
Two years, hundreds of gigs, and thousands of highway miles after their self-titled debut album was released, the genre-melding acoustic trio prepares to make its Yep Roc debut. Known for their songwriting, instrumental virtuosity and gorgeous three-part harmony singing, their most cohesive and ambitious album to date, Best Medicine, is scheduled for release on October 21.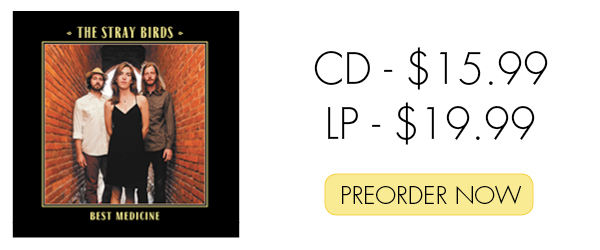 The band – multi-instrumentalists and vocalists Maya de Vitry, Oliver Craven, and Charlie Muench – hails from Lancaster, Pennsylvania. All three are classically trained musicians who've been making music of all kinds since childhood (before they reconnected through the local music scene, de Vitry and Muench first met in middle school orchestra); however, they were also all raised with a steady diet of music ranging from pioneers like The Carter Family and Bill Monroe & His Blue Grass Boys to the joyous invention of The Beatles and The Band, to the groundbreaking artistry of Jimi Hendrix.
Following the band's 2012 highly praised self-titled release, Best Medicine was recorded at Stonebridge Studios in Leesburg, VA and produced by the band and Stuart Martin.
Tags:
Best Medicine
,
charlie muench
,
maya de vitry
,
oliver craven
,
preorder
,
stray birds
,
The Stray Birds