HAPPY SHONDI! 🤡 Born Ruffians are back to celebrate their fictional, non-denominational holiday, Shondi Festoon, on December 11. The band has been celebrating since 2018 with yearly concerts and a bunch of ridiculous Shondi traditions that make no sense such as drinking hot beer, dressing as your best friend, placing cans under the Shondi Tree, and being good so that the Shondi Clown doesn't come for you!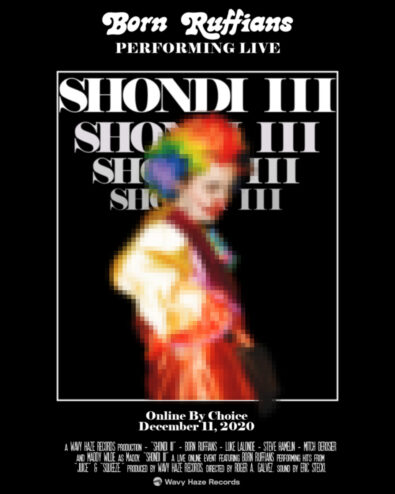 As a result of the pandemic, the Ruffians now taking Shondi Festoon III to….THE INTERNET! The band will present a live-stream show, featuring hits from their 2020 releases JUICE and SQUEEZE. Shondi Festoon will stream at 9pm local time on December 11 in North America, the UK, and the EU.
Get your ticket now or else the Shondi Clown might pay you a visit!
Watch the festival trailer:
Tags:
born ruffians
,
JUICE
,
SQUEEZE (Born Ruffians Album)