PULP, the final component of Born Ruffians' trilogy of pandemic releases, is now available for pre-order on vinyl! Pressed on blue vinyl and limited to 1,000 copies worldwide, pre-orders will ship in November! Pre-order PULP here.
It would be short selling it to call PULP a collection of b-sides and rarities. Rather, it is a group of songs who have been patiently waiting their turn. "Happy Parasites" was at the top of the list when Born Ruffians entered the studio to record Uncle, Duke & the Chief in 2017 but it never made it into the sessions. "Husha" has been kicking around Youtube and various hard drives, a bootleg of sorts, for nearly ten years. "Heat Wave" is a head-bobbing, slow-burn banger that just needed a little more gestation time.
PULP has been strained and separated for your convenience. You may now swirl them back into the eddying roil or consume each song independently. All we ask is you refrigerate after opening.
Written shortly after the band released 2013's Birthmarks, an earlier version of "Oh Cecilia" appeared on the deluxe CD version of the title and organically took on a life of its own. Of the track songwriter Luke Lalonde says, "It was kind of an orphan song—I knew it wasn't going to go on a record because it didn't really feel like it fit. I do enjoy the lyrical content. The concept of the song is a meta-poetic thing – the narrator is trying not to write a certain kind of song, but he keeps drifting into this love song. Over the years, the track has become a real fan favorite that people are often requesting at shows and talking about online, which is one of the reasons we're so excited to finally make it available on streaming."
See Born Ruffians on tour – tickets for the 5th Annual Shondi Festoon are on sale now!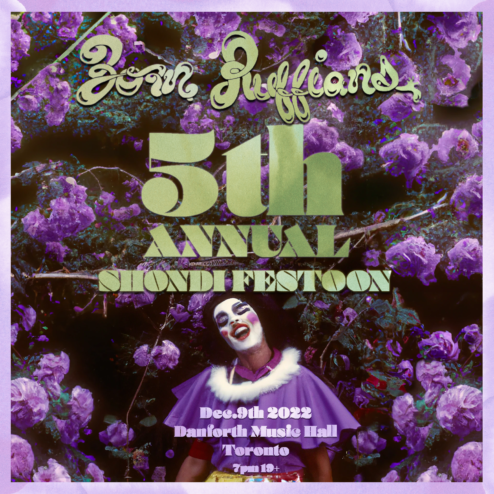 Sept 17 – Sandbanks Music Festival – Sandbanks, ON
Sept 30 – POP Montreal – Montreal, QC
Oct 1 – Bridgeworks – Hamilton, ON
Dec 9 – Shondi Festoon @ Danforth Music Hall – Toronto, ON
Tags:
born ruffians
,
New Release
,
Tour Dates