North Carolina's Chatham County Line debut "Right On Time," the first song unveiled from their highly anticipated tenth studio album Hiyo, out January 26 on Yep Roc Records. 
Building from a dreamy instrumental to a rollicking, harmony-driven ode to young love and the open road, the album's rousing opening track balances nostalgia with the contemporary setting the stage for the band's first album in four years. Listen/share: "Right On Time"
"The best music is made with complete total freedom," says singer/guitarist Dave Wilson. "We spent a lot of years pushing at the fences, but with this album, we've finally busted out of the corral." Fueled by new sounds, collaborators, and experimenting with fresh sonic palettes and innovative approaches to instrumentations, Hiyo marks an evolution for the band, who spent 15 years performing around a single microphone and chose to add a drummer to their touring lineup after the 2020 departure of their banjo player.  
Recorded at Asheville's Echo Mountain, the album was co-produced by Dave Wilson and Rachael Moore (Kacey Musgraves, Robert Plant and Alison Krauss), whom the band befriended during a stint serving as the backing band on the Showtime series George & Tammy, shot in Wilmington, NC. "I could tell the guys were ready to go somewhere new, and I wanted to see how far we could stretch the boundaries," offers Moore. "We agreed we'd still do things thoughtfully and be true to who they were, but this felt like a chance to explore some springs that they maybe hadn't gotten to tap into before."
The resulting album takes Chatham County Line's enduring sound and injects it with an adventurous spirit of discovery and vitality, incorporating synthesizers, drum machines, and more electric guitar and percussion than ever before, rounded out by Dave Wilson's classic songwriting – rich, evocative tales of love and heartbreak, joy and sorrow, revenge and righteousness. "There's this liberating element to getting rid of all the preconceptions about who we are and what we sound like, and I think it shows in these songs," says Dave Wilson.
A roots music staple for over two decades, Chatham County Line – Dave Wilson (vocal, guitars, harmonica, synthesizer, banjo); John Teer (mandolin, fiddle, guitars, vocal); and Greg Readling (bass, pedal steel, piano, clavinet, organ, vocal) – built a devoted following on the strength of their genre-bending live show before breaking out internationally in 2003 with their self-titled debut. Since then, the band's critically acclaimed albums have topped Billboard Bluegrass charts four times, they've shared the bill with the likes of Lyle Lovett and Guy Clark to The Avett Brothers and Steve Martin & Martin Short, and have collaborated with Judy Collins, Sharon Van Etten, and Jonas Fjeld.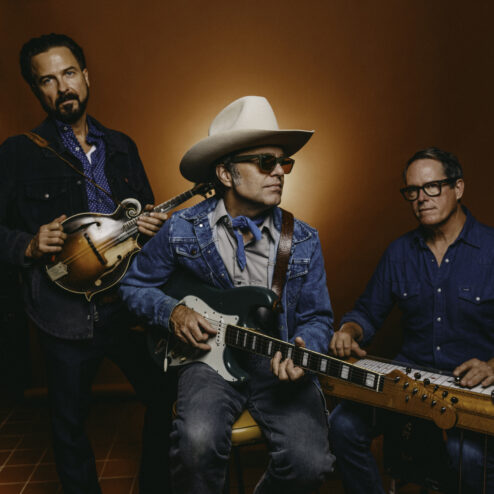 Hiyo Tracklisting:
Right On Time

Magic

Way Down Yonder

Heaven

Lone Ranger

B S R

Under The Willow Tree

She's Got You

Stone

Summerline
Tags:
americana
,
bluegrass
,
Chatham County Line
,
New Album
,
New Single
,
Pre-order
,
Press Play
,
Stream