Born Ruffians have shared the official video for "Waylaid" from their recently released second full-length album of 2020, SQUEEZE.
The track, which features indie-pop luminary Hannah Georgas, is Born Ruffians' first time sharing vocals with another artist. "We've had other people come and sing on tracks before, but I haven't ever sung a proper duet with anybody," says lead singer Luke Lalonde. "Once we finished a demo version of "Waylaid" we knew it should be a duet because of the lyrics. Hannah was at the top of our list because she's so great, and I've got to sing with her a few times – it's always so effortless and easy, and I think our voices blend really well. It's about distance in a relationship and the fear of becoming entangled with somebody else – or of that happening to you. It's a tired of being alone song."
"I wanted to explore this idea of a dreaming person as they subconsciously navigate various ways to define a romantic relationship and all that comes with it, adds director/animator Martin Macpherson. "As they float through visions of nostalgia, fantasy, and impermanence, they are ultimately presented with ideas that make a clear definition impossible but provides a feeling of cautious optimism, regardless of how dark things may seem." Lalonde adds, "Enter into the analog dream world, the first-person experience of space-time. Where eras and nanoseconds coalesce, folding eternally outward into golden memories."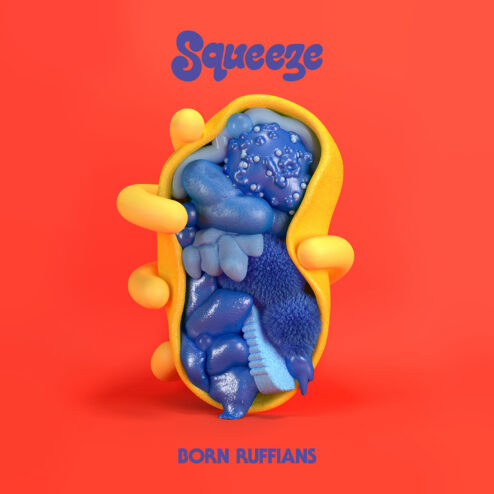 SQUEEZE was produced by Graham Walsh (Holy Fuck) and Born Ruffians and recorded at Baldwin Street Sound in Toronto. Written in the shadow of Brexit and Donald Trump, and birthed well before the global pandemic, SQUEEZE finds the trio exploring a more psych-y, orchestral, and expansive sound.  
Following the recording of 2018 Richard Swift-produced Uncle, Duke & The Chief, the band still had a batch of songs that they wanted to record, so they entered the studio without knowing what would become of them. Those prolific recording sessions churned out more and more music, ultimately boiling down to two distinct vibes, resulting in JUICE, released in April 2020, and SQUEEZE, the companion album in a multi-album release plan. 
Tags:
born ruffians
,
music video
,
Squeeze