Grant-Lee Phillips has shared a new song, "All by Heart," from his forthcoming album All That You Can Dream. Of the song, Grant-Lee says:
"'All by Heart' is a different kind of bond. We are bound together through human experience. There's also a collective trauma that we carry within us. In this country, we are very much engaged in processing the trauma that was baked into our nation's colonial past. One strategy is to haul it out in the light and talk about it, and another is to deny it.

That battle is being played out. It's a painful process, but history has elected us to do so. A part of us remembers the past on a deep level, and I think it animates our actions in ways that we aren't so conscious of."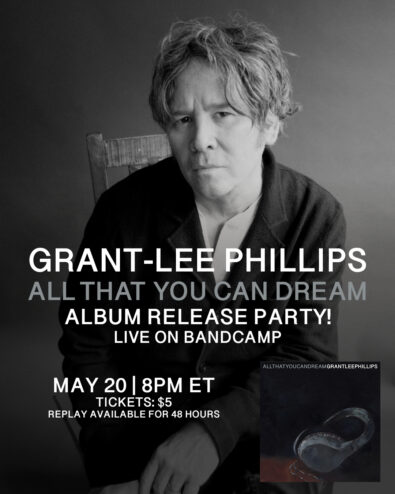 Grant-Lee will celebrate the May 20th release of All That You Can Dream with a special Bandcamp live stream. Tickets are $5; buy your ticket here! The live stream includes a replay that is available to watch for 48 hours.
All pre-orders of All That You Can Dream from the Y-Store and Bandcamp are autographed by Grant-Lee.
See Grant-Lee Phillips on tour:
April 23 – Lille Sal – Esbjerg Tobakken, Denmark
April 24 – Hotel Cecil – Copenhagen, Denmark
April 25 – Hotel Cecil – Copenhagen, Denmark
April 27 – John Dee – Oslo, Norway
April 28 – Madam Felle – Bergen, Norway
April 29 – Byscenen – Trondheim, Norway
April 30 – Svømmehallen – Bodø, Norway
June 2 – City Winery Loft – Boston, MA
June 3 – City Winery Loft – New York City, NY
June 4 – City Winery Loft – Philadelphia, PA
June 5 – City Winery Loft – Washington, DC
June 7 – Club Cafe – Pittsburgh, PA
June 8 – Music Box – Cleveland, OH
June 9 – The Ark – Ann Arbor, MI
June 11 – Shank Hall – Milwaukee, WI
Tags:
Grant-Lee Phillips
,
New Release
,
Tour Dates