"Come on lightning, show us your stuff," those words from Grant-Lee Phillips' young daughter were the inspiration for the critically lauded Nashville-based singer/songwriter's tenth studio album, Lightning, Show Us Your Stuff, slated for a September 4 release on Yep Roc Records.
Lightning, Show Us Your Stuff is a turbulent and highly musical rumination that finds the veteran singer-songwriter addressing the strange fragility of life. His tenth solo release bears the markings of his prolific output, a melodic prowess and an ear for lyric in everyday conversation. The album offers a salve to a wounded world, struggling to regain equilibrium. This is Grant-Lee Phillips at his most reflective, wrestling with the most pertinent of questions. What we value, how we define security, our vulnerability – here Phillips takes stock of the deeper questions with intensity and humor.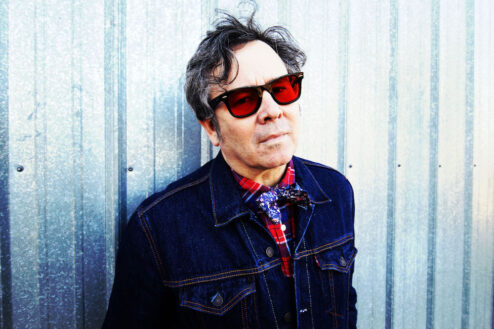 "It's an album close to my heart, one that I hope you'll find offers some comfort and feeds the soul. The title owes a debt to my daughter. She coined the phrase at age 5. Standing in the backyard of our house one evening, she raised a long red branch of manzanita to the sky. I heard her say 'Come on lightning! Show us your stuff.' Then I heard the thunder crack. As we songwriters are known to do, I filed this memory away, to be revisited 7 years later. Her words struck me as the kind of invocation that proceeds an act of creation. It stuck with me."

Grant-Lee Phillips
Painting a beautifully human musical tapestry, Lightning, Show Us Your Stuff finds the veteran singer/songwriter at his most inspired. Featuring 10 original compositions, each track exhibits why Phillips remains one of the strongest torchbearers of his generation.
The album's second single, "Straight to the Ground," premiered at SPIN. "I tapped into my own youth to render a character whose small-town upbringing finds them feeling hemmed in and disillusioned. Imagining an idyllic vista out west, that all seems achingly out of reach," Phillips says. "I remember that feeling, the frustration of being nineteen and quite certain that the whole world would pass me by if I didn't get out of the house or hit the highway. I wrote this song last autumn, shortly before the recording session. When I sing it today however, I can't help but think of my own twelve-year old daughter and all the kids whose lives have been disrupted by this pandemic – all of those graduation ceremonies and markers that have been snatched away."
The first single, "Lowest Low", which premiered at Ditty TV, was praised by Brooklyn Vegan who noted, "Grant-Lee Phillips is back with this gentle, beautiful new single, anchored by his warm, inviting delivery."
"These days, I'm interested in writing about the quiet lives of people who are wrestling to hang on, trying to retain dignity, fighting back forces beyond their control," offers Phillips. "I'm not interested in pinning the songs down or reducing their mystery. I'm attempting to capture a sliver of time."
Lightning, Show Us Your Stuff was produced by Phillips, who is featured on vocals, guitars, piano, and organ. Recorded and mixed by Pete Min (Amos Lee, Andrew Bird) at Lucy's Meat Market in Los Angeles, CA, Phillips was joined in studio by drummer Jay Bellerose (Robert Plant, Alison Krauss), bassist Jennifer Condos (Ray LaMontagne, Bruce Springsteen, Sam Phillips), pedal steel player Eric Haywood (Son Volt, The Jayhawks), and horn player Danny T. Levin (Iggy Pop, Regina Spektor).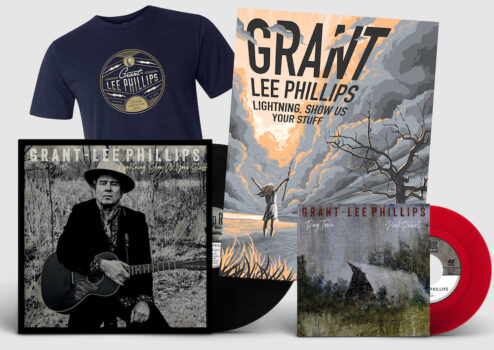 Bundle your CD or LP order of Lightning, Show Us Your Stuff with a limited edition autographed silkscreen poster + t-shirt and save 20% on your order of the CD and LP! First Edition LP includes a bonus red vinyl 45 of two unreleased tracks from the Lightning, Show Us Your Stuff sessions.
Tracklisting:
1. Ain't Done Yet
2. Drawing the Head
3. Lowest Low
4. Leave a Light On
5. Mourning Dove
6. Sometimes You Wake Up in Charleston
7. Gather Up 8. Straight to the Ground
9. Coming To
10. Walking in My Sleep
Tags:
Grant-Lee Phillips
,
Lightning Show Us Your Stuff
,
New Release
,
New Single