In celebration of its 30th anniversary, Yep Roc is pleased to announce the reissue of Iris DeMent's Infamous Angel. Set for November 4 release and available for pre-order, the universally acclaimed masterpiece includes enduring songs such as "Mama's Opry," "Our Town," and "These Hills."
Featuring newly remastered audio by Mike Westbrook of MW Audio (Nick Lowe, Watchhouse), the 11-track album will be available on CD and LP. The release marks the first wide release of the long out-of-print album on vinyl, following a Vinyl Me Please exclusive reissue earlier this year.
An indie retail-only limited edition LP pressed on brown vinyl will be available worldwide (check it out here).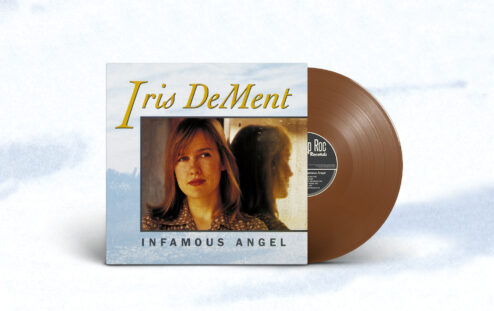 Originally released in 1992 on Rounder Records' Philo label with liner notes from John Prine, Infamous Angel received critical praise upon its release. Robert Hilburn of the Los Angeles Times gushed that her work recalled "Prine's feel for sentimental tales of people and places," while critic Robert Christgau hailed "Let the Mystery Be" "miraculous," and Rolling Stone named her "Hot Country Singer" for 1993. 
Recorded at The Cowboy Arms Hotel & Recording Spa, Nashville, TN, and produced by Jim Rooney, the album features DeMent on vocals/acoustic guitar. She was joined in the studio by Mark Howard (acoustic guitar); Stuart Duncan (fiddle, mandolin); Pete Wasner (piano); Al Perkins (Dobro); Jerry Douglas (Dobro on "Infamous Angel"); and Roy Husky, Jr (upright bass). With harmony vocals by Emmylou Harris on "Mama's Opry" and Jim Rooney on "Fifty Miles of Elbow Room," Flora Mae DeMent is featured on lead for "Higher Ground."
Infamous Angel is among several artist anniversary titles being reissued on LP by Yep Roc Records this fall.
Infamous Angel Tracklisting: 
3. Hotter Than Mojave in My Heart 
6. Fifty Miles of Elbow Room 
Tags:
Infamous Angel
,
Iris DeMent
,
New Release
,
Vinyl Reissue