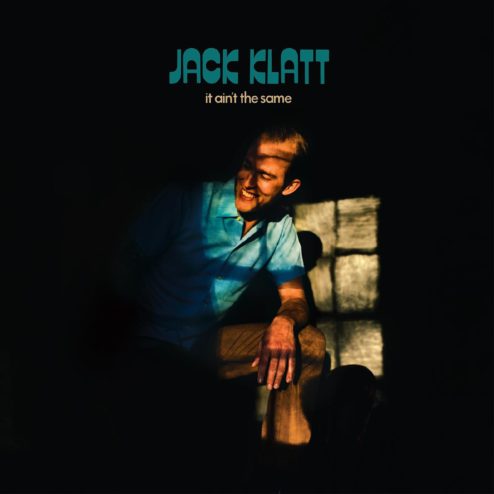 Jack Klatt releases his much-anticipated album and already acclaimed album, It Ain't the Same, today via Yep Roc Records. It Ain't the Same sees Klatt affirming American roots music's contemporary credence with devotion, depth, and his own distinct worldview. Produced by Klatt at Chicago's Reliable Recorders, the album evinces a more creative approach to the studio than his previous outings while still staying true to the simplicity and spirit of traditional Americana.
Purchase/stream It Ain't the Same here.
The singer-guitarist is joined in his efforts by a skilled set of session superstars, including The Deslondes' John James Tourville on electric guitar and pedal steel, bassist Casey McDonough (NRBQ), and Alex Hall (JD McPherson, Robbie Fulks) on drums, percussion, keys and engineering, with harmony vocals from The Cactus Blossoms' Page Burkum. Songs like the supple "I'll Never Let You Down" and the coolly confident "World Shaker" offer ample evidence of Klatt's increasing prowess and power, melding his early punk influences with the vast gamut of Americana styles to craft a robust, impossible-to-categorize collection that, as its title suggests, is both brand new and something special indeed.
In the past, my records had been recorded live in two or three days, straight to tape, with little to no overdubbing. I wanted to do something different this time, take some more care and explore all the possibilities the studio has to offer. This record feels like a step forward for me, a departure from my earlier country blues-based recordings. I learned and grew musically so much through the process. I can't wait to get back in the studio and do it again.

Jack Klatt
Born and raised in the Twin Cities, Klatt dropped out of college to see the world, busking his way from San Francisco to Spain before returning home with a new focus on songcraft and fingerstyle technique. He quickly put together a backing combo and began playing out across the Midwest, lighting up barrooms, saloons, clubs, and festival stages with his signature approach towards the country blues form.
After successful dates opening for Parker Millsap and Pokey LaFarge, Klatt will support It Ain't the Same with his first North American headlining tour with dates in Chicago, D.C., Brooklyn, Philadelphia and more:
10/12 Turf Club (St. Paul, MN)
11/6 Off Broadway (St. Louis, MO)
11/7 The Basement (Nashville, TN)
11/8 Eddie's Attic (Decatur, GA)
11/9 Cat's Cradle Back Room (Carrboro, NC)
11/12 Pearl Street Warehouse (Washington, DC)
11/13 Milkboy Philly (Philadelphia, PA)
11/14 Union Pool (Brooklyn, NY)
11/15 The Hangar on the Hudson (Troy, NY)
11/16 Abilene Bar & Lounge (Rochester, NY)
11/20 Southgate House Revival (Newport, KY)
11/21 Zanzabar (Louisville, KY)