Features Celebrated North Carolina Artists: Steep Canyon Rangers, Balsam Range, Town Mountain, Songs From the Road Band, among others
Includes Co-Writes with Robert Hunter, Charles R. Humphrey III, John Oates, Si Kahn, Graham Sharp, Logan Ledger and Sara Douga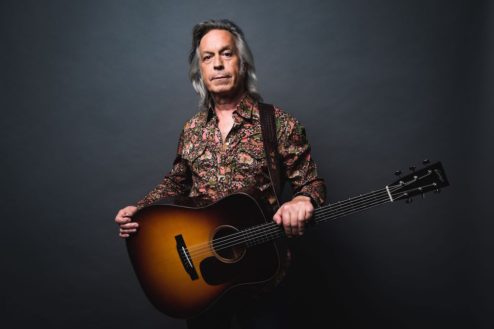 "No matter what other music I make, I always feel the pull to come back to bluegrass and make records like this. It connects me back to how I fell in love with music as a child – it feels like coming home."

Jim Lauderdale
A Grammy-winning icon of American music, Jim Lauderdale has always covered a wide range across the Americana spectrum, from rocked-up country to high lonesome bluegrass. In a very literal sense, he's returning to his geographic as well as musical roots on his 33rd album, When Carolina Comes Home Again, out today.

The 13 tracks on When Carolina Comes Home Again are straight-up bluegrass, going back to the earliest music Lauderdale learned to play. The music is also rooted geographically, in Lauderdale's home state of North Carolina – where he was born in Statesville and grew up in Troutman and Charlotte before attending the North Carolina School of the Arts in Winston-Salem.
Praise has already come in for When Carolina Comes Home Again:
"…you'll be surprised that there's always new wisdom to uncover when you go back to basics – and you'll be better for it." – No Depression
"…Jim Lauderdale gives a loving nod to the Carolina's while also proving he has countless ways to write of your significant other walking out the door, leaving you wondering what the hell happened to what's left of your heart." –The Alternate Root
"This is buoyant, joyous bluegrass. It's musically excellent, and Jim Lauderdale's qualities pervade the songs. Playful rhymes, winsome melodies-make sure you don't miss out on When Carolina Comes Home Again." –Lyric Magazine
Featuring instrumental accompaniment from various members of North Carolina-based acts, including Balsam Range, Cane Mill Road, Hank Pattie & the Current, John Stickley, Songs From The Road Band, Steep Canyon Rangers, and Town Mountain; as well as Matt Pruett (banjo); Pattie Hopkins Kinlaw (fiddle); Aaron Ramsey (mandolin); Nick Dauphinais and Presley Barker on guitars.
The album includes notable co-writes including John Oates on the title track, the late Grateful Dead lyricist Robert Hunter on, "As A Sign," Songs From The Road Band bassist Charles R. Humphrey III ("Misery's Embrace," "The Last To Know," "You'll Have To Earn It"), Steep Canyon Rangers banjo player Graham Sharp ("It Takes One To Wonder"), Logan Ledger ("Better Than You Found It") and Sara Douga ("I'm Here To Remind You").
First Edition CD/LP features two bonus tracks recorded live at the North Carolina Governor's Mansion. Buy it now on the Y-store.
Tags:
Jim Lauderdale
,
New Album
,
New Release
,
steep canyon rangers
,
When Carolina Comes Home Again