The Beast In Its Tracks, the new album from renowned singer-songwriter Josh Ritter, is now available outside the US on Yep Roc Records as well as HERE on iTunes.
Of the record, Ritter says, "In the year after my marriage ended, I realized that I had more new songs than I'd ever had at one time. Far from the grand, sweeping feel of the songs on So Runs the World Away, these new songs felt like rocks in the shoe, hard little nuggets of whatever they were, be it spite, remorse, or happiness."
This is the sixth full-length recording from Ritter, who has been widely heralded by critics and fans alike. Watch his lyrics video for the song "New Lover" in the player below.
Recorded during 2011-2012 at the Great North Sound Society in Parsonsfield, Maine, The Beast In Its Tracks continues Ritter's longtime collaboration with producer and keyboard player Sam Kassirer. As Josh describes, "I hadn't composed this stuff, I'd scrawled it down, just trying to keep ahead of the heartbreak. They needed to be recorded like that. We needed to work fast, make decisions quickly, keep the songs as spare as they could be kept, and above all never allow ourselves to blunt the sharp edges. Some of the songs were mean or evil. So be it."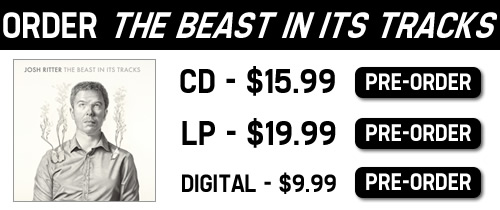 Every ticket for Josh Ritter's March 13-May 22 tour comes with a digital download of The Beast in Its Tracks delivered to your inbox.
March 13 Granada Theatre^ Dallas, TX TICKETS
March 14 SXSW – Paste Party Austin, TX TIME TBA
March 14 SXSW – Antone's Austin, TX MIDNIGHT
March 16 Rialto Theatre^ Tucson, AZ TICKETS
March 18 Belly Up^ Solana Beach, CA TICKETS
March 19 Fonda Theatre^ Los Angeles, CA TICKETS
March 20 The Fox Theatre Oakland, CA (Sea Wolf supports this show) TICKETS
March 21 Crystal Ballroom^ Portland, OR TICKETS
March 22 The Commodore^ Vancouver, BC TICKETS
March 23 The Neptune^ Seattle, WA SOLD OUT
March 24 Knitting Factory^ Spokane, WA TICKETS
March 25 Wilma Theatre^ Missoula, MT TICKETS
March 27 Ogden Theatre^ Denver, CO TICKETS
^ Lake Street Dive supports Mar 13-27
April 13 Asbury Hall @ Babeville %Buffalo, NY TICKETS
April 14 Taft Theatre %Cincinnati, OH TICKETS
April 15 The Southern %Columbus, OH TICKETS
April 16 Danforth Music Hall %Toronto, ON TICKETS
April 17 Royal Oak Theatre #Detroit, MI TICKETS
April 18 The Vogue #Indianapolis, IN TICKETS
April 19 Brown Theatre #Louisville, KY TICKETS
April 20 Vintage Vinyl – Solo acoustic St. Louis, MO – Record Store Day 2013 FREE
April 20 Plush St. Louis, MO TICKETS
April 21 Liberty Hall #Lawrence, KS TICKETS
April 23 Pabst Theatre #Milwaukee, WI TICKETS
April 24 Capitol Theatre %Madison, WI TICKETS
April 25 First Ave %Minneapolis, MN TICKETS
April 27 Vic Theatre %Chicago, IL TICKETS
% = Sea Wolf (acoustic) supports# = Martin Sexton (solo) supports
May 8 State Theatre*Portland, ME TICKETS
May 9 Calvin Theatre* Northampton, MA TICKETS
May 10 9:30 Club* Washington, DC SOLD OUT
May 11 9:30 Club – 2nd night!* Washington, DC SOLD OUT
May 12 Cat's Cradle* Carrboro, NC TICKETS
May 13 Orange Peel* Asheville, NC TICKETS
May 14 Variety Playhouse* Atlanta, GA TICKETS
May 16 The Trocadero* Philadelphia, PA TICKETS
May 17 House of Blues* Boston, MA TICKETS
May 18 Terminal 5* New York, NY TICKETS
May 21 Capitol Theatre York, PA TICKETS
May 22 Lewis Ginter Botanical Gardens Richmond, VA TICKETS
* Felice Brothers support May 8-18

EUROPEAN TOUR(dates do not include album download)
July 18 Big Top Limerick, Ireland TICKETS
July 19 Iveagh Gardens Dublin, Ireland TICKETS
July 21 An Grianan Theatre Letterkenny, Ireland TICKETS
July 23 Village Underground* London, UK SOLD OUT
July 24 Village Underground* – 2nd night!London, UK TICKETS
July 25 Paradiso*Amsterdam, Netherlands TICKETS
Tags:
josh ritter
,
the beast in its tracks