Jukebox the Ghost is back with Safe Travels, the follow-up album to their 2010 breakout Everything Under the Sun. After two solid years of touring including shows at Lollapalooza and a stop at Late Night with David Letterman, Ben, Tommy and Jesse are back with 13 new, original tracks that the Washington Post describe as "rambunctious pop music with the compact melodicism of the Beatles, the ambitious prog sprawl of Yes, and the persistent dance motion of New Order." Safe Travels is available now.
The Yep Roc Store is excited to offer JTG fans the exclusive opportunity order Safe Travels now on CD or 180 gram double LP bundled with some great new merchandise. Along with the new album you can now also get the official Safe Travels t-shirt, a limited-edition collector's poster and a Jukebox the Ghost "passport" that fans can bring to the band's performance and get stamped for an official record of every time they've rocked out with the band live.  Check out all the great bundles below and order your copy of Safe Travels now. Every order of Safe Travels on CD or LP at the Yep Roc store includes an instant full-album download for free.

Click HERE to order Safe Travels now on CD, 180g LP and digital at the Yep Roc Store.
Click below to see all the Safe Travels bundles available exclusively at the Yep Roc Store.

You can order Safe Travels now on CD or LP and bundle it with Jukebox the Ghost's 2010 album Everything Under the Sun on CD or LP and save.  Order either bundle and you will receive the full Safe Travels and Everything Under the Sun digital albums for download instantly. Click below to select the CD or LP bundle.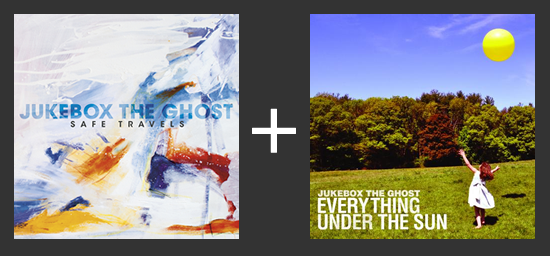 Jukebox the Ghost
,
Safe Travels