Inspired by a Shania Twain type of sass, "If I Wanted Your Opinion" is Michaela Anne's rallying cry to keep your opinions and judgements to yourself if they are critical of others. The song took shape when Michaela and her co-writer Mary Bragg started sharing experiences they'd both had of being talked down to, slights, exclusions, manipulations, expectations, etc.
"I believe one of our core desires as humans is to be seen for who we are," explains Michaela.  "This song, for me, is an attempt to share that experience with others.  That feeling of being boxed in, misunderstood, exhausted by outside pressures and people telling you how to be, it is not specific to only one kind of gender, race, religion. It is a universal feeling."
Share Your Story with Michaela!
Michaela wants to hear your stories: When was a time you had to quiet the voices of others, go against the opinions around you and stand in the conviction of your own voice?
1. You can share with Michaela by posting on your socials + tagging her: @michaelaanne on Instagram and @MyMichaelaAnne on Facebook and Twitter).
2. Use the hashtag #ifiwantedyouropinion to share your story as a video or written post.
OR: Visit www.ifiwantedyouropinion.com and submit here!
In the coming weeks/months, Michaela will be featuring and sharing fan stories on her site and socials as well as sharing some special stories from friends/people she admires!
Pre-order the Official "If I Wanted Your Opinion" Tee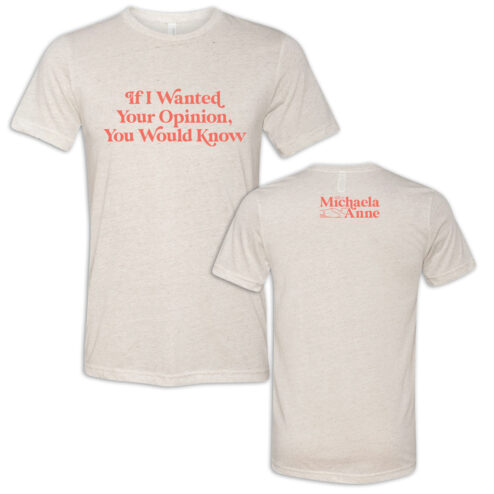 10% of all t-shirt sales will go to the Girls Opportunity Alliance, which seeks to empower adolescent girls around the world through education.
**Shirts are scheduled to be packaged and shipped by the end of October.
Tags:
Desert Dove
,
If I Wanted Your Opinion
,
Michaela Anne