The Minus 5's Dungeon Golds is out now on CD + digital formats! Buy the album at the Yep Roc Store, iTunes and Amazon.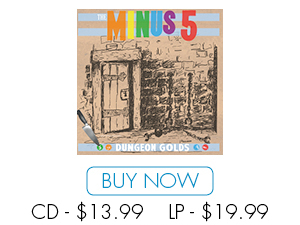 NOTE: Due to delays with the pressing plant, the vinyl album will be released March 24. If you pre-ordered the LP from the Yep Roc Store, customer service will reach out to you with the new estimated ship date.
Dungeon Golds was recorded primarily in the basement (a.k.a. The Dungeon) of Scott McCaughey, leader of The Minus 5. These songs are the product of sporadic spare moments of inspiration over the last few years. This collection was artfully curated, by McCaughey, from the extremely limited edition Record Store Day 2014 vinyl only box set, Scott The Hoople In The Dungeon Of Horror.
Tags:
Dungeon Golds
,
Scott McCaughey
,
The Minus 5