Grant-Lee Phillips has released "Mourning Dove," the latest single from his forthcoming album Lightning, Show Us Your Stuff, out September 4.
"Of the entire album, 'Mourning Dove' is among the oldest songs," Phillips offers. "I lived with it for several years and it went through various stages before its completion. I began writing it in consideration for The Narrows. Like so much of that album, it's a reflection of what we hold dear, what we value, 'The things we chase that can't be kept.' It was one of the first things I wrote after moving to Tennessee. The imagery of dogwood trees and wildflowers were inspired by my connection to this place. It's also a vision of a world beyond strife or a rest after a long battle."
Check out an acoustic performance of the song by Grant, live from his home:
The Big Takeover, who premiered the song, calls it "an insightful pastoral rumination that takes the listener on a journey on the long and winding – and challenging – road called life. Phillips sings in a yearning tone about those who remain open-hearted, even in the face of adversity, suffering, and loss."
The album's first single, "Lowest Low", which premiered at Ditty TV, was praised by Brooklyn Vegan who noted, "Grant-Lee Phillips is back with this gentle, beautiful new single, anchored by his warm, inviting delivery."
The album's second single, "Straight to the Ground," premiered at SPIN, while the video for "Gather Up," the third single, premiered at Glide Magazine who noted, "Phillips lets his gritty, soulful vocals shine while backed by a rich cacophony of percussive sounds."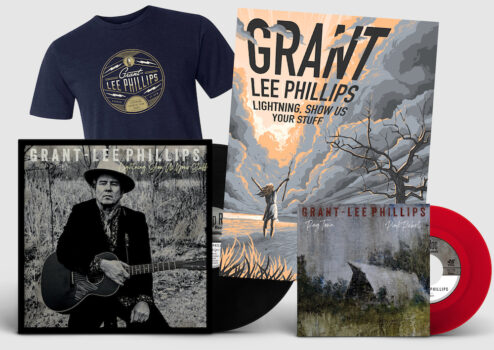 Bundle Lightning, Show Us Your Stuff CD or LP with a limited edition t-shirt and autographed silkscreen poster and save 20% on your order!
First Edition Vinyl LP includes a bonus red vinyl 45 single of two unreleased tracks from the Lightning, Show Us Your Stuff sessions.
Tags:
Grant-Lee Phillips
,
Lightning Show Us Your Stuff
,
new music
,
New Video