Yep Roc Records celebrates the 25th anniversary of Nick Lowe's Dig My Mood with a deluxe reissue available on LP and all streaming services. The limited edition anniversary LP, pressed on blue vinyl with a bonus 10-inch EP pressed on yellow vinyl, is limited to 1,500 copies worldwide. Get your copy here.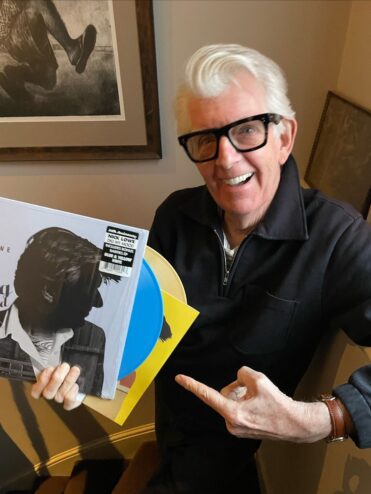 The bonus EP features the rare studio track, "I'll Give You All Night to Stop," plus four live performances recorded at Club Quattro, Tokyo, Japan over two shows in March 1998, all previously unavailable digitally and on vinyl.
Following 1994's acclaimed The Impossible Bird, Lowe continued to write about love and hardship through a sophisticated lens on Dig My Mood, including celebrated staples like "You Inspire Me" and "Man That I've Become," both fixtures of his setlists a quarter-century later. With 1998's Dig My Mood, which marked the second masterpiece of his "worldly balladeer" and "elder statesman of rock and roll" chapter, he left behind the ironic power pop persona of his Jesus of Cool days.
With Lowe's razor-sharp songwriting at the forefront, Dig My Mood also includes a selection of tasteful covers including Henry McCullough's "Failed Christian" and Ivory Joe Hunter's "Cold Grey Light of Dawn." Another masterclass example of Lowe's strength as a composer and performer, the album garnered rave reviews with No Depression declaring that "Lowe has never sounded better." Dig My Mood became the middle entry in the widely-celebrated Brentford Trilogy of albums that Lowe released between 1994 and 2001.
Recorded and mixed between at RAK Studios, St. John's Wood; London; September Sound, Twickenham, London; The Bonaparte Rooms, St. Margaret's, London; and R.G. Jones Studio, Wimbledon, London, the album is produced by Nick Lowe and Neil Brockbank, and mixed by Neil Brockbank.
For Nick Lowe tour dates, tickets are available here.
Dig My Mood Tracklisting:
1. Faithless Lover
2. Lonesome Reverie
3. You Inspire Me
4. What Lack of Love Has Done
5. Time I Took a Holiday
6. Failed Christian
7. Man That I've Become
8. Freezing
9. High on a Hilltop
10. Lead Me Not
11. I Must Be Getting Over You
12. Cold Grey Light of Dawn
Bonus Tracks:
13. I'll Give You All Night To Stop
14. Soulful Wind (Live in Japan)
15. She Don't Love Nobody (Live in Japan)
16. Cruel To Be Kind (Live in Japan)
17. Half a Boy and Half a Man (Live in Japan)
Tags:
Dig My Mood
,
Dig My Mood 25th Anniversary
,
nick lowe
,
Vinyl Reissue
,
Yep Roc Records