For the album's 10th anniversary, Quality Street is being reissued on red color vinyl and includes a bonus 45 single of Nick Lowe's covers of "Winter Wonderland" and "Let It Snow." Nick's longtime tourmates Los Straitjackets are his backing band on both tracks and this marks the first time that either song is available on vinyl. The 10th anniversary LP package is limited to 1,000 copies worldwide and is available for pre-order here. A limited edition Quality Street jigsaw puzzle is available to be bundled with the LP pre-order as well.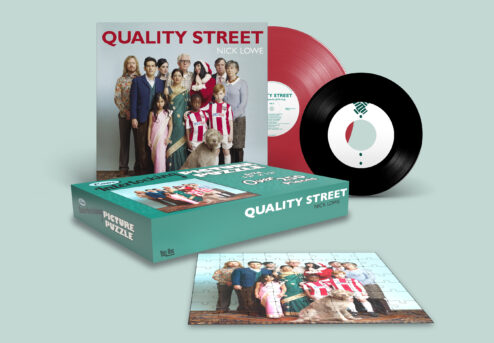 Described as a "sleighbell-free zone" by the man Rolling Stone would ordain "St. Nick" in a 2018 career-spanning profile, Quality Street is anchored by two Lowe originals – "Christmas at the Airport" and "I Was Born in Bethlehem" – both future holiday standards in the making. Other new songs on the collection include "Dollar Short of Happy," a co-write with former Little Village bandmate Ry Cooder, and the Ron Sexsmith groover "Hooves on the Roof," written expressly for the collection. In between there's a beguiling mix of covers ranging from the obscure ("The North Pole Express") to the ubiquitous ("Silent Night") all deemed "characteristically great" (New York Magazine) and "unimpeachably tasteful" (Washington Post) by critics. Reviewing Lowe's performances on Quality Street, The New York Times concluded simply, "He spoils you, this guy."
Quality Street would prove a pivotal release for Lowe. It was his last album recorded with two of his closest friends and collaborators, drummer Bobby Irwin and producer Neil Brockbank, who died in 2015 and 2017 respectively. It also spawned his first tour with Yep Roc labelmates Los Straitjackets, a partnership that has evolved from its original "Quality Holiday Revue" to multiple tours across the US, Europe, Australia, and two consecutive Summer runs supporting Elvis Costello and the Imposters.
Lowe and Los Straitjackets will hit the road again this fall for three weeks of U.S. dates commencing November 1 in Boston, that might see them revisiting a couple numbers from the original Quality Holiday Revue. See below for a full list of upcoming dates and look for new music from Lowe and the Straitjackets in the coming year.
NICK LOWE QUALITY STREET 10TH ANNIVERSARY TRACK LISTING:
1. Children Go Where I Send Thee
2. Christmas Can't Be Far Away
3. Christmas at the Airport
4. Old Toy Trains
5. The North Pole Express
6. Hooves on the Roof
7. I Was Born in Bethlehem
8. Just to Be with You (This Christmas)
9. Rise Up Shepherd
10. Silent Night
11. A Dollar Short of Happy
12. I Wish It Could Be Chrismas Every Day
Bonus 45 single:
1. Winter Wonderland
2. Let It Snow
NICK LOWE TOUR DATES FEATURING LOS STRAITJACKETS
August 19 – Folk in the Park – Sutton, United Kingdom*
August 26 – Open House Festival – Bangor, United Kingdom*
October 4 – Billboard Live Osaka – Osaka, Japan*
October 6 – Billboard Live Tokyo – Tokyo, Japan*
November 1 – Brighton Music Hall – Boston, MA
November 2 – The Warehouse – Fairfield, CT
November 4 – White Eagle Hall – Jersey City, NJ
November 5 – The Bowery Ballroom – New York City, NY
November 7 – The Colonial Theatre – Phoenixville, PA
November 8 – Jefferson Center – Roanoke, VA
November 10 – Haw River Ballroom – Saxapahaw, NC
November 11 – Variety Playhouse – Atlanta, GA
November 12 – Franklin Theatre – Franklin, TN
November 14 – Delmar Hall – St. Louis, MO
November 15 – Knuckleheads – Kansas City, MO
November 21 – SPACE – Evanston, IL*
* denotes Nick Lowe solo performance
Tags:
nick lowe
,
Quality Street
,
Quality Street (10th Anniversary)
,
Yep Roc Records