Chuck Prophet has launched an exclusive giveaway for his 3D Night Surfer 7″ Singles Collection.
Follow Chuck's new Spotify playlist – Chuck Prophet's Tales From The Night Surfer now, and share the playlist on Twitter, including the hashtag #nightsurfer3d, to be automatically entered to win a prize package including a private Skype songwriting session with Chuck Prophet. The winner will also receive a prize pack from Chuck, including CDs, a poster, and other surprises.
Chuck's Spotify playlist features songs that inspired his latest album Night Surfer. Get to know how this album came to be and share with your friends. There's a good chance you could win one-on-one time with Chuck and win prizes!
Pre-order Chuck Prophet's 3D Night Surfer 7″ Singles Collection in the Yep Roc Store. This limited edition box set includes all 12 tracks from Chuck Prophet's critically acclaimed Yep Roc Records release Night Surfer, plus 2 bonus tracks, all on a total of seven 7" vinyl singles. Featuring new artwork specific to each song on the record sleeves and unique 3D cover art and back panel art on the box. 3D glasses included! Vinyl collectors and Chuck Prophet fans alike will need to own this special release.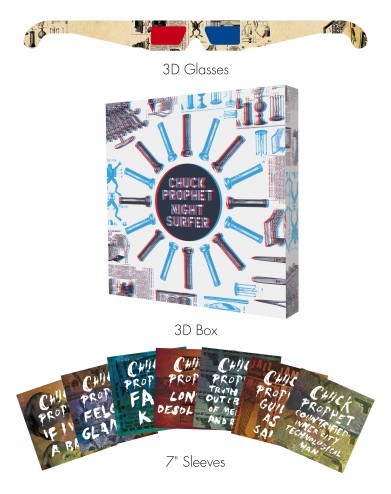 View the full contest rules here.
Tags:
Chuck Prophet
,
Night Surfer
,
tales from the night surfer