Now on pre-order: get Darren Hanlon's new record Where Did You Come From? on CD and LP, with an exclusive PDF download of the album booklet available only at the Yep Roc Store.
Pre-order the album on either CD or LP before the release on March 24th to be automatically be entered to win the following prizes:
1st place prize: Darren is offering a free half-hour live show to be played anywhere in the continental United States, in the home of the first place winner when he's in the US this May and June. Details of the performance (date, time, etc) will be ironed out between Darren and the lucky winner.
2nd place prize: Autographed Darren Hanlon fan pack, that includes:
Pointing Rayguns at Pagans CD
Fingertips and Mountaintops CD
Little Chills CD
Eli Wallach DVD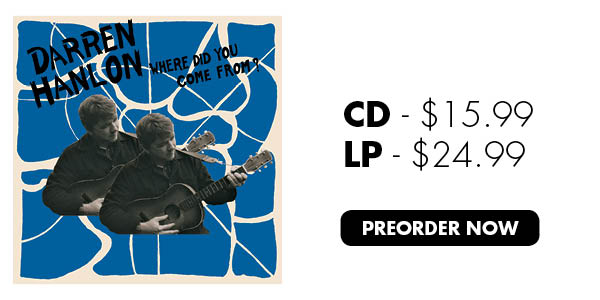 Listen to the track "When You Go" now in the player below. Where Did You Come From? is also available for pre-order on iTunes.
The story of Hanlon's fifth album proper Where Did You Come From? spans two continents and a whole lot of miles travelled, resulting in his most resplendent musical effort yet, the songs reaching new levels of maturity without ever losing his trademark lyrical charm and twinkling eye.
Recording it involved an unplanned and sometimes perilous lope through the American South, through various cities, towns and recording studios. "For lack of any real purpose I went on an exploratory adventure of the American southern states and the whole thing grew up around me like rogue lantana. I spent about 20 nights sleeping on different Amtrak trains with my jumper rolled up for a pillow."
To hear the analogue richness and singular vision resulting in the collection of songs that make Where Did You Come From? belies the accidental nature of its process. It's a cohesive, hopeful and vibrant testament to the joys of travel, the tyranny of distance and the vagaries of love and fate. To know the precariousness of the steps it took to realize only makes it more special and amazing.
"When I hopped off the Amtrak I just walked around and met buskers, tap-dancers, preachers, drunks and drug dealers, all of whom had something worth learning about," Hanlon tells. "I started having compulsive notions that whoever I met should somehow contribute to the album. Let fate play into it. One guy tried to break into a car I was sitting in and even he ended up playing bass on a song."
Tags:
Darren Hanlon
,
Pre-order
,
Where Did You Come From?