Eleni Mandell's new album Dark Lights Up will be released July 24 on Yep Roc Records. Head to KCRW for the track premiere of "Someone To Love Like You" and get the track instantly when you pre-order on iTunes.
You can also pre-order the CD/LP of the album at the Yep Roc Store. Bundle the Dark Lights Up CD/LP with the official Pendant & Glow-in-the-Dark Poster to save 15% on your purchase, exclusively at Yep Roc.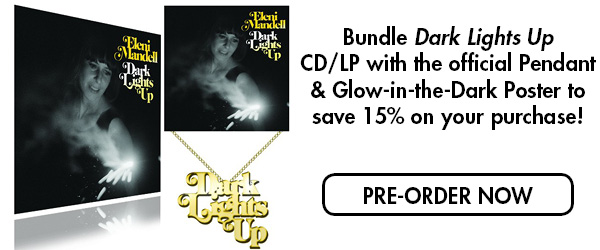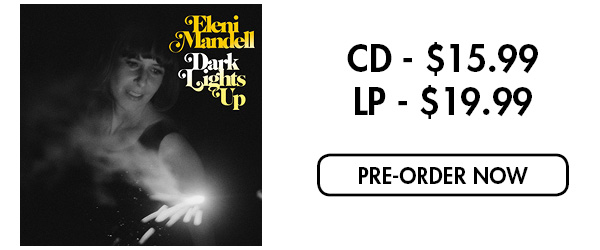 Dark Lights Up all started with a visit to the Country Music Hall of Fame, where an innocent afternoon wandering the exhibits and learning about her musical heroes, like Hank Williams, George Jones, Buck Owens, and Tammy Wynette, led acclaimed LA singer and songwriter Eleni Mandell on an unexpected journey of profound musical and personal self-discovery culminating in 'Dark Lights Up,' her tenth and most captivating album yet.  "It was a profound experience for me," says Mandell.  "Seeing all their lyrics and guitars on display made me reflect on just how deeply I'd been influenced by classic country."
Co-producing the new album herself with longtime friend and collaborator Sheldon Gomberg in his Silver Lake studio, Mandell distilled her songs down to their purest cores, assembling all of the musicians together in a single room with only acoustic instruments to cut the record live in just four days.  The result is an utterly charming, beguiling album, drawing on elements of folk, jazz, and standards with an infectious charisma, as Mandell's voice melts over the stripped-down arrangements to create a lush, sensuous intimacy.
Track List
I'm Old Fashioned
What Love Can Do
Someone To Love Like You
Cold Snap
China Garden Buffet
Town Called Heartache
Old Lady
Magic Pair Of Shoes
If You Wanna Get Kissed
Baby, Don't Call
Butter Blonde And Chocolate Brown
Do It Again
Tags:
Dark Lights Up
,
Eleni Mandell
,
Merch Bundle
,
Pendant
,
Pre-order