Ruen Brothers return with their Western Noir-influenced third full-length album, Ten Paces. Out June 2 on Yep Roc Records, the 10-song set follows their 2018 Rick Rubin-produced debut All My Shades of Blue and 2021's ULTRAMODERN. Throughout the album, the Scunthorpe, England-raised brothers – Rupert and Henry Stansall – create a thoroughly modern sound while embracing their love of American Westerns. "We want listeners to be transported into the immersive world of Ten Paces, delivering something cinematic and personal," says Rupert. Along with the album announcement, the duo share their unnerving and anxiety-filled new single "The Fear." Of the track, Rupert adds, "It was initially slow and ballad-like, then we doubled up the tempo. Finally, we settled on a chopped-up version of both to add twists and turns and ultimately increase the unnerving  quality." 
Listen to "The Fear" and pre-save/pre-order Ten Paces here.
Ruen Brothers have also created imagery inspired by mid-century films like The Night of the Hunter, to immerse the audience in their romantic and haunting vision. "The Fear" comes with a video in that vein that uses an old-fashioned and unusual 1.19:1 ratio to bring out the claustrophobic and anxiety driven nature of the lyrics which were initially inspired by the flooding of Henry's basement recording studio during Hurricane Ida. Thinking back to the air conditioning breaking down halfway through the shoot, Henry laughs "It was LA in August and we were fully dressed in trousers and thick faux suede shirts. They didn't have AC in those big movie studios during the early days, so maybe it made us look a little more the part."
Watch "The Fear" video below:
Ten Paces was produced by Rupert, seeing him deftly preserving the quality and authenticity of early recording gear and techniques while achieving a unique sound. It was recorded on opposite sides of America, where they currently reside: Rupert crafting the base of the recordings from his Los Angeles studio with Brooklyn-based Henry laying down acoustic guitar and vocals. Throughout Ten Paces, Henry's dynamic four-octave range is on display with him jumping between octaves in songs where emotions are highest, reflecting his love for Roy Orbison; and using his lower octave range to create a grounded and conversational feel, true to the laconic and hard boiled characters of the West, reflecting his years of covering Johnny Cash songs in British pubs.
Ruen Brothers open Ten Paces with "Slow Draw" which features sound effects like triggers cocking, gunshots and ricochets – added to help create a soundscape to compliment the track's title. It's the first of several times throughout the album that they use sound effects to expand the aural environment. Additional album highlights include early single "Don't Know What's Come Over You" which was inspired by B-movie alien flicks and mixes acoustic instruments with mid-century sci-fi synths, and "Bullet Blues" which likens a relationship to a duel and starts off intimate and conversational before crescendoing towards "the final round."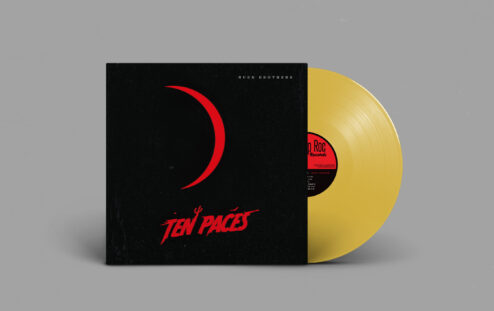 Much of the cinematic sonic ingenuity found throughout the Ten Paces was born from a turbulent period of bad luck and good fortune. After the pandemic canceled their live music gigs – including a promising tour with rising alt-country star Orville Peck – the duo turned to writing music for film. Since 2020, they've penned songs for films like Blumhouse's Adopt a Highway, Netflix's award-winning rom-com The Half of It, and the full score for the indie feature Going Nowhere. "There's commonly a void between songs, score and sound design," notes Rupert. "We wanted to take some steps toward merging them with this album." 
Let the Ruen Brothers take you on a cinematic journey with Ten Paces. 
'TEN PACES' TRACK LISTING
01 – Slow Draw
02 – The Fear
03 – Hi-Yo
04 – Don't Know What's Come Over You
05 – Bullet Blues
06 – Silver to Gold
07 – The Good Surely Die
08 – Free As the Birds
09 – Sleep
10 – Long Road
Pre-Order / Save Ten Paces here.
Tags:
New Album
,
New Release
,
New Video
,
Ruen Brothers