Ruen Brothers share "Slow Draw" today, the cinematic new single from their Western Noir-influenced third full-length album, Ten Paces, out June 2 on Yep Roc Records. Watch the official video:
"Slow Draw" dives into a relationship nearing its end – "As we walk out to your car / I can see the stillness in your heart / Knowing we may never meet again / Knowing we'll just be those distant friends."
With the subtle use of gunshots, triggers cocking and ricochet sounds added to the song to create a Western soundscape, the effects compliment the title of the song and emphasizes the devastating feeling of being on the brink of a breakup. The band adds, "Like films add foley, we added sound effects to the recording. We also captured over a hundred vocal takes to layer up like voices in your head."  
Ten Paces features previous singles "The Fear" and "Don't Know What's Come Over You," and follows Ruen Brothers' 2018 Rick Rubin-produced debut All My Shades of Blue and 2021's ULTRAMODERN. Throughout the album, the Scunthorpe, England-raised brothers – Rupert and Henry Stansall – create a thoroughly modern sound while embracing their love of American Westerns. "We want listeners to be transported into the immersive world of Ten Paces, delivering something cinematic and personal," says Rupert. Ruen Brothers have also created imagery inspired by mid-century films like The Night of the Hunter, to immerse the audience in their romantic and haunting vision. 
Ten Paces was produced by Rupert, seeing him deftly preserving the quality and authenticity of early recording gear and techniques while achieving a unique sound. It was recorded on opposite sides of America, where they currently reside: Rupert crafting the base of the recordings from his Los Angeles studio with Brooklyn-based Henry laying down acoustic guitar and vocals. Throughout Ten Paces, Henry's dynamic four-octave range is on display with him jumping between octaves in songs where emotions are highest, reflecting his love for Roy Orbison; and using his lower octave range to create a grounded and conversational feel, true to the laconic and hard boiled characters of the West, reflecting his years of covering Johnny Cash songs in British pubs.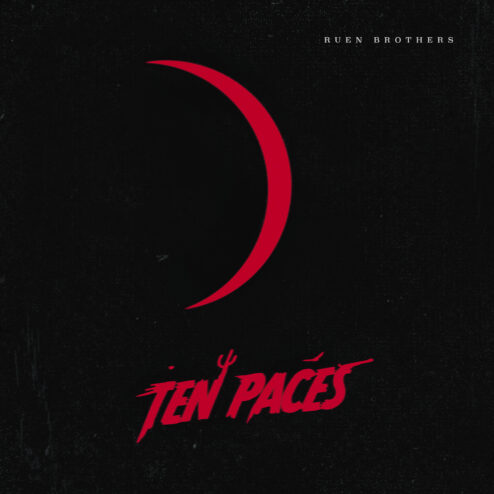 Much of the cinematic sonic ingenuity found throughout the Ten Paces was born from a turbulent period of bad luck and good fortune. After the pandemic canceled their live music gigs – including a promising tour with rising alt-country star Orville Peck – the duo turned to writing music for film. Since 2020, they've penned songs for films like Blumhouse's Adopt a Highway, Netflix's award-winning rom-com The Half of It, and the full score for the indie feature Going Nowhere. "There's commonly a void between songs, score and sound design," notes Rupert. "We wanted to take some steps toward merging them with this album." 
Let the Ruen Brothers take you on a cinematic journey with Ten Paces. Pre-order / pre-save the album here!