The YR15 Calendar celebrating 15 years of Yep Roc Records' success as an independent record label is now available at the Yep Roc Store in time for the holidays! This calendar celebrates Yep Roc's 15 years with hard rocking photos from Yep Roc's 15th Anniversary Festival in Carrboro, NC this past October as well as free downloads of exclusive festival performances. YR15 celebrated not only this genre bending label, but the artists that have contributed to making the label's name known. In addition, all proceeds from the Yep Roc 15 Calendar will be donated to the American Red Cross to support their efforts to help those affected by Hurricane Sandy.  Order the calendar HERE at the Yep Roc Store.
The 15 month calendar is the first chance for fans to check out the official photos and live recordings from the festival. Each month puts the spotlight on one of the Yep Roc artists who performed at YR15 and features an original photo taken during their set.  In addition, on the first of each of the fifteen months included in the calendar, there is an exclusive link and code that will unlock one live from that artist recorded live during the festival. Artists featured in the calendar include Nick Lowe, The Sadies, Tift Merritt, Liam Finn, Jukebox the Ghost,Josh Rouse, Sloan, Los Straitjackets, Chuck Prophet, John Doe,Chatham County Line, Fountains of Wayne, Dave Alvin, Cheyenne Marie Mize, and Robyn Hitchcock.  The calendar also includes notable dates in Yep Roc history, artist birthdays, and discount codes to save on purchases from the Yep Roc store.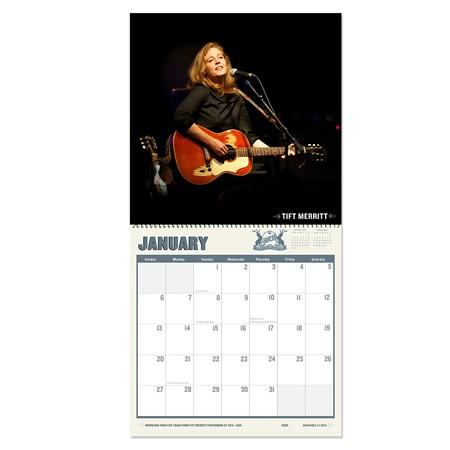 For the calendar's cover, Yep Roc partnered with Creative Allies, a company that specializes in hosting design contests that give fans an opportunity to create artwork for their favorite bands and festivals.  Yep Roc fans submitted designs that signified our 15 years in operation and the 71 entries were voted upon by festival goers at YR 15.
Proceeds from the sale of this calendar will go to the Red Cross in an effort to help recent victims of Hurricane Sandy rebuild their lives.  Our thoughts are with those who were affected by the storm.
You can also donate directly to the Red Cross HERE.
Tags:
American Red Cross
,
Chatham County Line
,
Cheyenne Marie Mize
,
Chuck Prophet
,
Creative Allies
,
Dave Alvin
,
Fountains of Wayne
,
Hurricane Sandy
,
John Doe
,
Josh Rouse
,
Jukebox the Ghost
,
liam finn
,
Los Straitjackets
,
nick lowe
,
Robyn Hitchcock
,
sloan
,
The Sadies
,
Tift Merritt