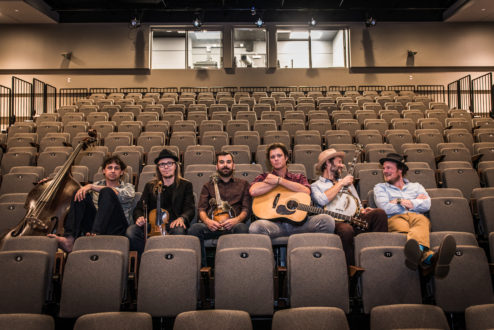 Steep Canyon Rangers are Asheville, North Carolina's multi-GRAMMY winners, perennial Billboard chart-toppers, and frequent collaborators of the renowned banjoist (and occasional comedian) Steve Martin.
Today, the band has shared the results of what is perhaps their most singular musical partnership to date – teaming with Philadelphia soul legends Boyz II Men and their hometown Asheville Symphony to completely overhaul the Rangers' original "Be Still Moses," which was first recorded on their 2007 breakout album Lovin' Pretty Women.
The premiere coincides with the announcement that Steep Canyon Rangers have re-signed with Yep Roc Records. "It feels like coming home," says Sharp of the partnership. "The Yep Roc family was among the first to welcome Steep Canyon Rangers when we were just pups. As we've grown, so have they. We're incredibly excited for the future and all the music it holds."
The idea to rework "Be Still Moses" was spearheaded by Steep Canyon Rangers' producer Michael Selverne, who first told the band about this on a phone call with poor reception. Naturally, they laughed and swore they had misheard him before wrapping their head around Selverne's plan: contrast Woody Platt's bluegrass-flavored, sonorous baritone with the timeless vocal arrangements that defined Boyz II Men's stratospheric rise in the '90s. Thanks to legendary conductor and arranger Michael Bearden, a close friend of Selverne, the connection was made, and the results were nothing short of awe-striking to everyone involved.
"We always get this chill when we know we are in the right place," says Boyz II Men's Shawn Stockman. "And we got a few chills working on this project."
Graham Sharp: "Sometimes it takes a person outside the band to hear your music in a different light and recognize its potential. I give credit to our producer Michael Selverne and Michael Bearden for their vision of bringing together two very different musical worlds for a moment that transcends any genre designation. Boyz II Men took the song to a whole new level, and as a songwriter it's mind-blowing to hear."
Producer Michael Selverne: "Although the Rangers have performed extensively with orchestras, they had only made one limited orchestral recording. In discussions with the band about the record, I suggested that this record, which was not a traditional SCR record, was an opportunity to speak in a different voice. Originally, my thoughts were to bring in some additional musicians from Nashville, NYC and LA and add to the texture of the band without changing their basic arrangements. We had been discussing some piano, organ and electric guitar. So, that was the plan. Man plans and God laughs…"
"Be Still Moses" was produced and arranged by Michael Selverne, Joe Mulvihill and Boyz II Men members Wanya Morris, Nathan Morris and Shawn Stockman. Steep Canyon Rangers will perform the song on their extensive international tour, which includes currently announced dates into Spring 2020. View tour dates here.
Listen to "Be Still Moses" here!
Sign up for the Steep Canyon Rangers mailing list to receive updates on new music, tours, sales, and more.