Asheville, NC – With their new album Morning Shift, North Carolina's favorite sons Steep Canyon Rangers have once again found a way to push the expanse of their sound, and skills, to the next level. Out today via Yep Roc Records, Morning Shift finds the GRAMMY-winning combo telling stories that both honor their roots and expand upon the living art of bluegrass music—all while solidifying their reputation as some of the most influential songwriters in today's Americana scene. 
Produced by Darrell Scott, a distinguished songwriter and performer in his own right, Morning Shift also marks the band's maiden studio voyage with Rangers newcomer Aaron Burdett. An award-winning singer-songwriter and student of folk tradition, Burdett's stylings immediately blend with the band's Appalachian and Piedmont roots, while adding his own mark to the 20+ years of developing their signature sound. 
Fans can stream or purchase Morning Shift today at this link and watch the lyric video for the title track here. The Steep Canyon Rangers will return to the stage tonight and tomorrow for the Mountain Song Music Festival in Brevard, North Carolina, before hitting the road with longtime collaborators Steve Martin & Martin Short this fall. Stopping at the Grand Ole Opry in December, a full list of tour dates can be found below or at steepcanyon.com/tour.
For everything else Rangers, please visit steepcanyon.com.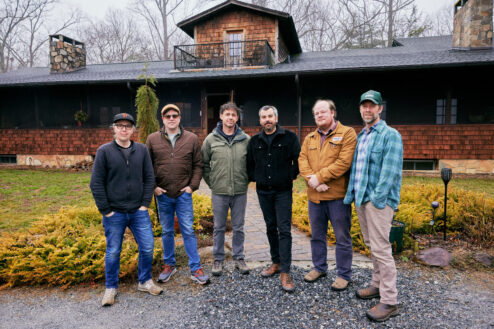 Morning Shift In The News:
"The GRAMMY-winning band has it down to an art…'" – MOJO
"…The Steep Canyon Rangers have curated an album of songs that showcases the band at its musical best…" – No Depression
"… a colorful tapestry of musical storytelling… It's the auditory equivalent of a cinematic epic – compelling, diverse, and richly textured." – Staccatofy 
"'Hominy Valley' perfectly kicks off the anticipation of another excellent new album from the Steep Canyon Rangers." – Folk Alley
"If you listen to the Steep Canyon Rangers' new album the way it's meant to be listened to, you will find the song 'Recommend Me' at the very end, waiting to blow you away." – Taste of Country
"It's another spectacular track that further proves Morning Shift could be some of their best work yet." – Whiskey Riff on "Recommend Me"
More About Morning Shift: Produced by the distinguished Darrell Scott and engineered by the legendary Dave Sinko, Morning Shift found the Rangers recording their 14th studio album in Bat Cave, North Carolina, at the Inn Bat Cave, a historical refuge settled near a long-forgotten crossroads of Southern Appalachia. This was the perfect space to feel confident in expanding upon that Carolina sound, the perfect runway to let their well-oiled machine do what it does best- craft stories from the ground up, as a unit. "It was like going to recording camp," said Scott, "We ate together, we stayed at the Inn together the whole time, and we recorded. Going about it that way made for a very organic record. We had a great engineer with Dave Sinko, who could in essence create a studio space in a rustic, historic home."  
Morning Shift Tracklist:
Hominy Valley
Deep End
Second in Line (Junior)
Old Stone House/Handlebars/Chimney Rock
Harvest Queen
Ghost of Glasgow
Above My Burdens
Birds of Ohio
Alabama Calling
Morning Shift
Fare Thee Well, Carolina Gals
Recommend Me
Catch Steep Canyon Rangers On Tour:
Sept. 8-9 – Mountain Song Festival – Brevard, NC
Sept. 14-16 – Benedum Center for the Performing Arts – Pittsburgh, PA *
Sept. 21 – AmericanaFest – Nashville, TN
Sept. 22-23 – Encore Theater – Las Vegas, NV *
Sept. 28 – Brooks Center for Performing Arts – Clemson, SC
Sept. 29 –  Greenfield Lake Amphitheatre – Wilmington, NC
Oct. 13 – Steven Tanger Center for the Performing Arts – Greensboro, NC *
Oct. 14 – Township Auditorium – Columbia, SC *
Oct. 15 – North Charleston Performing Arts Center – Charleston, SC *
Oct. 20 – Stoughton Opera House – Stoughton, WI
Oct. 21 – Old Town School of Folk Music – Chicago, IL 
Oct. 26 – Hackensack Meridian Health Theatre – Red Bank, NJ *
Oct. 27 – Academy of Music – Philadelphia, PA *
Oct. 28 – The Lyric Theatre – Baltimore, MD *
Oct. 29 – Altria Theater – Richmond, VA *
Nov. 3 – The Lyric Theatre – Stuart, FL
Nov. 4 – Florida Theatre – Jacksonville, FL
Nov. 5 – Capitol Theatre – Clearwater, FL 
Nov. 6- Curtis M. Phillips Center for Performing Arts – Gainsville, FL 
Nov. 10 – Merrill Auditorium – Portland, ME *
Nov. 11- Providence Performing Arts Center- Providence, RI *
Nov. 12 – Turning Stone Resort Casino – Verona, NY *
Nov. 18 – Hylton Performing Arts Center – Manassas, VA 
Nov. 18 – City Winery – New York City, NY
Nov. 30 –  Salle Wilfrid Pelletier – Montreal, QC *
Dec. 1-2 – Meridian Hall- Toronto, ON *
Dec. 9 – Grand Ole Opry – Nashville, TN
* With Steve Martin & Martin Short
For ticket information, please visit steepcanyon.com/tour.