Stream The Stray Birds' upcoming album Best Medicine one week early: Head to TuneIn to listen, and pre-order at iTunes, Amazon and Yep Roc before the album is out October 21.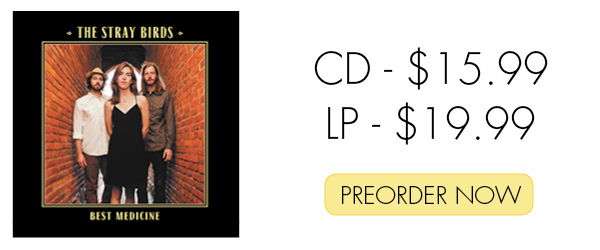 The band – multi-instrumentalists and vocalists Maya de Vitry, Oliver Craven, and Charlie Muench – hails from Lancaster, Pennsylvania. All three are classically trained musicians who've been making music of all kinds since childhood (before they reconnected through the local music scene, de Vitry and Muench first met in middle school orchestra); however, they were also all raised with a steady diet of music ranging from pioneers like The Carter Family and Bill Monroe & His Blue Grass Boys to the joyous invention of The Beatles and The Band, to the groundbreaking artistry of Jimi Hendrix.
Following the band's 2012 highly praised self-titled release, Best Medicine was recorded at Stonebridge Studios in Leesburg, VA and produced by the band and Stuart Martin.
Tour Dates:
October 17           WXPN 'Free@Noon' – Philadelphia, PA
October 21           Club Cafe  – Pittsburgh, PA
October 22           Campus Theatre – Bucknell University – Lewisburg, PA
October 23           World Café Live – Philadelphia, PA
October 24           Godfrey Daniels – Bethlehem, PA
October 26           Tellus 360 – Lancaster, PA
October 28           The Southern – Charlottesville, VA
October 29           Ashland Coffee & Tea – Ashland, VA
October 30           ISIS Music Hall – Asheville, NC
November 1         Evening Muse – Charlotte, NC
November 2         Red Clay Theatre  – Duluth, GA
November 12       The Ark – Ann Arbor, MI
November 15       Natalie's – Worthington, OH
November 16       G.A.R. Hall – Peninsula, OH
November 19       Caffe Lena – Saratoga Springs, NY
November 20      One Longfellow Square – Portland, ME
November 21       Higher Ground – Burlington, VT
November 22       Circle of Friends – Franklin, MA
November 23       Iron Horse Music Hall – Northampton, MA
November 24       Rockwood Music Hall – New York, NY
December 2          The Southgate House Revival – Newport, KY
December 5          Music On Main Street – N. Wilkesboro, NC
December 6          Cat's Cradle – Carrboro, NC
December 9          8×10  – Baltimore, MD
December 14        Club Passim – Boston, MA
Tags:
Best Medicine
,
stray birds
,
The Stray Birds
,
tunein