On August 26, Yep Roc will release I Ran Down Every Dream, the first album in over four decades by swamp pop legend Tommy McLain. Produced by his musical protege C.C. Adcock, the album features thirteen tracks, including ten original songs written or co-written by McLain. I Ran Down Every Dream was recorded in Louisiana, Texas, California, and England, with a similarly disparate group of friends and fans, including Elvis Costello and Nick Lowe (both of whom contribute co-writes), plus Jon Cleary, Denny Freeman, Ed Harcourt, Roy Lowe, Augie Meyers, Ivan Neville, Van Dyke Parks, Mickey Raphael, Steve Riley, Speedy Sparks, Warren Storm and more.
Today, some fifty-six years after his Top 20 Billboard smash "Sweet Dreams" introduced McLain to the world, he has released "I Ran Down Every Dream," the title track from the new album which was co-written with and features Costello. "With Tommy you are going to hear a man singing from his soul, a beautiful man," Costello said of the track. "He's one of the great unsung heroes of American vocalizing, and he still sounds as good as he did when he cut 'Sweet Dreams' in 1966."
"I hope my fans and future fans will enjoy this new track," McLain adds. "It's a song about my life, and theirs. The music on this first single after so many years brings me back to my old Swamp Pop hits and days, but it also takes me forward, thanks to the genius that is my good buddy Elvis Costello. He brought me a diamond of a chorus that I'll be damned if ya can't sing along to. I think we're 'bout ready to make swamp popular!"
As an album, I Ran Down Every Dream is both a celebration and a requiem. It bookends a career that has seen Tommy scale the upper reaches of the Billboard charts, share the stage with the likes of Sam Cooke, Otis Redding, The Yardbirds and ZZ Top, and become a global ambassador for the swamp pop sound – that singularly affecting combination of rhythm and blues, country and western, gospel, and traditional French Louisiana styles. The album also looks back, with more than a little heartache, in tribute to some of the fellow musical travelers that McLain has lost. Two tracks on the album were written by McLain's dear friend and Louisiana music royalty Bobby Charles, and it also marks the final sessions for two legendary musicians who died in 2021; Texas guitar slinger Denny Freeman, and Tommy's close collaborator Warren Storm. For McLain himself, the years-long road to I Ran Down Every Dream was beset by a heart attack, two hurricanes and a house fire. With every obstacle he overcame, McLain's resolve to complete I Ran Down Every Dream grew stronger.
At age 82, McLain is maintaining a busy touring schedule with a full slate of Jazzfest performances and an extensive run supporting Nick Lowe in June. Other performances around the album's release this summer are also in the works and will be announced soon.
Tommy McLain is perhaps the last great artist from rock 'n' roll's pioneering first generation awaiting rediscovery. The signature swamp pop sound that he helped create spawned multiple national hits in the 1960s and inspired artists like Creedence Clearwater Revival, Little Feat, and Tony Joe White, among others. His best known songs – "Sweet Dreams," "Before I Grow Too Old" and "Try To Find Another Man" – are to this day considered cornerstones of the genre. He's been inducted into the Louisiana Music Hall of Fame (twice!), earned a gold record for writing "If You Don't Love Me (Why Don't You Just Leave Me Alone)" for Freddy Fender, and even appeared – as himself – in the 1975 Paul Newman thriller The Drowning Pool.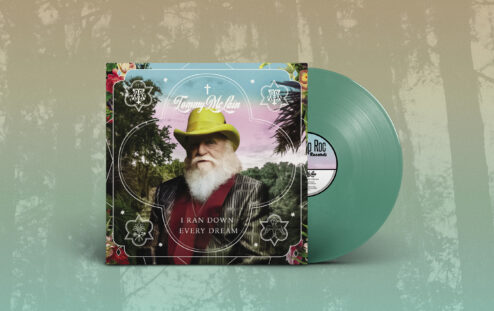 I Ran Down Every Dream tracklist:
No Tomorrows Now
I Ran Down Every Dream (feat. Elvis Costello)
I Hope
Livin' On The Losin' End
The Greatest Show On Hurt
California (arranged by Van Dyke Parks)
That's What Mama Used To Do
Somebody (feat. Augie Meyers and C.C. Adcock)
My Hidden Heart
Stand For Something
If You Don't Love Me
Before I Grow Too Old
London Too
Tommy McLain Supporting Nick Lowe's Quality Rock & Roll Revue Starring Los Straitjackets:
June 8 – Memorial Hall OTR – Cincinnati, OH
June 9 – Beachland Ballroom – Cleveland, OH
June 11 – Buffalo Iron Works – Buffalo, NY
June 14 – Center for the Arts – Homer, NY
June 15 – Colony – Woodstock, NY
June 17 – Musikfest Café – Bethlehem, PA
June 18 – Tarrytown Music Hall – Tarrytown, NY
June 19 – SOPAC – South Orange, NY
June 22 – Landmark on Main Street – Washington, NY
June 23 – The Ardmore Music Hall – Ardmore, PA
June 25 – Narrow Center for the Arts – Fall River, MA
Tags:
New Release
,
New Video
,
Tommy McLain
,
Tour